U.S. Features in Development Alumna Diana Peralta on the Gotham Week Project Market
by Tobi Phang-Lyn on April 5, 2023 in News
Writer-director Diana Peralta, whose work is inspired by her Dominican background and upbringing in New York City, brought her second feature film No Love Lost to the 2022 Gotham Week Project Market. The film follows a troubled young woman's experience bringing her new boyfriend home to meet her two protective, insular sisters. Alongside producers Alexandra Byer and Michelle Peralta—who also worked with Diana on her first feature De Lo Mio—the contacts and insights they gained from industry during the Project Market have helped them along during the development process for the film.
In addition to taking meetings during the Project Market, the No Love Lost team showcased an excerpt of the script during Gotham Week's New Voices! SAGindie Reading Series event and Alexandra, also known for Funny Face and co-founder of the production company Rathaus, spoke on the Independent Producing in 2022 panel with Filmmaker Magazine's Editor-in-Chief Scott Macaulay.
With just one week left for submissions to the U.S. Features in Development section of the Gotham Week Project Market (Final Deadline: Wednesday, April 12), we spoke with Diana to learn more about how she began her career in film, her experience during Gotham Week, and advice she has for those interested in applying to the Project Market.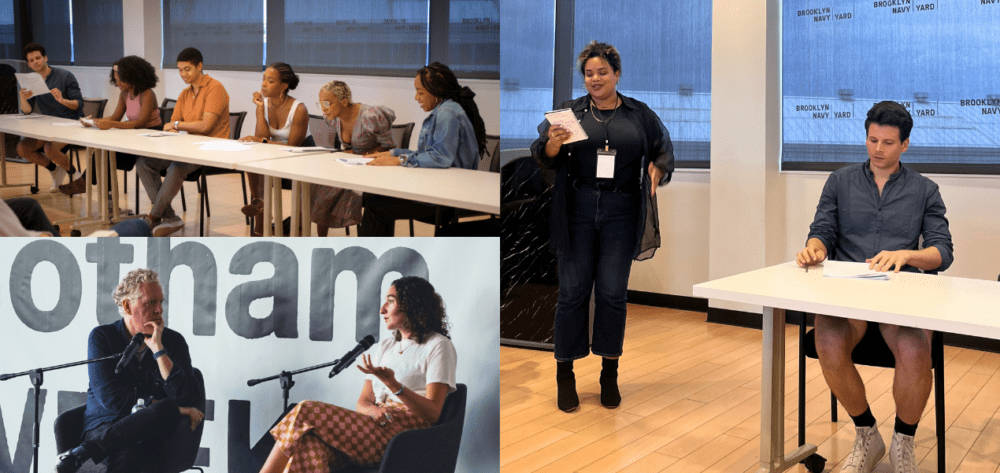 Can you share a little about yourself?
I am a born-and-raised New Yorker by way of the Dominican Republic. I studied film at Johns Hopkins University, and after graduating in 2011, I came back home to NYC and fell into a career as a creative producer in advertising. While hustling at my day job, I wrote my first feature screenplay De Lo Mio on the side, which took me 7 years to complete. In 2018, I finally took the terrifying leap of quitting my job and making it happen! De Lo Mio premiered as the closing night film at BAMcinemaFest in 2019 and was picked up for distribution by HBO.
Fast forward to today, I'm fortunate to be able to dedicate myself fully to my writing and directing work while also teaching directing at Columbia University. I'm in development with my second feature, No Love Lost, which participated in the Gotham Week Project Market in 2022.
As a storyteller, I'm deeply inspired by the incredibly diverse people, places, and cultures I've witnessed as a New Yorker. As someone whose identity is rooted in two places, I've always found myself drawn to outsiders, misfits, and "others" like me who are just trying to find their place in the world. I see my films as love letters to those people and places that inspired me.
What was your experience in the Gotham Week Project Market? Can you share a little bit about the value of opportunities like Gotham Week for independent filmmakers and projects?
Diana: Taking the project through the Gotham Week Project Market was incredibly valuable because of the connections it fostered with industry experts, producers, and financiers. This was our first time officially bringing this project out into the world, so getting the contacts and hearing their insights at this early stage has set us up for a more successful development process. Also, the opportunity to practice and perfect your pitch is beneficial in itself.
If you were recommending submitting and attending Gotham Week to a fellow filmmaker, what advice would you give them?
Diana: Practice your pitch! Projecting passion and confidence is key (so fake it till you make it if you must). You want to be able to communicate your vision succinctly—make it flow and keep it conversational. Sometimes in the panic of a pitch, you can forget to engage with the person sitting across from you.
Also, it helps to have a strong script and lookbook ready to go. You won't necessarily pull these up during your pitches, but it's helpful to be prepared so you can follow up while the meeting is still fresh in people's minds.
What were some outcomes, if you can share, from participating in the Market?
Diana: We're still in early development with the project so nothing concrete that we can announce just yet. That said, we've had some very promising follow-up meetings with the contacts we made at the Gotham Week Project Market.
---
Diana Peralta is a Dominican-American writer and director. Her debut feature, De Lo Mio, had its world premiere as the closing night film of BAMcinemaFest in 2019 and is being distributed by HBO. The film was awarded "Best Narrative Feature" at IndieMemphis Film Festival and "Best Film" at RiverRun International Film Festival.
Diana was featured in Filmmaker Magazine's "25 New Faces of Independent Film". Diana is in development on her second feature film, NO LOVE LOST, and is also developing an original TV pilot with UCP through the Ojála Ignition Lab Fellowship.
She currently teaches directing at Columbia University's Film MFA program. Aside from her film work, Diana has worked as a creative producer in advertising for 8+ years. She graduated from Johns Hopkins University with a BA in Film & Media Studies in 2011.