Two Gotham-supported producers selected to participate in 2022 European Film Market Toolbox Program
by Gotham on February 3, 2022 in Gotham Alumni News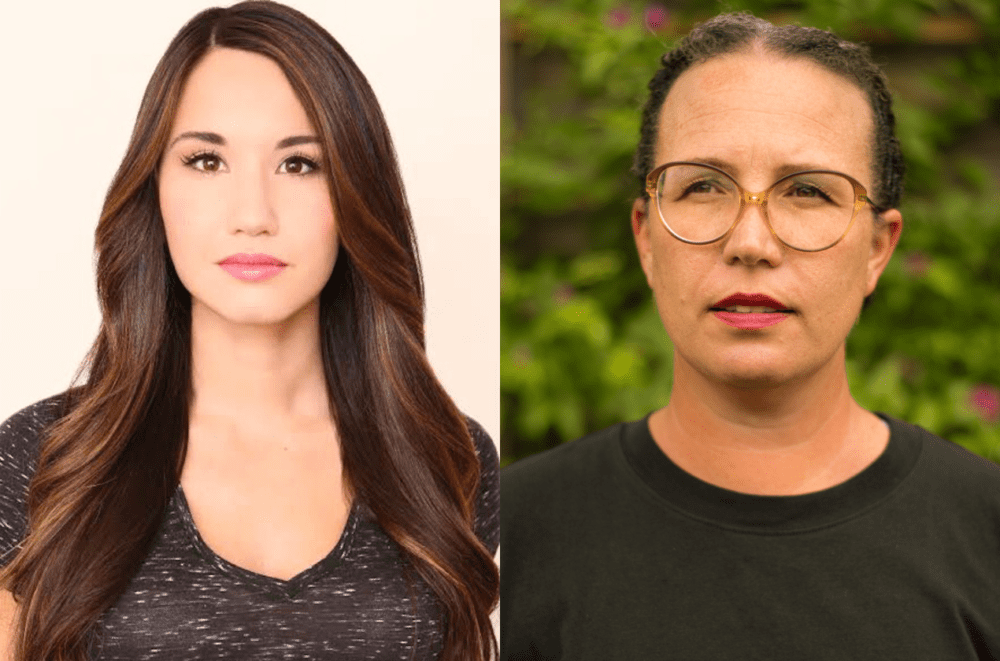 The Gotham is proud to announce the two producers selected to participate in the European Film Market's Toolbox Programmes for 2022! They are Leah Chen Baker (fiction, The President's Cake) and Darcy McKinnon (documentary, Roleplay).
Leah Chen Baker (left) is a producer and filmmaker. She attended NYU's Graduate Film Program, is the 2020 recipient of the Media Services Producing Award, and is a member of the Producers Guild of America. Her producing credits include two features and shorts that have won Academy-qualifying awards and played in festivals such as SXSW, Palm Springs, and Warsaw. Most recently, she produced Jamie Dack's debut feature, Palm Trees and Power Lines, which premiered at Sundance 2022 in the U.S. Dramatic Competition and won the U.S. Directing Award. Currently, Leah is continuing her collaboration with Hasan Hadi on his first feature, The President's Cake, which is a 2022 Sundance Development Track selection and Sundance Institute/NHK Award recipient.
Darcy McKinnon (right) is a documentary filmmaker based in New Orleans. She produces documentary work with Southern filmmakers, including CJ Hunt's The Neutral Ground (Tribeca, 2021), Nailah Jefferson's Commuted, and Katie Mathews's Roleplay. Her award-winning short, A Fine Girl, is in the festival circuit and available on PBS' Reel South. Her work has been broadcast on POV, LPB, and Cinemax, among others. Darcy is a co-founder of ALL Y'ALL, an alumnus of both the Impact Partners and Sundance Institute Producing Fellowships, and one of Filmmaker Magazine's 2020 25 new faces in independent film.
The Fiction Toolbox Programme and Documentary Toolbox Programme are initiatives from the EFM Diversity & Inclusion. Aimed at entry- to mid-level feature-length fiction and documentary film producers or producing filmmakers from either sector, the Toolbox Programmes are designed specifically to endow creatives from marginalized and underrepresented groups with market intelligence, business tools, and connections. Comprising access to networking and matchmaking events and additional business modules (tailor-made workshops as well as one-on-one meetings and consultations), the program provides a kit of transferable business know-how and connections under the guidance of a consultant and a coordinator.
In 2022, the Fiction Toolbox Programme initiative will be organized for the first time as a pilot program. The Fiction Toolbox Programme will welcome 13 participants and will take place entirely online. The Documentary Toolbox Programme will be initiated for the third time, welcoming 28 participants and taking place entirely online.