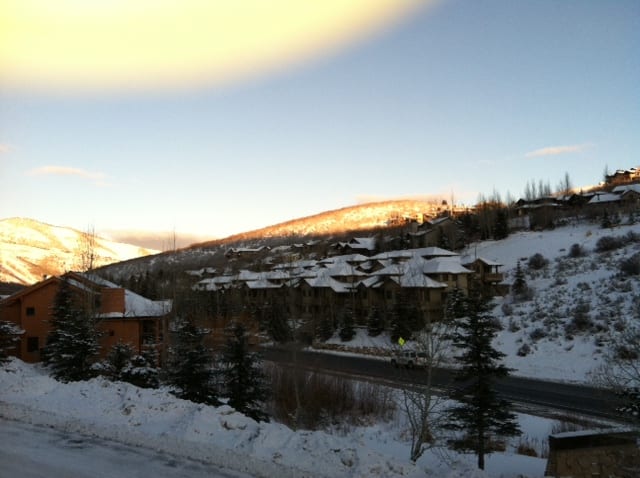 i
It was a day that alternated between beautiful snowfall that excited all the visitors and rain that made getting around just plain annoying. Main Street was much quieter, with many of the vendors and sponsors of the festival having packed up already.
Indoors, though, it was a good day for filmmakers. Many deals were going on, and sales continued throughout the day. Sundance Selects picked up the AIDS documentary, "How to Survive A Plague"; Roughhouse Pictures acquired "The Comedy" ; National Geographic Channel acquired the TV rights to "Chasing Ice" ; Entertainment One took "Wish You Were Here" ; and Magnolia Pictures has picked up "V/H/S".
IFC continued to be active. They purchased the thriller "The Pact", and as of this writing were still negotiating to acquire Antonio Campos's dark drama "Simon Killer".
What did I do on this weather challenged afternoon? Instead of seeing another new film, I went to see Ira Sachs's drama "Keep The Lights On" for a second time. Having seen the film last week, it has stayed with me throughout the festival. Pauline Kael once said to Roger Ebert, as recounted in his new memoir, " I go into the movie, I watch it, and I ask myself what happened to me". This is how I feel about KTLO. The characters are richly drawn and recognizable to many people I have known through the years. It is a deeply moving drama that recounts a 10 year relationship between two successful gay men, in both it's ugliness and beauty. It is also very much a New York film, in both it's setting and feel. Although I have not yet heard about any deals being struck to distribute this film, I have no doubt it will find a wider audience in the near future.
Following the film, I stopped into a local bar, The Spur (most of the local establishments try to play up the Western atmosphere here), having been drawn by their promise of live music all day & all night. Interestingly, they were hosting the 9th annual Access Film Music Showcase, which plays the length of the Sundance Film Festival every year. The showcase is to introduce new Indie music acts to up and coming filmmakers to use for their films. It is a great idea, and I was lucky enough to catch "Songwriters in the Round: Beth Wood, Gina Sicilia and Gigi Love". They were all terrific singer songwriters, each with different styles, but displaying very unique talents. Access Film has a schedule set for each day, giving one hour slots to each act. Very much worth the stop.
At the closing night awards ceremony for then18th annual Slamdance Festival, the following awards were announced:
Grand Jury Awards
Grand Jury Sparky Award for Feature Narrative: "Welcome to Pine Hill"
Special Jury Award for Bold Originality: "Heavy Girls"
Grand Jury Sparky for Feature Documentary: " No Ashes, No Phoenix"
Audience Awards
Feature Narrative: "Bindlestiffs"
Feature Documentary: "Getting Up"