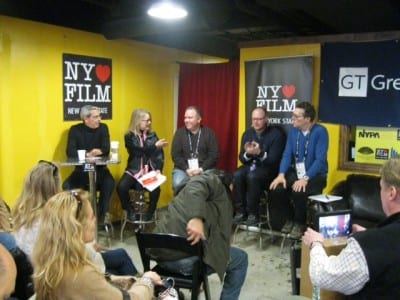 HSBC & Three Point Capital hosted a meet and greet breakfast at the NY Lounge this morning, followed by a panel discussion titled "The Tax Check Cometh – The Ins &Outs of Financing the New York State Tax Credit".
The panel was moderated by  John Hadity, Chairman of the PGA East. Participants included Pat Kaufman, Executive Director of the NYS Governor's Office for Film and Television; Michael Hansen of Three Point Capital, Steven Beers of Greenberg Traurig and myself. We had reached put to several producers to join us, but they were, luckily for them, too busy in meetings trying to sell their films.
We had a full house for the panel, with many questions. As John moderated, Pat talked about the process of applying for the credit and some of the necessary requirements to be completed, such as using a qualified stage and what that means. We also commented on doing your own "calculus" for a micro budget film to see if the cost of the stage and all of the paperwork involved would offset what would be a small return.
Mike and I touched on when and why a producer may want to finance the credit in order to use the funds for his film, as well as some of the legal requirements needed to do so, such as forming a C-Corp that would be used only for the tax credit, while using an LLC for the actual production account. While there was some lively discussion around this topic, in the end it is the only way a lender can get involved with the financing and be assured repayment.
Steven brought up the topic of Crowd Funding, which started a whole other discussion around all of the work involved in launching the campaign and using all of the social media available to make it successful.
In all, it was a very successful morning, resulting in many business cards being shared and appointments being made to meet in New York in the coming weeks.
The evening was fantastic! We went to the premier of "Two Days In New York", written, directed and starring French actress Julie Delpy. The comedy was incredibly funny, with solid performances from Ms. Delpy and her leading man, Chris Rock. The scene stealer of the film though, as he was in the prequel "Two Days In Paris", was Albert Delpy, the star's real life father playing her fictional one.
Following the film, we were invited to the after party, which was attended by the entire cast, including another scene stealer, Kate Burton. I have long been a fan of Ms. Burton's work on stage & screen, and was thrilled to have the opportunity to have conversation with her. She seemed genuinely excited to be back at Sundance again, representing both this film and "Liberal Arts", Josh Radner's follow up to the Sundance Audience Award winner "HappyThankYouMorePlease".