Owning It Alumnus Kate Downey on the Accountability Challenge
by The Gotham Staff on February 17, 2023 in News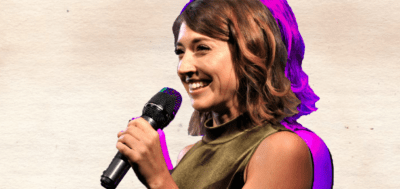 The Gotham's March Owning It Accountability Challenge: Pitch Decks is almost here! Read an alum's thoughts on the program below, then be sure to apply by the February 23 deadline.
Can you share a little bit about your background?
I came up in theater and live events, as an Assistant Director at New York City Opera and an Assistant Producer at the Public, then transitioned into live event startups by helping build Museum Hack at the Metropolitan Museum of Art. After years of creating live experiences inside museums across the country, I co-founded Caveat NYC, a theater putting on educational entertainment in the Lower East Side of Manhattan. We produced a lot of live podcast shows, and being a longtime podcast listener, I became curious about producing our live show content in podcast form. During the pandemic, while live theaters were shut down, I transitioned fully into the podcast industry, and started producing podcasts & live episodes with Pushkin, Himalaya, and Wondery. I also produce Celebrity Book Club with Chelsea Devantez. Naturally, I became interested in producing my own podcast. That's what brought me to the OI Accountability Challenge!
Why were you interested in participating in the OI Accountability Challenge?
After years of taking other peoples' podcast ideas from concept to fully realized show, I found myself overwhelmed and procrastinating when it came to giving my OWN idea the same treatment. I was frustrated with how long I was putting off taking the necessary steps to move the project forward, and how easy it was to prioritize other people's projects over my own. I needed accountability and deadlines to make myself show up! A friend had previously worked with The Gotham, and suggested the OI Accountability Challenge when I shared my frustrations with her, and I signed up immediately.
Can you describe your experience participating in OI Accountability Challenge? What aspects were most impactful for you?
Honestly it's a program that perfectly understands the challenges creative people have when trying to move their own projects forward. From the moment I was accepted into the Challenge, I was moved through the process with gentle but firm reminders, clear expectations, and supportive information. It really gives you no excuses to procrastinate.
What have you been up to since participating in the Challenge?
I've been sharing my deck with friends in the industry for feedback and networking, gathering my team to produce a sizzle, and building out my pitch strategy with tools provided in the Challenge.
Do you have any advice for fellow creatives about making the most of their involvement in the challenge this year?
Don't wait for the perfect time – do it now! And don't lose momentum once you've got some.
Kate Helen Downey (she/her) is the Co-founder of Caveat NYC, Lead Producer of Wondery, and Producer of Celebrity Book Club with Chelsea Devantez. Find her at www.katehelendowney.com, and as @katehelendowney on Twitter & Instagram.