Gotham EDU alumni Alan McKenzie, Andreana Loukidis, and Chris Molina on the Film & Media Career Development Program
by Tobi Phang-Lyn on February 14, 2023 in News
Each year, The Gotham EDU Film & Media Career Development Program brings together students and recent graduates from around the U.S. to learn from industry professionals, providing resources, workshops, and mentorship so that participants are able to make more informed and strategic career decisions as they complete their studies.
With applications for Summer 2023 open (deadline extended to March 10), we talked with three alumni continuing to make waves about their experience. In the Q&A below, learn more about each of their most recent projects, what they got out of the Program, and advice for those interested in participating.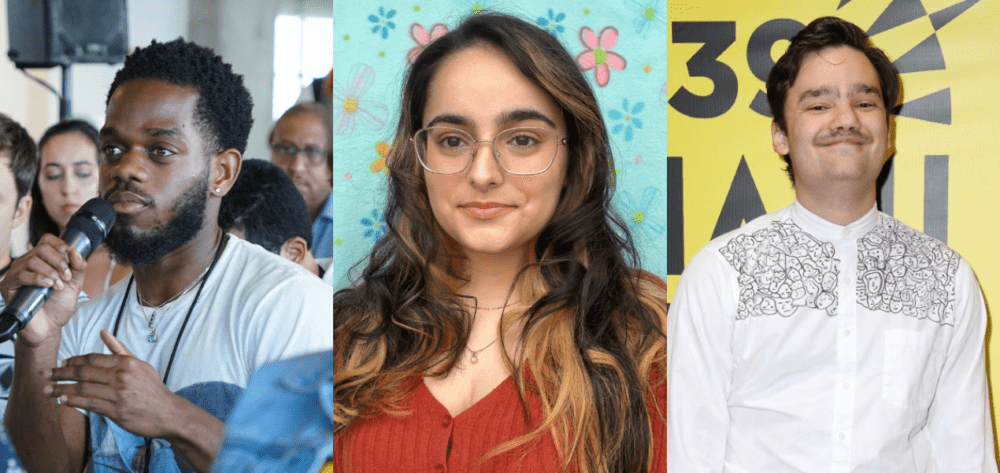 Can you share a little about yourself?
Alan: I am a filmmaker and writer born and raised in East Brooklyn who recently obtained a BA in Cinema, Television, and Emerging Media/ Video Production from Marymount Manhattan College. My work aims to push the boundaries of what people of color have historically been able to achieve in the art-form, telling stories that are unapologetically authentic, radically human, deeply empathetic and culturally rich. I hope to create an original, singular black aesthetic within cinema that harnesses other forms of black artistic expression such as dance, literature/poetry, theater, art/photography and in particular music to create a truly emotionally transformative cinematic experience. Cultivating new styles, genres and visual languages within the medium in order to make black cinema, as filmmaker Arthur Jafa stated, "as culturally significant, innovative and creatively dominant in the 21st century as black music has been since the 20th century. I hope to not only one day be a master of black visual arts but be the founder and creative director of a global multidisciplinary creative service made for and by people of color. I recently completed an internship for the New York Jets, and I'm currently writing and creating various passion projects in various stages of development.
Andreana: I'm a Greek-American filmmaker with a strong interest in directing films that use the genres of magical realism and fantasy to discuss issues of mental health. Just last year, I graduated from Rutgers Mason Gross School of the Arts with a BFA in Digital Filmmaking, and have since been working in the corporate video / social media space while also producing and assistant directing short films. My ultimate goal is to bring stories to life that can make people feel less alone.
Chris: I started working in the experimental/arthouse space about six years ago and quickly discovered that I needed a more structured environment to really learn as much as I could, I began taking classes at Miami Dade College while continuing my work in those other, more experimental, spaces. Through school, I was connected to jobs on sets for things like Nickelodeon's I Am Frankie and A24's Waves. I also began to volunteer at Miami Film Festival, where I still work today as the Shorts Programmer. The shorts I've been fortunate enough to create have gone to play festivals like New Orleans Film Festival, Bend Film Festival, and NoBudge. I also created my own film festival called Sun Pass, which is going into its third year. While we accept shorts from all over the U.S., we try to emphasize locally-made shorts and first-time filmmakers. Last Summer, all of my above experience came together when I was named Miami New Times Best Film Director of 2022 where they said I was "becoming a marquee name in South Florida's film scene." Through the Gotham EDU program, I was able to craft a pitch for my debut feature, Fallen Fruit, that was picked to be a part of the New Orleans Film Festival South Pitch competition. This year, that same pitch helped me earn the Oolite Cinematic Arts Residency, which awarded me $50K to make my debut, micro-budget feature film.
What was your experience in the summer Program like?
Alan: Participating in the Gotham EDU Program right after graduating film school was simply a blessing. I was extremely honored to receive the Questlove Scholarship from iHeartMedia, as well. The Program served as my graduate school, giving me a wealth of knowledge from industry professionals about how a film is created from the screenwriting phase, to production all the way to marketing and distribution. Most importantly, the Program had a strong emphasis on the trends and changing dynamics of the media industry and how those shifts provide opportunities for independent filmmakers' voices to be heard.
Andreana: The Gotham EDU Program really helped me stay motivated after graduating from film school – it expanded my academic view of the film industry and allowed me to see how many different career paths there are in film. I also really loved meeting other filmmakers who are also just starting out, it was encouraging to relate to each other's experiences.
Chris: The best part about the Career Development Program was that it offered me a safe, fail-proof space in order to learn and create. Every new conversation was a chance to grow as a filmmaker, and ask the questions I was too scared to ask. It allowed me to grow as a filmmaker in a safe space that encouraged us to make mistakes, ask questions, and learn as much as we could. Every speaker that came in was someone who was ready and willing to help the next generation of filmmakers learn from their mistakes, and impart their hard-earned wisdom to us.
What have you been up to since participating in the Program?
Alan: Since participating in the Program, I've continued to study and learn as much as I can about the craft. Currently, I am finishing a final draft of a script titled O'Mighty Wade, which I describe as an afro-futurist fable that explores the mythology of displaced Africans as it relates to the transatlantic slave trade, told through eyes of young black youth and set at the backdrop of Sag Harbor, an historically black enclave whose story has long been forgotten. I'm also working on turning my senior thesis documentary about my community of East Brooklyn, Flowers Bloom In Darkness, into a longer form feature.
Andreana: Because of my involvement with The Gotham EDU Program, I also had the opportunity to volunteer at Gotham Week and the Gotham Awards where I was completely awestruck and inspired by the other filmmakers in the room. Additionally, I have worked as a producer and an assistant director on a couple of short films while also writing my own that will be in production in 2023.
Chris: The feature film concept I was putting together during my time in the Program just received funding to be made, so I'm currently hard at work on making that happen. It's called Fallen Fruit, and it's a semi-autobiographical film about when I returned to Miami as an adult and had to learn to love it as an adult while accepting its eventual demise. Hopefully, I'll be able to take it to The Gotham's U.S. Features In Development section of Project Market this year! I'm also currently working at the Miami Film Festival as the Shorts Programmer. We recently released our line-up, and I'm super pumped to see the reception these amazing films are going to get (especially the locally made ones!)
Do you have any advice for fellow students or creatives about making the most of their involvement in the Program this year?
Alan: The greatest advice I could give anyone aspiring filmmakers participating in the Gotham EDU Program is to completely soak up all the information provided by mentors and industry professionals. Write everything down, take notes and keep a curious mind. Curiosity is the precursor to creativity and innovation.
Andreana: The Gotham EDU Program is as good as you make it. Participating and putting yourself out there is vital to getting the most out of the process and opportunities that you're exposed to.
Chris: If you have a question, ask it! Judgment free safe-spaces like the one The Gotham has created are so rare, and you should really take advantage of it while you've got it. And I promise, whatever question you have, someone else in your cohort is going to have it as well, and they'll appreciate that you asked. Plus, for the any grads, before you think about moving to LA or New York, really look hard at where you live and see if there's a film scene there. If there isn't one, create one! Create opportunities where there aren't any; Create a community to follow your shared dreams with!