Jordan Passman (scoreAscore.com) interviews Sue Devine, Senior Director, Creative Services, Film/TV for ASCAP in NYC.
Passman: What is ASCAP? What do they do and how can they be a resource to filmmakers?
Devine: ASCAP is America's leading performing rights organization. We're a membership association owned and run by our more than 420,000 U.S. composers, songwriters, lyricists, and music publisher members. We're home to the greatest names in American music, in all genres, past and present — from Duke Ellington to Katy Perry, George Gershwin to Stevie Wonder, Leonard Bernstein to Beyoncé, Marc Anthony to Alan Jackson, Henry Mancini to Howard Shore — as well as many thousands of writers in the earlier stages of their careers. Through agreements with affiliated international societies, we also represent hundreds of thousands of music creators worldwide.
We're the only U.S. performing rights organization created and controlled entirely by our members, with a Board of Directors elected by and from the membership. ASCAP's President & Chairman of the Board, Paul Williams is an Oscar, Grammy and Golden Globe-winning Hall of Fame songwriter.
Our core job is to protect the rights of our members by licensing and distributing royalties for the non-dramatic public performances of their copyrighted works. In other words, we pay songwriters and composers royalties when their music is played in public. ASCAP's licensees, the people who pay us, encompass anyone who wants to perform copyrighted music publicly. That includes radio broadcasters and TV networks, bars and live music venues, websites and streaming music services (e.g. YouTube and Spotify), even Disneyland – most anywhere that music can be heard.
That's the big picture, but we do much more than collect and distribute money. ASCAP's Creative Services Department focuses on artist development for composers and songwriters. We interact with filmmakers frequently, helping them connect with the right film composers and songwriters for their projects, and we regularly feature our members at film/TV industry events worldwide. We also run several workshops a year that foster the next generation of professional composing and songwriting talent.
Passman: What licenses for music do filmmakers need to get? And can ASCAP help?
Devine: There are three basic music licenses related to a film or TV production. The first is the Public Performance License, administered by ASCAP and described above. The broadcaster, not the filmmaker, is responsible for this license. I can't stress that point enough: filmmakers do not need to interact with ASCAP at the licensing level. It's the broadcasters of film, like HBO for example, that must get a public performance license. That license would cover the use of all ASCAP music in all HBO programming.
Filmmakers are responsible for securing two other types of licenses, and must pay very close attention to them. The filmmaker must get a Synchronization License (synch) from the publisher of the work and a Master Use License from the owner of the master recording of the music (usually the record label or the artist themselves). These two licenses are not administered by ASCAP.
ASCAP can help filmmakers learn about this process. Read the "How to Acquire Music for Films", and "Music, Money, Success and the Movies" articles on our website for a solid overview. Filmmakers can use our ACE Title Search to find the writer and publisher information for a musical work they'd like to use in a project.
Passman: Let's talk now about your Creative Services Department, and connecting filmmakers with film composers.
Devine: While ASCAP's main role is to license and administer public performance royalties for our members, and to represent it legally and legislatively, ASCAP also has a very strong Creative Services Department that helps develop our members at all stages of their careers, across all genres. In addition to our many emerging songwriter workshops, songwriter retreats, and music industry showcases, several of our programs may be quite useful for filmmakers.
We run three highly competitive film and television scoring workshops. Each is an intensive program, widely recognized as a major educational and networking opportunity for aspiring film, TV and visual media composers. We feature prestigious workshop leaders, mentors and guest speakers from the highest levels of the film and television music industry, side-by-side with hands-on experience with both the technical and creative requirements of scoring to picture.
Filmmakers are welcome to sit in on certain workshop sessions, particularly the scoring sessions. I can't emphasize enough how useful sitting in on these sessions could be for a filmmaker. When it comes to music in film, filmmakers need to feel the difference music can make, viscerally. That can be experienced in some of our workshop sessions, where you watch the same scene repeatedly with a different score each time. Having an intellectual appreciation for the film music process is very different than experiencing what music is (or is not) contributing to your film.
NYC-based filmmakers can sit in on the first two sessions of the ASCAP Columbia University Film Scoring Workshop, where we walk a select group of thesis filmmakers through the process of hiring their film composer. Anyone interested in  attending one of our workshop scoring sessions can contact me at [email protected]
Every year we run the ASCAP "I Create Music EXPO" in Los Angeles. It's the premier conference for songwriters, composers and producers within the music industry, and we always feature numerous film music panels that filmmakers would find educational and constructive. It's a great place to network with composers, too.
Additionally, we recently launched the ASCAP Composer Spotlight on our website, a powerful resource for film, television and video game producers to discover and connect with some of the best and brightest emerging composers. The Composers to Watch section highlights a select group of outstanding composers from our scoring workshops. You can find bios, resumes, website links and sample cues for each composer.
ASCAP also produces the official music programming for the Sundance Film Festival, called the Sundance ASCAP Music Café, along with the ASCAP Composer Spotlight @ Sundance. You can even listen to a Spotify mix of all the featured songwriters and composers.
Passman: Filmmakers constantly struggle with pricing the music for their projects. How do you suggest they go about this difficult process?
Devine: Director Alex Steyermark, formerly a top music supervisor on films for Ang Lee, Spike Lee, Jim Sheridan and many others, once said that filmmakers should be dedicating at least 5% of their overall budgets to music. That is a minimum. If your budget is very low, that percentage will be greater, as you must allocate a minimum budget to cover music. That will include the creative fee for the score, as well as the recording costs for the players, music editor, mixing, etc. It will also include license fees for any songs you use, and those can vary greatly depending on what songs
you've set your sights on.
To learn more about this, I highly recommend reading a chapter called "Pricing Your Work" out of ASCAP Board member Richard Bellis's book The Emerging Film Composer.  While written for a composer audience, that chapter will be quite valuable for filmmakers as well.
Passman: How do filmmakers find film composers?
Devine: There are far more extremely qualified composers who want to score your film than most filmmakers realize. I have long observed a wide gap between the film and music communities at the emerging level: emerging filmmakers and emerging film composers rarely know how to find each other. As a result, many an acclaimed filmmaker has hired his next door neighbor to score a film, because he happens to play piano or slide guitar. While that may suffice, you can
certainly elevate the level of score you bring to your project. We created the ASCAP Composer Spotlight precisely to bridge this gap. Please take a look at The Composers to Watch feature and peruse the Composer Spotlight @ Sundance as well.
And now, a plug for my interviewer: I am very excited about ScoreAscore.com, as it brilliantly cuts through much of the high anxiety that a filmmaker faces that often makes them delay the process of hiring their composer ("I've never done this before! How do I know what works for my film?"). You post your clip, you check back in three days, and there will be sample scores for your scene. *Magic.* Right away, you get a feel for which ones work for you, and you can begin a
conversation/interview with those composers.
Beyond that, you can reach out to agents who represent composers that are further along in their careers, from mid-level all the way to the top composers in the industry. If you hire a music supervisor, they will be consulting these resources. Plus, they will have the scoop on the latest up-and-coming composers.
Passman: How do you feel about popular artists like Trent Reznor & Jónsi making a significant impact on the composing world?
Devine: ASCAP works with a wide variety of composers, both classically or otherwise formally trained, as well as songwriters/artists-turned-composers. Many composers have come from backgrounds in television or Broadway music, or in rock/pop or urban songwriting. Great scores certainly come from all of these, and keep the field fresh and exciting. You're looking for the unique sound, style, composer or artist that resonates with the voice of your film. It's hard to predict where that will come from.
Passman: Every filmmaker should know about cue sheets. What are cue sheets, why do they exist and how do you file them?
Devine: A cue sheet is a schedule of the music contained in a film or television program. It's the essential document that ASCAP requires in order to distribute royalties to a film's composer, any songwriters with songs placed in the film, and the publisher of the score (which is often the film production company). It is normally prepared and delivered to ASCAP by the production company. You can find out everything you need to know about cue sheets at the Cue Sheet Corner section of our website.
Passman: What are some of your favorite film scores of all time?
Devine: I'll answer a slightly different question, since I was quite struck by a comparison relatively recently. This may illustrate the power of understanding what a score can bring to your film.
A favorite (relatively) recent film score was Carter Burwell's score to Twilight. It was sweeping, dreamy and dramatic in a way that elevated the film, and held all of its moody, staring-into-eyes scenes together while propelling the movie and characters forward. I watched the film again specifically because of the score.
Compare that to its sequel, New Moon, where the filmmaker chose to have top artists/bands write songs specifically for particular scenes. While strong song placements can often work extremely well, and having the songs custom-written to scenes was intended to further fine-tune these placements so they would carry the film, in this case I feel it didn't do the narrative justice. While any one of these songs may have nailed the moment and made for a great individual scene,
much was lost in the context of the whole.
Without unifying score/themes/melodies interwoven through these scenes, connecting them from the wider perspective of the arc of the film, these scenes remained as separate islands. Nothing tied them together and helped them build momentum or crescendo sequentially. Nothing integrated them with the scenes that did have score.
As such, in my opinion, the invisible tensions between the characters was lost, the drama was lost, and we were left with characters' empty staring into eyes, which fell flat. In this case, with fewer song placements and more room for a proper dramatic score, I think the film might have played much more strongly.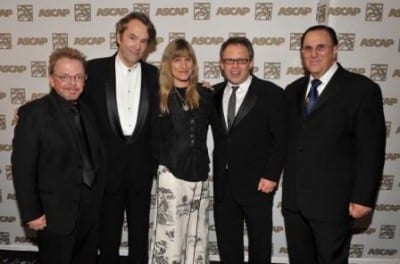 Pictured (l-r) at the 2009 ASCAP Film & TV Music Awards: ASCAP President and Chairman of the Board Paul Williams, Twilight composer Carter Burwell and director Catherine Hardwicke, director Bill Condon, ASCAP CEO John LoFrumento. Photo by Lester Cohen/Wireimage.com.