Venice Film Festival, Netflix & The Gotham Institute Team Up For 'Next Generation' Program At New York's Paris Theater
by Tobi Phang-Lyn on March 30, 2023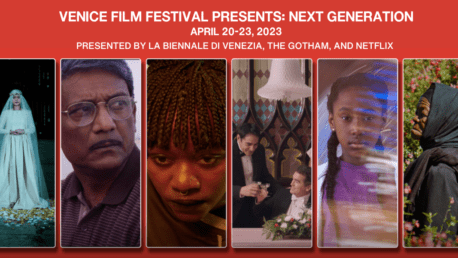 Brooklyn, New York (March 30, 2023) — La Biennale di Venezia, The Gotham Film & Media Institute, and Netflix announced today Venice Film Festival Presents: Next Generation, a new four day event celebrating films from La Biennale di Venezia's Biennale College Cinema. Taking place April 20 – 23 at the legendary Paris Theater in New York City, the event will screen and honor films from the first ten years of Biennale College Cinema, an incubator program that has had a tremendous impact on contemporary world cinema by nurturing and producing low-budget films by emerging filmmakers. Among the college's major successes are Ricky D'Ambrose's Spirit Award-winner The Cathedral, and Lemohang Jeremiah Mosese's This is Not a Burial, It's a Resurrection.
Biennale College Cinema, launched by the Venice Biennale in 2012 – director Alberto Barbera, Head of Program Savina Neirotti – selects twelve feature film projects each year presented by directors in their first or second work and emerging producers in a two-week workshop held by tutors, at a former monastery on the island of San Servolo in the Venetian lagoon. Out of these twelve projects, up to four projects are then selected which are fully supported with €200,000 and presented as world premieres at the Venice International Film Festival. Biennale College Cinema follows the making of films throughout the entire production cycle, working with tutors in close contact with the producer and director teams. Overall, in ten years the Biennale College – Cinema has made 34 feature films by emerging directors, often awarded in national and international contexts, following 2,337 applications received from all over the world.
The Gotham has been an Academic Partner of Biennale College Cinema since its inception. Venice Film Festival Presents: Next Generation, presented by La Biennale di Venezia, The Gotham and Netflix, will celebrate the films and filmmakers that have come out of this impactful program.
Venice Film Festival: Next Generation will offer filmgoers and aspiring filmmakers a unique inside look at the creative process. All screenings will be accompanied by in-depth discussions pairing new filmmakers with established directors, producers, and writers. The discussions will include exclusive behind-the-scenes video giving a glimpse into the production process.
"Venice Film Festival Presents: Next Generation will be a unique event that will joyfully showcase the beauty and skill contained in some of the many magnificent films that have emerged from Biennale College Cinema in its first decade," said Alberto Barbera and Savina Neirotti. "We're deeply appreciative of the continued support from our friends and Academic Partners at The Gotham, as well as the kind people at Netflix, who are committed to ushering many more decades of wonderful films,"
Opening night of Venice Film Festival Presents: Next Generation will feature a screening of mystery/thriller Our Father, the Devil along with remarks by Director Alberto Barbera and the Head of Programme Savina Neirotti. Nikyatu Jusu, a rising star who recently won the "Someone to Watch" Award at the Film Independent Spirit Awards for her film Nanny, will serve as moderator for the opening night discussion with director Ellie Foumbi. Other films that came out of Biennale College Cinema set to be screened at Venice Film Festival Presents: Next Generation include Beautiful Things, The Cathedral, The Fits, Hotel Salvation, and This Is Not a Burial, It's a Resurrection.
"On top of organizing the oldest and one of the most influential film festivals in the world, La Biennale di Venezia passionately nurtures and champions up-and-coming filmmakers through the remarkable Biennale College Cinema." said Jeffrey Sharp, Executive Director of The Gotham Film & Media Institute. "We're proud of our longstanding collaboration with Biennale College Cinema and we're thrilled to partner with La Biennale di Venezia and Netflix on sharing some of the excellent work to emerge from this incredible program."
"This is a very exciting program for the Paris Theater," said Spencer Klein, Netflix's Head of Distribution. "We're thrilled to bring this important component of the Venice Film Festival to New York audiences, and are especially pleased at the quality of the films we'll be showing and the fact that the filmmakers will be there to discuss their work."
To get tickets for Venice Film Festival Presents: Next Generation, please visit www.paristheaternyc.com. To learn more about Biennale College Cinema, including how to apply, please visit collegecinema.labiennale.org
About La Biennale di Venezia
The Venice Biennale was founded in 1895 and is considered one of the best known and most prestigious cultural institutions in the world. At the forefront of research and dissemination of contemporary artistic trends, it organizes in all its Sectors – Art (1895), Architecture (1980), Cinema (1932), Dance (1999), Theater (1934), Music (1930) – exhibition, performative, research activities. The Biennale College's activity of supporting productions by young talents, in comparison with Masters, extends to all Sectors of the institution.
About Netflix & The Paris Theater
Netflix is one of the world's leading entertainment services with 231 million paid memberships in over 190 countries enjoying TV series, films and games across a wide variety of genres and languages. Members can play, pause and resume watching as much as they want, anytime, anywhere, and can change their plans at any time.
The legendary Paris Theater is New York City's longest-running arthouse theater. Opened in 1948, it was slated to close in 2019 but was saved and renovated by Netflix. It is the only single-screen movie theater in Manhattan, and offers a full schedule of new releases, premieres and special events, personal appearances, and repertory screenings.
About The Gotham Film & Media Institute
The Gotham champions the future of storytelling by connecting artists with essential resources at all stages of development and distribution. The organization, under the leadership of Executive Director and award-winning producer Jeffrey Sharp, fosters a vibrant and sustainable independent storytelling community through its year-round programs, which include Gotham Week, Gotham Labs, Filmmaker Magazine, the Gotham Awards, and Gotham EDU.

PROGRAM SCHEDULE AND FILM INFORMATION
Thursday, April 20
7:00 p.m.
Opening night program
OUR FATHER, THE DEVIL with director Ellie Foumbi in person
Post-screening discussion with Ellie Foumbi moderated by Nikyatu Jusu (Nanny)
(France, 2021, 1 hr 48 mins., Dir. Ellie Foumbi. With Babetida Sadjo, Jennifer Tchiapke, Souléymane Sy Savané)
Set in a sleepy French town, Ellie Foumbi's gripping drama is a tale of memory and revenge that unfolds like a suspense thriller. Babetida Sadjo is spellbinding as Marie, the head chef at a retirement home. Her easy day-to-day life spent caring for residents, hanging out with her co-worker and best friend Nadia (Jennifer Tchiakpe), and teasing a potential new romance is disrupted by the arrival of Father Patrick (Souleìymane Sy Savané), an African priest whom she recognizes from a terrifying episode in her homeland. As he further endears himself to the residents and staff, Marie is forced to decide how best to deal with this reminder of her troubled past.
"[Babetida Sadjo gives quite simply the best performance of the year. For writer-director Ellie Foumbi, it's an assured piece of work with a clear vision, and it will leave you eager to see what she does next." (Jennie Kermode, Eye for Film)
The evening will open with a tribute to Venice Film Festival Artistic Director Alberto Barbera, and Biennale College Cinema Head Savina Neirotti
Friday, April 21
7:00 p.m.
HOTEL SALVATION with director Shubhashish Bhutiani in person
(India, 2016, 1 hr 42 mins, Dir. Shubhashish Bhutiani. With Adil Hussain, Lalit Behl, Geetanjali Kulkarni)
Adil Hussain (Life of Pi) stars as Rajiv, an overworked businessman, who agrees to honor the final wish of his father, Daya, by accompanying him to the holy city of Varanasi. There, they check in to the Hotel Salvation, where residents are given just two weeks to live out their final days or return home. While Daya revels in the simple pleasures of this timeless place, Rajiv finds himself burdened by the many obligations he left behind. The story of family bonds and the acceptance of death is universal, but with a light touch and a deeply observant style, Bhutiani deeply grounds his film in the reality of Indian culture and daily life.
"An Indian comedy full of emotional depth and understated paradox…Though the acting is low-key, it's full of warmth and tenderness that involves the audiences in the shared joy, worry, and grief of an identifiable family." (Deborah Young, Variety)
Saturday, April 22
3:00 p.m.
BEAUTIFUL THINGS with director Giorgio Ferrero in person
(Italy, 2017, 1 hr 33 mins., Dir. Giorgio Ferrero)
Beautiful Things is a journey into our obsessive consumption. Giorgio Ferrero's wonderfully original and visually stunning documentary follows four men who work alone in: a vast Texas oilfield, the hull of a cargo ship, an echo-less chamber, and a concrete waste sorting pit. These disparate characters are united in the chain of creation, logistics, marketing, and destruction of objects that permeates our world. Ferrero helps us see our world anew, offering an escape from what he calls "the bulimia of our contemporary lifestyle."
"A ravishingly beautiful audiovisual experience, Giorgio Ferrero's debut feature is a transfixing work about the origins of consumer society imbued with a musical sense of rhythm." (Film at Lincoln Center)
7:00 p.m.
THE FITS with director Anna Rose Holmer in person
(U.S., 2015, 1 hr 12 mins. Dir. Anna Rose Holmer. With Royalty Hightower, Alexis Neblett, Da'Sean Minor.)
Eleven-year-old tomboy Toni (a showstopping Royalty Hightower) is bewitched by the tight-knit dance team she sees practicing in the same Cincinnati gymnasium where she boxes. Enamored by the power and confidence of the strong community of girls, Toni spends less and less time boxing with her older brother, and instead eagerly absorbs the dance routines and masters drills from a distance, and even pierces her own ears in an effort to fit in. But when a mysterious outbreak of fainting spells plagues the team, Toni's desire for acceptance becomes more complicated.
"The Fits pulls you in and won't let go. It's a 72-minute wonder, a self-assured, gently mysterious little film that is hypnotic in unexpected ways."
Sunday, April 23
3:00 p.m.
THIS IS NOT A BURIAL, IT'S A RESURRECTION and video interview with director Lemohang Jeremiah Mosese
(Lesotho, 2019, 2 hrs 2 mins. Directed by Lemohang Jeremiah Mosese. With Mary Twala Mhlongo)
With a poet's eye for place, light, and the spiritual dimensions of everyday existence, Lemohang Jeremiah Mosese crafts a meditation on the concept of homeland and a transcendent elegy for what is lost in the name of progress. Grieving and alone following the deaths of her husband and children, elderly Mantoa (Mary Twala Mhlongo, in a soul-shaking performance) prepares for her own death and to be buried alongside her ancestors. When plans for a new dam near her village in the landlocked kingdom of Lesotho threaten to literally wash away all she holds dear, Mantoa takes a last stand, mobilizing her neighbors to fight for their land and their way of life.
"This is Not a Burial, It's a Resurrection would be an exceptional film under any circumstances, but it has a special power at this particular moment." (Bilge Ebiri, New York Magazine)
7:00 p.m.
THE CATHEDRAL and director Ricky D'Ambrose in person
(U.S., 2021, 1 hr 28 mins., Directed by Ricky D'Ambrose. With Brian D'Arcy James, Monica Barbaro)
This multigenerational tale tracks one family's rise and fall over decades, as seen through the eyes of its youngest member, Jesse, an only child who develops an interest in art. We see a family and a country come undone in Ricky D'Ambrose's Spirit Award-winning drama. Deploying a Bressonian framing of richly textured interior and delicate hand gestures, these nostalgic glimpses at a fractured father-son bond meticulously conjure a bygone 1980-s and 1990s Long Island. (A MUBI release)
"A movie filled with restrained feeling and shimmers of beauty. Over the course of this spare, precise, formally rigorous movie, Jesse grows from a quiet wide-eyed toddler into a pensive, watchful teenager." (Manohla Dargis, The New York Times).
Media Contact: