The Gotham Announces Winners of 4th Annual Focus Features & JetBlue Student Short Film Showcase
by The Gotham Staff on January 26, 2023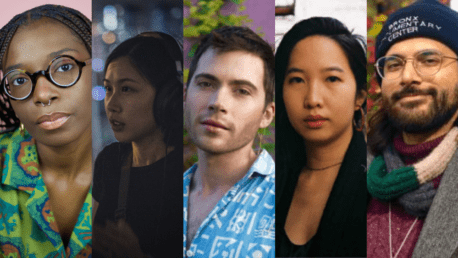 NEW YORK, NY (January 26, 2023) — The Gotham Film & Media Institute announced the winners of its fourth annual Focus Features & JetBlue Student Short Film Showcase. The five winning filmmakers are Saleem Gondal (Post Term, Feirstein Graduate School of Cinema), Yingtong Li (The Silent Whistle, Emerson College), Taylor Mannsman (Obscura, University of Texas at Austin), Shannon M. Sutherland (They Flew Like Blackbirds, Florida State University), and Cheryl Wong (Stigma, Style, NYU). With the support of returning partners JetBlue and Focus Features, as well as new partner Soho House, The Gotham aims to discover and empower a diverse group of emerging filmmakers as well as foster multi-platform distribution of their work through the annual program.
The fourth annual Focus Features & JetBlue Student Short Film Showcase received projects from 23 graduate film schools. A special jury of filmmakers, curators, and critics selected the five winning filmmakers, who were recognized during the 2022 Gotham Awards Ceremony on Monday, November 28, 2022. Each winner received a $10,000 grant and will have their films shown for twelve months on JetBlue's seatback entertainment systems under the "Gotham Selects" movie category and on Focus Features digital streaming platforms. Throughout 2023, winning filmmakers will also receive ongoing mentorship and workshopping opportunities from The Gotham.
"Covering a broad range of genres and new subjects, the wildly imaginative work from these incredible up and coming talents assures me that the future of film is in good hands." said Jeffrey Sharp, Executive Director of The Gotham Film & Media Institute. "Inclusive mentorship and early career support are pillars of The Gotham community and we relish the opportunity to help young filmmakers find their footing in this industry. We're grateful for the continued support of our loyal partners, JetBlue and Focus Features, along with our new partner Soho House, and their commitment to this pivotal program."
"Beyond championing these films on our platforms, this program provides invaluable mentorship that will empower the winning filmmakers to reach their boundless potential," said Focus Features Chairman Peter Kujawski and Vice Chairman Jason Cassidy in a joint statement. "Focus is committed to championing the next generation of bold storytellers and we look forward to continuing this partnership with The Gotham for many years to come."
This year's participating schools include California Institute of the Arts, Chapman University, Columbia College Chicago, Columbia University, Emerson College, Feirstein Graduate School of Cinema, Florida State University, Georgia State University, Howard University, Loyola Marymount University, New York Film Academy, NYU, Sacred Heart University, San Francisco State University, Stony Brook University, Syracuse University, The City College of New York, The New School, The University of Texas at Austin, UCLA, University of Miami, University of Southern California, and University of Texas at Austin. Shannon M. Sutherland's win for They Flew Like Blackbirds marks the first for a student from Florida State University.
Saim Sadiq was among the winners of the first annual Focus Features & JetBlue Student Short Film Showcase. He is the writer and director of Joyland, the film selected as the Pakistani entry for Best International Feature Film at the 95th Academy Awards. After making the shortlist of the 15 international films that advanced to the nomination voting stage, Joyland was picked up for U.S. distribution by Oscilloscope Laboratories and will be released later this year.
"At JetBlue, we believe that entertainment is more than an opportunity for enjoyment, but another avenue for discovery, education and connection to the world," said Mariya Stoyanova, director of product development, JetBlue. "We are proud to continue our partnership with The Gotham Film & Media Institute, and look forward to sharing the next generation of filmmakers' award-winning stories in the skies."
"As an organization, bringing together and supporting creatives is in our DNA. We're delighted to support The Gotham and this remarkable program," said Jo Addy. "At Soho House locations worldwide, we're genuinely excited to screen these extraordinary pieces of film from young creatives who are just starting their careers."
About Focus Features
Focus Features develops, produces, acquires, and distributes films for the global market. Today, Focus boasts a prolific library of iconic movies, with 136 Academy Award® nominations and 26 wins from the industry's leading filmmakers. The studio's upcoming slate includes Wes Anderson's Asteroid City, Alexander Payne's The Holdovers, an untitled comedy from Ethan Coen; Nida Manzoor's Polite Society; Zelda Williams' Lisa Frankenstein; Bill Holderman's Book Club: The Next Chapter; My Big Fat Greek Wedding 3 from Nia Vardalos; A.V Rockwell's A Thousand And One; Goran Stolevski's Of An Age; Vasilis Katsoupis's Inside and Bobby Farrelly's Champions, among others. Focus is the specialty division of the Universal Filmed Entertainment Group (UFEG), which also includes Universal Pictures, Universal Pictures Home Entertainment, Universal Pictures Content Group and DreamWorks Animation. UFEG is part of NBCUniversal, one of the world's leading media and entertainment companies in the development, production and marketing of entertainment, news and information to a global audience. For more information, please visit www.focusfeatures.com
About JetBlue
JetBlue is New York's Hometown Airline®, and a leading carrier in Boston, Fort Lauderdale-Hollywood, Los Angeles, Orlando and San Juan. JetBlue carries customers to more than 100 destinations throughout the United States, Latin America, Caribbean, Canada and the United Kingdom. For more information and the best fares, visit jetblue.com.
About Soho House
Founded in 1995 by Nick Jones, Soho House is a place for our diverse membership to connect, grow, have fun, and make an impact. Today, there are members and Houses around the world, as well as restaurants, spas, workspaces, and cinemas. With 38 locations globally Soho House is a platform that fosters creativity in all its forms, a place where people can share ideas and make connections in physical and digital spaces.
About The Gotham Film & Media Institute
The Gotham champions the future of storytelling by connecting artists with essential resources at all stages of development and distribution. The organization, under the leadership of Executive Director and award-winning producer Jeffrey Sharp, fosters a vibrant and sustainable independent storytelling community through its year-round programs, which include Gotham Week, Gotham Labs, Filmmaker Magazine, the Gotham Awards, and Gotham EDU.

About The Gotham Awards
The Gotham Awards, one of the leading honors for independent film and television, provides early acknowledgement to groundbreaking independent films and television series. Selected by distinguished juries and presented in New York City, the home of independent film, the Gotham Awards are the first honors of the film awards season. This public showcase honors the filmmaking community, expands the audience for independent films, and supports the work that The Gotham Film & Media Institute does behind the scenes throughout the year to bring such films to fruition.

Media Contact
[email protected]