The Gotham, Soledad O'Brien Productions Announce Inaugural Gotham EDU Executive Leadership Program Cohort
by The Gotham Staff on January 10, 2023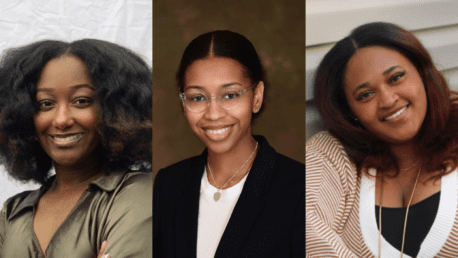 NEW YORK (January 9, 2022) – The Gotham Film and Media Institute in partnership with SO'B Productions has announced the inaugural cohort and mentors for the Gotham EDU Executive Leadership Program. The initiative was designed to provide undergraduate students of color who identify as women or nonbinary an opportunity to deepen their institutional knowledge to advance their careers in communications, marketing, and development within the film and media industry. The funding support for this program is provided by SO'B Productions led by award-winning journalist, documentarian, and producer Soledad O'Brien.
The three selected fellows of the inaugural Gotham EDU Executive Leadership Program cohort are undergraduate students from Hampton University, Spelman College, and Winston State University. Through a competitive nomination process, the three fellows were selected from 28 students representing 13 universities and colleges.
Participants in the program will be paired with senior industry executives from companies Netflix, Neon, and Firelight Media who will provide one-on-mentorship to the fellows. The mentors were selected based on career background and commonalities with fellows. Additionally, the Gotham will provide fellows with access to quarterly leadership and career development workshops in the areas of negotiating skills, emotional intelligence, as well as opportunities to network with members of the Gotham community throughout the year and special Women in Media Salons hosted by Soledad O'Brien.
"We are thrilled to provide vital resources to advance the careers of those selected for the inaugural cohort in the film and media industry. By providing them with educational resources and access to industry leaders to help grow their networks, we at the Gotham believe this program will set the fellows on a path to success ," Kia Brooks, Deputy Director of the Gotham and Cait Carvalho, Director of Curriculum for Gotham EDU said in a joint statement.
"I am so glad to be partnering with the Gotham on this vital initiative to support the next generation of women and nonbinary executives in the film industry. The resources, access and mentorship they'll receive will undoubtedly propel their careers forward," said Soledad O'Brien.
The program will begin this month and take place through fall 2023 culminating in a celebration of the fellows at Gotham Week 2023.
See below for additional details on the selected cohort and mentors.
Cohort Participants
Ashleigh Brabham, Winston Salem State University
Ashleigh Brabham is a third-year student at Winston Salem State University studying Mass Communications with a minor in Marketing. After graduation they hope to work in a firm as a Marketing Analyst. They are apart of several clubs on campus such as SGA Senators where they serve as Secretary, the NAACP, and the National Council of Negro Women.
Neema Griffin, Spelman College
Neema Griffin is a senior at Spelman College studying documentary filmmaking, Spanish and writing. She is currently working on the production of her new documentary film project that will focus on the historical site Igbo Landing located in coastal Georgia.
Madysen Scott, Hampton University
Madysen Scott is a junior Strategic Communication major on the pre-law track at Hampton University from Fort Mill, South Carolina. She is the president of the Phi Eta Sigma National Honors Society, the Director of PR and Marketing for the Hampton University SGA, the Marketing Strategist for Brand 757, and the CoChair for the publicity committee for the Freddye T. Davy Honors College.
Cohort Mentors
Darcy Heusel, Co-Head of Super and VP of Audience Engagement and Impact at NEON
Darcy Heusel Co-Heads SUPER, NEON's distribution division. Darcy is also the VP of Audience Engagement and Impact at NEON. Previously, Darcy was the Senior Vice President of Impact at Picture Motion, a marketing and advocacy firm for social issue films. In this role, she built and executed national social action campaigns for narrative and documentary projects including Lion, Fed Up, Fruitvale Station, and Bully. Prior to Picture Motion, Darcy served as the Senior Director of Acquisitions and Marketing at Screen Media Films.
Nyle Washington, Series Awards Publicity Executive at Netflix
Nyle Washington is a public relations professional with over 20 years of working in the television and entertainment industry. She currently serves as an Awards & Talent Relations Manager at Netflix where she ​strategizes, conceptualizes and executes year around awards campaigns for Netflix's scripted series including, The Crown, Squid Game, Bridgerton, Stranger Things, Ozark, and Dead to Me.
Chloë Walters-Wallace, Director of Regional Initiatives at Firelight Media
Chloë Walters-Wallace is a Jamaican creative with a passion for curation, travel, documentaries, dancehall and installation art. Currently, she is the Director of Regional Initiatives at Firelight Media, where she oversees the Groundwork Regional Lab and the new HOMEGROWN non-fiction shorts slate, both supporting filmmakers of color in the South, Midwest & US Territories.
About SO'B Productions
Founded in 2013 by award-winning journalist Soledad O'Brien, SO'B Productions specializes in developing and producing thought-provoking television and film content on the very issues Soledad has championed throughout her career. With an emphasis on character-driven storytelling, SO'B's work strives to amplify marginalized voices, while exploring pressing social issues like race, class, gender, and identity.
In 2022, SO'B produced The Rebellious Life of Mrs. Rosa Parks, which premiered at the Tribeca Film Festival and streams exclusively on Peacock. In 2021, the company created "Disrupt and Dismantle" for BET ", "Who Killed My Son?" and "The Prison Breaker" for Discovery+ and the HBO series "Black and Missing," which won best documentary series at the Independent Spirit Awards. SO'B has also produced multiple documentary projects for CNN and Al Jazeera America.
SO'B has also partnered with leading foundations to produce compelling documentary content, including the Ford Foundation, the de Beaumont Foundation ("Outbreak: Pandemic in Seattle) and the Conagra Brands Foundation ("Hungry to Learn").
Projects from SO'B Productions have received numerous awards and recognition, including an Independent Spirit Award, NAACP Award and most recently, a Critics Choice Award nomination.
About the Gotham Film & Media Institute
The Gotham celebrates and nurtures independent film and media creators, providing career-building resources, access to industry influencers, and pathways to wider recognition. The organization, under the leadership of Executive Director and award-winning producer Jeffrey Sharp, fosters a vibrant and sustainable independent storytelling community through its year-round programs, which include Gotham Week, Gotham Labs, Filmmaker Magazine, the Gotham Awards, Gotham EDU, Owning It, and Expanding Communities.
About Gotham EDU
The Gotham EDU is dedicated to championing and empowering young professionals as they face the challenges of transitioning from student to industry professional. The Gotham EDU provides an engaging and collaborative environment that expands the creative and professional horizons of our students and partnered academic communities. By prioritizing resources, mentorship, and community, Gotham EDU seeks to provide more equitable access to the Film and Media Industry for the next generation of storytellers.
Media Contact
[email protected]