The Gotham Announces Fellows for 2023 Gotham Cannes Producers Network
by Tobi Phang-Lyn on May 9, 2023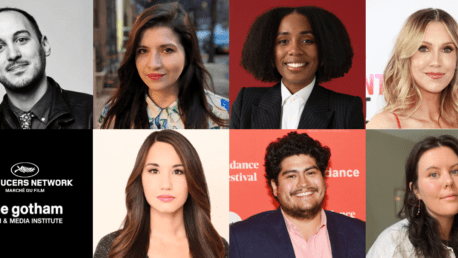 New York, New York (May 9, 2023) – The Gotham Film & Media Institute (The Gotham) announced today the 2023 fellows for the Festival De Cannes Producers Network Program. They are Maria Altamirano (All Dirt Roads Taste of Salt), Liz Cardenas (Never Goin' Back), Leah Chen Baker (Palm Trees and Power Lines), Yoni Golijov (All the Beauty and the Bloodshed), Emma Hannaway (Strawberry Mansion), Nikkia Moulterie (Nanny), and Carlos Zozaya (We're All Going to the World's Fair). This year's Producers Network Fellows will be participating in person at Cannes, May 17 – 22.
As the sole U.S. Partner Organization for the Festival de Cannes Producers Network, The Gotham annually selects U.S. fiction and nonfiction producers to participate. Running concurrently with the Cannes Film Festival and the Marche du Film, the program is specifically designed for experienced producers to build up their international networks and learn more about international production, financing, legal and packaging.
"The 2023 Gotham/Cannes Producers Network Fellows are an extraordinary group of talented producers, who have demonstrated so early in their careers both the taste and acumen to bring excellent new projects to life," said Jeffrey Sharp, Executive Director of The Gotham Film & Media Institute. "We look forward to all of the networking, education, film appreciation, and celebration ahead at Cannes. We're grateful for the support of our trusted partner, the Cannes' Marché du Film and their continued backing of this impactful program."
Additionally, The Gotham announced the three Colgate University students, John Cremins, Ellie Johnston, and Chris Mardirossian, who will intern with The American Pavilion Worldwide Student Program during the festival. This opportunity was born out of a collaboration between The American Pavilion and The Gotham's EDU program. Designed to provide hands-on experience and industry access, these students will attend panels and film screenings, participate in roundtables, network with industry, and even walk the red carpet.
About the 2023 Gotham/Cannes Producers Network Fellows
Maria Altamirano
Maria Altamirano is a Peruvian-American independent producer. She produced Alexis Gambis' Son of Monarchs (HBO Max), winner of the Alfred P. Sloan Feature Film Prize at the 2021 Sundance Film Festival, Raven Jackson's award-winning short Nettles (Criterion Channel), and Jackson's debut feature All Dirt Roads Taste of Salt, produced in partnership with PASTEL and A24. She was also a Co-Producer on Season 2 of HBO's critically-acclaimed comedy series Los Espookys. Maria is a 2020 Film Independent Producing Lab Fellow, a 2021 The Gotham/Rotterdam Lab Fellow, and in 2023 was selected for the inaugural Imaginar Producers Residency, a collaboration between Film Independent, The Walt Disney Company, Searchlight Pictures and NALIP. She is a graduate of NYU's MBA/MFA program, where she received the Media Services Award for excellence in creative producing. Prior to filmmaking, Maria was Market Research Manager at Paramount Pictures, where she generated key development and marketing insights for the studio's slate.
Liz Cardenas
Liz Cardenas is a 2022 Independent Spirit Award winner for Duplass Brothers Productions' 7 DAYS (Tribeca '21 | Cinedigm), written and directed by Roshan Sethi starring Karan Soni and Geraldine Viswanathan, and a 2019 Spirit Award Nominee for Never Goin' Back (Sundance '18 | A24), directed by Augustine Frizzell starring Maia Mitchell, Camila Morrone and Kyle Mooney. She was also nominated for the Producer Award at the 2023 Spirit Awards.
A former reporter for The Dallas Morning News, Liz was included in the 2019 LATINXT, a curated list of emerging Latinx creators from an initiative by Zoe Saldana, Robert Rodriguez, and Lin-Manuel Miranda, and was one of only four producers to receive the inaugural 2022 Dear Producer Award. Other notable producing credits include Acidman (Tribeca 2022 | Brainstorm Media) directed by Alex Lehmann, starring Thomas Haden Church and Dianna Agron; A Ghost Story (Sundance '17 | A24), directed by David Lowery, starring Rooney Mara and Casey Affleck; Gotham Narrative Lab film, Jules of Light and Dark (Wolfe Releasing), the 2019 Outfest Best US Narrative Feature winner; and Materna (Utopia), which took home Best Cinematography and Best Actress awards at Tribeca 2020.
A Rotterdam Lab and Film Independent Fellow, she has two features in post and five features and one series in development under her Ten to the Six Pictures. Liz is based in LA and Dallas, where she grew up with her Hispanic father who immigrated to the US from Mexico and Irish-American mother from the East Coast.
Leah Chen Baker
Leah Chen Baker is an Independent Spirit Award-nominated producer and filmmaker. She produced Jamie Dack's feature debut, Palm Trees and Power Lines, which premiered at Sundance 2022 and won the U.S. Dramatic Directing Award. Most recently, Leah was selected as a 2022 Sundance Institute Producing Fellow, Mark Silverman Honoree and Sundance Institute Catalyst Fellow. She earned her MFA from NYU's Graduate Film Program and is a Media Services Producing Award recipient and a member of the Producers Guild of America.
Yoni Golijov
Yoni Golijov is a nonfiction filmmaker; his producing work has been nominated for the Academy Award and the BAFTA and has won an Independent Spirit Award. Most recently, Golijov produced Laura Poitras's feature film All The Beauty and the Bloodshed (2022) about legendary artist and activist Nan Goldin; the film won the Golden Lion at Venice Film Festival, only the second time in the festival's history a documentary film won the top prize. In 2022 he and collaborator Yael Bridge co-directed/produced the short film When We Fight (2022) about the Los Angeles educators strike. His previous producing work includes Laura Poitras's first European gallery show, Circles (nbk Gallery, 2021), her collaborations with Forensic Architecture: Terror Contagion (Cannes, 2021), Triple-Chaser (Whitney Biennial | 2019), and her feature film Risk (Cannes, 2016) about WikLeaks. Previously Golijov worked as Consulting Producer at Field of Vision where he worked across shorts, series and features and co-coordinated the Field of Vision Fellows retreat. Golijov is a Sundance Producing Lab Fellow, an NBC Original Voices Fellow, and a member of New Day Films and the Documentary Producers Alliance.
Emma Hannaway
Emma Hannaway is an independent film producer living in Baltimore and working wherever the road takes her. She produced Strawberry Mansion (directed by Albert Birney and Kentucker Audley) which had its premiere at the 2021 Sundance Film Festival and was released by Music Box Films in early 2022. She also produced Olivia West Lloyd's debut feature Somewhere Quiet, which will have its premiere in competition at the 2023 Tribeca Film Festival. As a line producer, Emma's credits include various commercials, music videos, and most recently Zia Anger's feature My First Film.
Emma first discovered her love for developing and producing complex, curious cinema by working in various production roles on films such as Nomadland (dir. Chloé Zhao), The Tragedy of Macbeth (dir. Joel Coen), and Shirley (dir. Josephine Decker) among others.
Nikkia Moulterie
Nikkia Moulterie is a producer born and raised in NY. She recently made the 2023 Variety's Producer to Watch list, is a 2022 Gotham/Rotterdam Producing Fellow, and a 2019 Sundance Creative Producing Fellow & Silverman Honoree. She Co-Produced the premiere season of the Peabody award-winning HBO Series Random Acts of Flyness. Her work as a producer also includes television series', Final Witness at ABC News, and One Bad Choice at MTV. In 2019, she produced Suicide by Sunlight, which premiered at the 2019 Sundance Film Festival. In 2022 she Produced feature film NANNY, with Stay Gold Features and Topic Studios – a 2020 Sundance Screenwriting / Directors / Catalyst Lab project that won the Grand Jury Dramatic Prize at the 2022 Sundance Film Festival and sold to Blumhouse / Amazon Studios.
She is currently in development on 1791, a historical thriller about the Haitian revolution with filmmakers Stefanie Saintonge, Sebastien Denis, and cinematographer Bradford Young. Her ongoing collaboration with director Yvonne Shirley will continue with To the Unknown, Yvonne's feature documentary on classical and jazz pianist Donald Shirley.
Her work also includes numerous other works in the Editorial, Music Video, Commercial, and Branded content world with clients such as T Magazine, Nike, Louis Vuitton, Ulta Beauty's "Muse" campaign, Adidas, Instagram, Status Pro, Madam CJ Walker, and more. Currently she's an Executive Producer at The Kitchen Table.
Carlos Zozaya
Carlos Zozaya is an independent feature film producer with a BFA from NYU's Tisch School of the Arts. He served as a Co-Producer on Chained For Life (Dir. Aaron Schimberg), and as lead producer, helmed Sebastián Silva's Tyrel, which premiered at the 2018 Sundance Film Festival and was released by Magnolia Pictures (2018). His next project, Aviva, (Dir. Boaz Yakin) with choreography by Bobbi Jene Smith was an official selection of the 2020 SXSW Film Festival and was released by Outsider Pictures / Strand Releasing (2020). Carlos' most recent feature, We're All Going to the World's Fair (Dir. Jane Schoenbrun) premiered to critical acclaim at the 2021 Sundance Film Festival. It was picked up by Utopia Select for a successful theatrical run and is currently available on HBO Max. His upcoming projects include Bobbi Jene Smith's directorial debut, Broken Theater (Mad Gene Media / Dweck Productions), the latest feature film from directors Bill & Turner Ross (Department of Motion Pictures), Haley Elizabeth Anderson's directorial debut, Flotsam/Jetsam (Flies Collective / Dweck Productions) and Gabacho, a laugh-out-loud latino driven comedy directed by Adrian Martinez.
In 2018 he was selected as a Gotham fellow for the IFFR Producer's Lab in Rotterdam. Carlos was raised in Mexico City and now resides in Brooklyn, New York.
About The Gotham Film & Media Institute
The Gotham champions the future of storytelling by connecting artists with essential resources at all stages of development and distribution. The organization, under the leadership of Executive Director and award-winning producer Jeffrey Sharp, fosters a vibrant and sustainable independent storytelling community through its year-round programs, which include Gotham Week, Gotham Labs, Filmmaker Magazine, the Gotham Awards, and Gotham EDU.

About The Gotham Awards
The Gotham Awards, one of the leading honors for independent film and television, provides early acknowledgement to groundbreaking independent films and television series. Selected by distinguished juries and presented in New York City, the home of independent film, the Gotham Awards are the first honors of the film awards season. This public showcase honors the filmmaking community, expands the audience for independent films, and supports the work that The Gotham Film & Media Institute does behind the scenes throughout the year to bring such films to fruition.
Media Contact:
The Lede Company