The Gotham & Variety Partner On 2023 Variety Gotham Week
by The Gotham Staff on June 8, 2023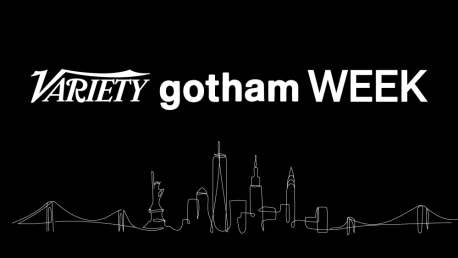 Flagship Entertainment Industry Event Coming To NYC October 2-6
New York, NY (June 8, 2023) – The Gotham Film & Media Institute and Variety, the #1 entertainment business news brand, have jointly announced the launch of Variety Gotham Week, a multi-day event in celebration of the Broadway, film, television and audio creative communities. The collaboration will leverage the forty-five year legacy of Gotham Week, a centerpiece of the annual independent film and media calendar, with Variety's annual Business of Broadway presented by City National Bank, which celebrates the annual New York issue on newsstands October 4th.  
Variety Gotham Week will feature new and exciting programming including: screenings of new films with corresponding events and after parties; panel conversations with leading arts and cultural figures; the second annual Gotham Week Expo; and the second annual Gotham/Variety Audio Honors. Panels and events will be both live streamed on Variety.com and covered across Variety's media platforms.
"The Gotham's mission is to celebrate and nurture independent film and media creators, and we are proud to partner with Variety on one of our most anticipated events of the year," said The Gotham's Executive Director Jeff Sharp. "With Variety's New York issue coming out the first day of the event, we are excited to create renewed awareness for our home, the extraordinary creative community that is New York City."
"We are thrilled to host Gotham Week with an exceptional media partner like Variety, providing an even bigger platform for our community and a dedicated space to discuss topics that are pertinent to moving our industry forward as well as solutions to career advancement," said Kia Brooks, Deputy Director at The Gotham Film & Media Institute.
"The Gotham is the right partner for Variety to collaborate with on an expanded New York program," said Dea Lawrence, Chief Operating and Marketing Officer at Variety. "We can leverage our best-in-class brands to reach a greater in-person audience in New York and to stream these exciting NY based events across Variety's global audience of 33MM unique visitors a month."
VARIETY GOTHAM WEEK'S 2023 EXPO
The Variety Gotham Week Expo 2023, an initiative of the Gotham's Expanding Communities program, will feature conversations surrounding the topics of advocacy and career advancement for independent creators. These public sessions will provide opportunities for The Gotham's partner organizations that focus on advocacy for media and entertainment professionals from historically excluded groups (including race, ethnicity, gender, sexual orientation, ability, and other characteristics) to host conversations on the topics pertinent to advancing the film and media industry. The Gotham will work with partners and Gotham alumni to showcase conversations that relate to the daily session topics such as advocating for creators within the industry, how creators can monetize their work, alumni conversations, and more. These programs will be free to attend. Dates and details will be announced soon.
VARIETY GOTHAM WEEK'S 2023 GOTHAM/VARIETY AUDIO HONORS
The second annual Gotham/Variety Audio Honors, launched in 2022 as a celebratory luncheon, is a groundbreaking initiative dedicated to recognizing the boldest voices in the ever-expanding world of audio storytelling. Last year's honorees were selected in recognition of their innovations in audio storytelling by a committee of distinguished audio industry professionals, chaired by award-winning podcast creator, producer and new host of NPR's It's Been a Minute, Brittany Luse. This year's event will continue to build upon last year's successful launch and grow our audience, live and online.
In accordance with the WGA strike rules, the annual Project Market, an event that connects creators with the industry, will not take place this year as part of Gotham Week. Those that have already submitted to the Project Market have been notified and are invited to participate in many Variety Gotham Week programming. More information about Gotham Week will be shared in the coming weeks on the Gotham's website: https://thegotham.org/attend/filmmaker-conference/
ABOUT THE GOTHAM FILM & MEDIA INSTITUTE
The Gotham celebrates and nurtures independent film and media creators, providing career-building resources, access to industry influencers, and pathways to wider recognition. The organization, under the leadership of Executive Director and award-winning producer Jeffrey Sharp, fosters a vibrant and sustainable independent storytelling community through its year-round programs, which include Gotham Week, Gotham Labs, Filmmaker Magazine, the Gotham Awards, Gotham EDU, Owning It, and Expanding Communities.
Expanding Communities, a program of The Gotham Film and Media Institute, is dedicated to providing resources, a community space, and industry access to individuals with Disabilities and Black, Indigenous, PoC, and LGBTQIA+ creators across film, TV, and audio industries.
Through partnerships with organizations aligned with uplifting historically excluded voices, the program acts as a platform for both creators and organizations to reach new audiences, develop networks of potential collaborators, and access career advancement resources and opportunities within the media and entertainment industry.
Partner organizations include Black Film Space, Black TV & Film Collective, CAAM, Film Fatales, Film Festival Alliance, Islamic Scholarship Fund, mama.film, Minorities in Film, NewFest, New Orleans Film Society, ReelAbilities Film Festival, Undocumented Filmmakers Collective, Women in Film, Women Make Movies, among others.
Variety Gotham Week gives independent creators critical industry access and resources — and celebrates the creativity, daring and determination that The Gotham is all about. It provides a unique platform from which many groundbreaking careers and projects have been launched.
ABOUT VARIETY
Variety is the #1 entertainment news brand. Now celebrating 118 years of award-winning breaking news reporting, insightful award-season coverage, must-read feature spotlights, and intelligent analysis of the industry's most prominent players, Variety remains the most trusted source for the business of global entertainment. Read by a highly engaged audience of industry insiders, executive level professionals, decision makers, and passionate fans, Variety's multi-platform content coverage expands across digital, mobile, social, print, as well as podcasts, branded content, data, events and summits. Variety is the vital read in every entertainment capital.
MEDIA CONTACT