The Blackhouse Foundation And IFP To Partner For 2019 Multicultural Producers Lab
by April Bethea on January 29, 2019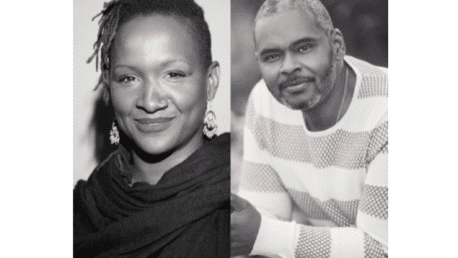 PARK CITY, UT (January 28, 2019) — The Independent Filmmaker Project ("IFP"), the nation's oldest and largest U.S.-based non-profit dedicated to supporting the future of independent filmmaking and storytelling, is teaming up with The Blackhouse Foundation, a leading non-profit organization that works to expand opportunities for black multi-platform content creators, to launch the IFP-Blackhouse Multicultural Producers Lab, sponsored by HBO Corporate Social Responsibility Department, beginning in January 2019. Brickson Diamond, co-founder of Blackhouse, made the announcement tonight at The Blackhouse Foundation's Opening Night Party at the 2019 Sundance Film Festival. The partnership brings together IFP's track record of developing creative talent with The Blackhouse Foundation's success in bringing diversity to festivals like Sundance with increased access to and for exceptional writers, directors, and producers.
A cohort of seven (7) producers of innovative fiction and nonfiction projects (film, television, and digital media) were selected by IFP, Blackhouse, and HBO. These Fellows will participate in this year-long, collaborative program to expand the number of multicultural production companies; to increase their pipeline of content; and to support the sustainability of mid-career independent producers and the scale at which their projects and businesses operate. The first cohort of participating producers are all women, signaling all of the partner organizations' focus on supporting female filmmakers.
The Fellows are Quan Lateef, Kiara Jones, JaSaun Buckner, Roche Jeffrey, Chanelle Aponte Pearson, HaJ House, and Dahéli Hall. The Lab Leaders, who are committed to guiding their progress throughout the Lab, are award-winning film, TV and digital producer Effie Brown and award-winning film and stage producer Ron Simons.
The selected Fellows will take part in a series of intensive programs and workshops throughout the year, both at the "Made in NY" Media Center by IFP in New York and at HBO headquarters in Los Angeles. The program will culminate at IFP's signature program, IFP Week 2019.
"As we look to the future, The Blackhouse Foundation's annual focus will expand to include formalized talent development educational programs and we are delighted to partner with industry-leading IFP and HBO on our first year-round program," shared Brickson Diamond, Blackhouse Co-Founder and Board Chair. "We look forward to playing a role in increasing the pool of established production companies and production executives that global media conglomerates can work with to develop and produce content. Our vision is to see more multicultural content, written, directed, produced, and owned by members our community."
"Central to IFP's mission has always been ensuring that the future of storytelling is accessible to all," says Amy Dotson, Deputy Director & Head of Programming for IFP. "With Blackhouse and IFP's combined track-record of supporting multi-cultural producers — and building community through year-round, robust and business-driven programming to sustain them — we are excited to see these Fellows create work and build businesses that will lead the way to challenging the status quo and seeding global culture in new and exciting ways."
"As a producer, I was immediately excited about the prospect and power of surrounding producers with the tools they need to succeed and scale up. Our industry takes for granted that multicultural producers have equal access to financing, agents, and studio executives. My hope is that this program will be an industry game changer – the talent is there, with this program we are providing access to the gatekeepers, relationships and tools," said Dennis Williams, SVP of Corporate Social Responsibility & Corporate Affairs at HBO.
Following the inaugural IFP-Blackhouse Multicultural Producers Lab cohort, the initiative will accept open submission for its second year in 2020.
2019 IFP-Blackhouse Multicultural Producers Lab Leaders:
• Effie Brown is an award winning film and television Producer, known for championing inclusion and diversity in Hollywood, both behind and in front of the camera. Through her company, Duly Noted Inc., Brown has produced several critically acclaimed and award winning projects including Stranger Inside, Jane Campion's In the Cut, Real Women Have Curves, Everyday People, Rocket Science and the Sundance hit Dear White People.
• Ron Simons is a four-time Tony Award-winning producer, four-time Sundance Film Festival selected producer and actor of stage, film and television. He is the Founder and CEO of SimonSays Entertainment. Simons recently won his 4th Tony Award for the August Wilson hit Broadway show Jitney, under the category "Best Revival of a Play," making him the highest African-American Tony Award winning producers of all time, and cementing him as the leading Broadway producer working today bringing diversity to the stage.
2019 IFP-Blackhouse Multicultural Producers Lab Fellows:
• Quan Lateef has worked with national and independent production companies including Discovery Communications, PBS, Bravo TV, and Viacom Networks. Currently, Quan is producing and directing content and executive producing the AFROPUNK SOLUTION SESSIONS series.
• Kiara Jones has produced 20 features and shorts, including Premature (Sundance 2019), The Roe Effect (HBO Short Film Winner), and She's Lost Control (winner Berlin Best New Feature and Independent Spirit Awards Nomination Best New Feature).
• JaSaun Buckner has produced content for MTV, Spotify, Vevo, HAVAS, and Omnicom. She established the creative direction for documentary acquisitions and in-house production for OWN's Doc Club and is the creative executive managing a current Nickelodeon series.
• Rochée Jeffrey is a 2017 Film Independent Project Involve Screenwriting Fellow, FOX's 2017 HBCU Fellow and a 2018 Humanitas Prize Finalist. Rochée was a staff writer on VH1's dramedy series, Daytime Divas, and Showtime's Golden Globe-nominated series, SMILF.
• HaJ House & Dahéli Hall are an African American producing team, and comedy writers of Angry Black Women, which won the 2017 Just For Laughs Pro Comedy Prize. Dahéli's past works, The Memo and Mandingo in a Box. won HBO short film awards.
• Chanelle Aponte Pearson is an award-winning writer, director, and producer from the Bronx, New York. Her filmmaking career began as producer for the critically acclaimed feature An Oversimplification of Her Beauty (Sundance Film Festival, 2012). Chanelle most recently produced the award-winning short film Fucked Like a Star, which premiered at BamCinemafest in 2018 and screened at the inaugural Smithsonian National Museum of African American History & Culture Film Festival. She is also executive producer for the HBO series Random Acts of Flyness.
ABOUT IFP
The Independent Filmmaker Project (IFP) champions the future of storytelling by connecting film, series, digital and audio artists with essential resources at all stages of development through distribution. The organization fosters a vibrant and sustainable independent storytelling community through its year-round programs, which include IFP Week, IFP Labs (Film, Series & Audio Storytelling), Filmmaker Magazine, IFP Gotham Awards, and the Made in NY Media Center by IFP, a tech and media incubator space developed with the New York Mayor's Office of Media and Entertainment. www.ifp.org
ABOUT THE BLACKHOUSE FOUNDATION
The Blackhouse Foundation works to expand opportunities for black content creators by providing pathways to opportunities within film, television, digital and emerging
platforms. Blackhouse provides opportunities for minority creative to learn about the financial, production, marketing and distribution resources that will raise the profile of their content, while also providing participants with a nucleus for continuing support, community and education. www.theblackhouse.org
This year The Blackhouse Foundation welcomes the following sponsors for its Sundance 2019 programming lineup – Presenting Sponsor is OWN: Oprah Winfrey Network, while BET Networks returns as a Premier Sponsor. Additional sponsors include: AT&T Dream in Black, CAA, Color of Change, EOS World Fund, HBO, IFP, Paramount Pictures, SAG-AFTRA, Starz, UMC, and more
For additional inquires, please contact:
Andre Watson
1-312-823-7024