IFP & RYOT Announce Grant & Residency Recipients For Next Generation 5G Storytelling Initiative
by Zach Mandinach on February 19, 2019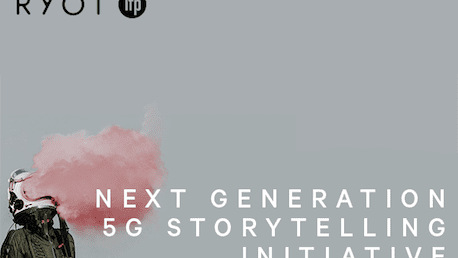 BROOKLYN, NY (February 13, 2019) — The Independent Filmmaker Project ("IFP"), the nation's premier member organization of independent filmmakers and storytellers, and RYOT, a premium entertainment studio owned by Verizon, announced the three recipients for a $10,000 grant and nine-week RYOT residency for their Next Generation 5G Storytelling Initiative. Starting in February, they  will develop and produce their three immersive projects using RYOT's newly constructed 5G studio facility and Verizon's technical resources. As grantees, they will also receive ongoing guidance and workshopping with RYOT and IFP teams.
The three projects and lead creatives are:
The Art of Dying Young: Shawn Peters (Creative Director), Barry Cole (Producer), Thomas Tucker (Technical Producer)
The Things They Left Behind: Jason De León (Collaborator & Academic Lead), Alvaro Morales (Creative Story Producer), Alex Suber (Creative Tech Producer)
Whitepaper: XR: Tony Patrick (Creator)
Amy Dotson, Deputy Director & Head Of Programming at IFP, states, "With the help of RYOT, IFP continues to bring innovative tools and the latest awareness to content creators and storytellers. Partnering with Verizon on the 5G added breadth to what we can offer creatives and we look forward to next year's edition." 
Says Ela Topcuoglu, Manager of Immersive Content Development for RYOT, "Through this partnership, we are excited to usher in a fresh and inventive new wave of creators, who are at the forefront of discovering and defining what the future of 5G storytelling looks like. RYOT is very creator focused and we believe that innovative technology is only as powerful as the story it's telling"
These projects were chosen from among the nine creative teams that took part in the three-day lab from December 5-7 at the Made in NY Media Center by IFP—with a site visit to Verizon's 5G Lab at Alley, powered by Verizon—in New York City. The Lab focused on introducing creators to the capabilities of 5G to augment their story concepts and to address specific approaches and challenges to each of the nine projects. RYOT, Verizon, and other immersive experts led sessions focused on story, narrative, and 5G creative and technical considerations. The program sessions were organized by Bill Curran, Programming Producer at the Made in NY Media Center and IFP.
The Lab participants were selected from a highly competitive field of nearly 100 accomplished storytellers. Participating projects included a diverse range of documentary and narrative concepts featuring augmented reality, interactive education, time travel, and social activism. Leading the lab was Matthew Niederhauser, an award-winning photojournalist, filmmaker, and new media creator whose credits include Zikr: A Sufi Revival (Sundance, New Frontier 2018) and Lincoln in the Bardo (Emmy-nominated 360° video for New York Times VR).
All nine of the Lab projects have been invited to participate in IFP Week in September of 2019.
OUR SELECTED GRANT & RESIDENCY RECIPIENTS

The Art of Dying Young
"The Art of Dying Young" is an interactive tour and exhibition that tells the story of Italo Mchawi, a young man memorialized by a mural in Bedford Stuyvesant, Brooklyn. The piece examines the place-making initiatives of his family and tells the local history of Italo's community through the footprints of his life. A narrated virtual reality dream is followed by a 360° audio experience of the Yoruba initiation that Italo did not live to receive. After the on-site exhibits, participants continue with an augmented reality tour ending at Italo's mural. Digital artifacts can be gathered along the tour to be placed at the mural.
Credits:
Creative Director: Shawn Peters
Producer: Barry Cole
Technical Producer: Thomas Tucker
The Things They Left Behind
In this interactive, documentary, augmented reality journey, we get a window into the odyssey that is clandestine migration across the US-Mexico border. Step inside a 3D-portal to the Sonoran Desert and the experience begins. You are tasked with collecting the real-world objects left behind by migrants. As you discover these artifacts—a water bottle, a picture frame, a bible—audio clips of migrant narratives are laid bare. Through both the mundane and the sacred, the tragic and the humorous, migrants' stories come to life with voice-activation. As their stories unfold, a dialogue begins and the user is tasked with leaving behind their own reflections.
Credits:
Collaborator and Academic Lead: Jason De León
Creative Story Producer: Alvaro Morales
Creative Tech Producer: Alex Suber
Whitepaper: XR
Based in a fictional universe derived from concepts generated in community-based worldbuilding sessions in Los Angeles, Brooklyn, and Kansas City, "Whitepaper" is an interactive, extended-reality narrative featuring a self-aware fintech A.I. and the rogue A.I. bounty hunter determined to wipe it out of existence. Utilizing A.I., blockchain, volumetric capture, augmented reality, CGI, comics, and spacial audio, "Whitepaper: XR" exemplifies a new form of storytelling which aims to not only create an engaging AR mobile thriller with unforgettable characters, but also lay the foundation for a new social-good crypto-currency platform.
Credits:
Creator: Tony Patrick
Collaborators: Nicole McDonald, Aaron L. Tucker, Rob Auten, Niko Koppel
The other six participating projects at the Lab were:
Dreams of John: Todd Wiseman Jr. (Writer/Director/Producer), Milos S. Silber (Producer)
Household Arts for Students from Other Land: Ziv Schneider (Creator)
INDIGO: Ewelina Aleksandrowicz & Andrzej Wojtas (Creators), Amy Andrieux (Writer)
Mothers Against Time Travel: Ethan Shaftel (Writer/Director), Ryland Aldrich (Producer)
Priya and the Lost Girls: Ram Devineni (Writer & Technical Producer), Dan Goldman (Artist)
Water Melts: Bioluminescence: Lilian Mehrel (Co-Creator & Writer/Director), Mary Evangelista (Co-Creator & Cinematographer/Director), Tingerine Liu (Producer)
ABOUT IFP
The Independent Filmmaker Project (IFP) champions the future of storytelling by connecting artists with essential resources at all stages of development and distribution. The organization fosters a vibrant and sustainable independent storytelling community through its year-round programs, which include IFP Week, IFP Labs (Film, Series & Audio Storytelling), IFP Expanded, Filmmaker Magazine, IFP Gotham Awards and the Made in NY Media Center by IFP, a tech and media incubator space developed with the New York Mayor's Office of Media and Entertainment.
ABOUT RYOT
RYOT is Verizon Media's Emmy Award®-winning content studio and innovation lab that brings astonishing storytelling, immersive experiences and groundbreaking technology to every corner of the world. From XR experiences to advertising and content technology in a 5G world, RYOT is the incubator of innovation and is revolutionizing the next generation of content creation. In 2018, RYOT launched a state-of-the-art motion capture studio with the mission to create new content formats of the future. The cutting-edge technology housed in RYOT's Innovation Studio elevates the way content is created and continues to move the company far ahead of the technological curve. Highlights include Emmy Award® nominations for the AR project L.A. LOUVRE and VR project BEHIND THE FENCE.
ABOUT THE MADE IN NY MEDIA CENTER BY IFP
The Made in NY Media Center by IFP is a collaborative workspace and community designed to support and connect media-makers and innovators. The Media Center supports film, television, audio, gaming, design, animation, music, and more with a variety of public and member-based programs, classes, events, and workspace. A unique collaboration between the Made in NY business initiative, and the Independent Filmmaker Project, we are a new kind of coworking space and exhibition venue with the goal of incubating the next generation of artists and creators.