2018 IFP Gotham Awards Announce Tributes | Willem Dafoe to Receive Actor Tribute, Paul Greengrass To Receive Directors Tribute
by April Bethea on September 26, 2018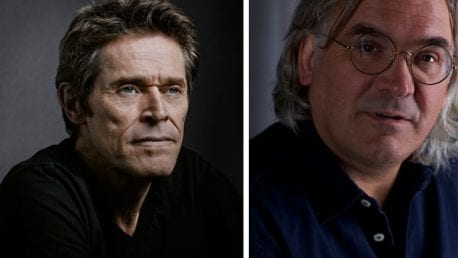 New York, NY (September 26, 2018) — The Independent Filmmaker Project (IFP), the nation's premier member organization of independent filmmakers and storytellers, announced today that three-time Academy Award®- nominated and Golden Globe®-nominated actor Willem Dafoe will receive the Actor Tribute and Paul Greengrass will receive the Director Tribute at the 2018 IFP Gotham Awards. The first awards show of the season, the IFP Gotham Awards is one of the leading honors for independent film and media, providing critical early recognition to groundbreaking independent films and their writers, directors, producers, and actors with ten competitive awards categories. The IFP Gotham Awards also honors selected film industry icons as tributes each year. The ceremony will be held on Monday, November 26, 2018, at Cipriani Wall Street, New York City.
"Willem Dafoe is one of the most iconic actors of our generation. Throughout his legendary career, he has consistently brought versatility, boldness and daring complexity to his roles. Whether a Hollywood tentpole franchise or a small- scale independent film, Willem's artistic curiosity has led him to film and theatre projects all over the world, making him one of the most internationally respected actors. The IFP is thrilled to be honoring Willem with the Actor Tribute this year," said Joana Vicente, Executive Director of IFP and the Made in NY Media Center. "We are equally delighted to present Paul Greengrass with the Director Tribute. Paul brings a startling realism to all of his films whether directing a stellar cast in a cat and mouse thriller that stretches around the globe or directing relative unknowns in a tragic docudrama within the confines of a doomed plane. His singular ability to create a visual – and visceral – narrative from his meticulously redrawing of impactful historical events will have a lasting influence on cinema for generations to come."
Dafoe has appeared in well over 100 films and plays, working with a some of the most renowned directors of modern cinema including: Kathryn Bigelow, Wim Wenders, Mary Harron, Anton Corbijn, Wes Anderson, Martin Scorsese, David Lynch, Oliver Stone, William Friedkin, Werner Herzog, Lars Von Trier, Abel Ferrara, Spike Lee, Julian Schnabel, David Cronenberg, Paul Schrader, Anthony Minghella, Theo Angelopoulos, Phillip Noyce and Dee Rees; as well as with legendary avant-garde theatre directors Richard Foreman, Robert Wilson and Elizabeth LeCompte. He has been recognized with three Academy Award®-nominations for Best Actor in a Supporting Role for Platoon, Shadow of the Vampire and last year's The Florida Project. He has won two Los Angeles Film Critics Awards, a New York Film Critics Circle Award, a National Board of Review Award, an Independent Spirit Award as well as a Berlinale Honorary Golden Bear for Lifetime Achievement.
Dafoe is one of the founding members of The Wooster Group, the New York based experimental theatre collective. He created and performed in all of the group's work from 1977 thru 2005. He performed in Richard Foreman's Idiot Savant at The Public Theatre (NYC) and recently performed in two Robert Wilson international productions: The Life & Death of Marina Abramovic and The Old Woman, opposite Mikhail Baryshnikov. He most recently performed a new theatre piece, The Minister's Black Veil, based on Nathaniel Hawthorne's short story and directed by Romeo Castellucci.
Dafoe's most recent project is his stunning portrayal of Vincent Van Gogh in Julian Schnabel's acclaimed impressionistic At Eternity's Gate. The highly anticipated drama made its world premiere last month at the 75th Venice International Film Festival where Willem won the prestigious Volpi Cup for Best Actor for his turn as the troubled genius in his final days in Arles. The drama has been selected to close the 2018 New York Film Festival next month and will be theatrically released by CBS Films on November 16th. Other upcoming projects include James Wan's Aquaman, Edward Norton's Motherless Brooklyn, Robert Eggers' The Lighthouse, Dee Rees' The Last Thing He Wanted, Abel Ferrara's Siberia and Ericson Core's, Togo.
Paul Greengrass began his prolific career as a television journalist working on Granada TV's current affairs program World of Action, which began his interest in geo-politics which, would eventually finds its way into almost every film of his career. His television work caught the eye of an exiled former M15 officer, Peter Wright, who enlisted Greengrass to co-author his memoir, Spycatcher, which Prime Minister Margaret Thatcher banned publication of in the UK. Soon after, Greengrass began making films and his debut feature Resurrected won two awards at the Berlin Film Festival in 1989. In 1999 he won a BAFTA for best picture for the TV Film, The Murder of Stephen Lawrence, which starred Marianne Jean-Baptiste and a cast of local residents of the London suburb where the racially motivated murder occurred. Greengrass emphatically made his mark as a filmmaker in his documentary-styled drama of the tragic and eponymous Northern Ireland event, Bloody Sunday. The film swept awards at major film festivals around the world including Sundance, Berlin, Jerusalem, Rio and Stockholm and won a BAFTA.
Greengrass began making large scale geo-political thrillers delivering three box-office smash hits for Universal Pictures in the Matt Damon starrer Bourne franchise: The Bourne Supremacy, The Bourne Ultimatum and Jason Bourne. In between these projects, he directed the 9/11 story, United 93, using an unknown cast to portray the acts of bravery and valor that a group of ordinary citizens took in an extraordinary situation. The film was nominated for two Academy Awards®, including Best Director. In 2013, Greengrass directed Captain Philips, starring Tom Hanks, which is the true story of Somali pirates hijacking a U.S. cargo ship. The film highlights Greengrass's signature mark of creating dramatic realism within a tense thriller while also exploring themes of globalization, which led two unlikely captains to cross paths. The film won numerous awards, including a BAFTA, and was nominated for six Academy Awards®, including Best Picture./p>
His latest film, 22 July, is the dramatization of the 2012 terror attack in Norway committed by a right-wing extremist. The film is based on the book, One of Us, which was written by Norwegian journalist Åsne Seierstad and was a New York Times bestseller. The Netflix release recently premiered at the 2018 Venice Film Festival and screened at the 2018 Toronto International Film Festival. Netflix will release the film globally on the platform and in theaters on October 10th.
The IFP recently announced that Rachel Weisz and Jon Kamen will receive the Actress Tribute and the Industry Tribute, respectively.
This year's honorees will join a distinguished group of previous honorees, including Nicole Kidman, Sophia Coppola, Former Vice President Al Gore, Oliver Stone, Ethan Hawke, Amy Adams, Helen Mirren, Robert Redford, Tilda Swinton, Todd Haynes, Jeff Skoll, Ted Sarandos, James Schamus, Mayor Michael Bloomberg, Sheila Nevins, Jonathan Sehring, Roger Ebert, Matt Damon, Marion Cotillard, Natalie Portman, Javier Bardem, Penélope Cruz, David O. Russell, David Cronenberg, Mira Nair, Gus Van Sant, and more.
Each year IFP chooses a jury of stellar peers from the documentary, feature film and TV industry to select the recipients of the competitive awards. The ten competitive IFP Gotham Awards for 2018 include Best Feature, Best Actress, Best Actor, Best Documentary, Bingham Ray Breakthrough Director, Breakthrough Actor, Audience Award, Best Screenplay, Breakthrough Series – Short Form, and Breakthrough Series – Long Form. Once again this year, the IFP Gotham Audience Award (the only non-juried category) will be open to voting by IFP Members worldwide as a benefit of membership. Voting will take place online in November.
The Premier Sponsor of the 2018 IFP Gotham Awards is The New York Times, and the Platinum Sponsor is GreenSlate. The Official Water Sponsor is FIJI Water, and the Official Chocolate Sponsor is Lindt. Additionally, the awards will be promoted nationally in an eight-page special advertising section in The New York Times in November 2018.
Nominees will be announced on October 18th and winners will be honored at the star-studded ceremony at Cipriani Wall Street on November 26th. To purchase tables or tickets to attend, please contact Steven Pfeiffer by email at [email protected], or by phone at (212) 465-8200 Ext. 219.
The Independent Filmmaker Project (IFP) champions the future of storytelling by connecting artists with essential resources at all stages of development and distribution. The organization fosters a vibrant and sustainable independent storytelling community through its year-round programs, which include Independent Film Week, Filmmaker Magazine, the IFP Gotham Awards and the Made in NY Media Center by IFP, a tech and media incubator space developed with the New York Mayor's Office of Media and Entertainment. The 40th Anniversary of IFP Week will take place September 15-20, 2018.
IFP represents a growing network of storytellers around the world and plays a key role in developing 350 new feature and documentary works each year. During its 40-year history, IFP has supported over 10,000+ projects and offered resources to more than 20,000+ filmmakers, including Barry Jenkins, Laura Poitras, Debra Granik, Miranda July, Michael Moore, Dee Rees, and Benh Zeitlin. More info at www.ifp.org.
ABOUT THE GOTHAM AWARDS
The IFP Gotham Awards, selected by distinguished juries and presented in New York City, the home of independent film, are the first honors of the film awards season. This public showcase honors the filmmaking community, expands the audience for independent films, and supports the work that IFP does behind the scenes throughout the year to bring such films to fruition.
For information on attending: http://gotham.ifp.org
Press Contacts:
FRANK PR, 646.861.0843
Stephanie Davidson
[email protected]