IFP Celebrates Sandra Schulberg Founder of IFP and IFP Market With Honorary Gotham Award
by April Bethea on September 21, 2018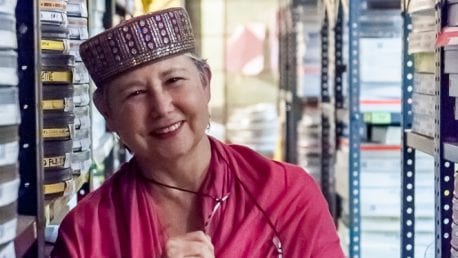 New York, NY (September 21, 2018) — The Independent Filmmaker Project (IFP), the nation's premier member organization of independent filmmakers and storytellers, honored Sandra Schulberg, founder of the IFP and of the IFP Market, with its first-ever Honorary Gotham Award yesterday at the PUBLIC Hotel. The inaugural award was presented to Ms. Schulberg at the conclusion of the 40th Anniversary of IFP Week, a weeklong event connecting emerging and established filmmakers with financiers, festival programmers and distributors, amongst other industry executives.
"The IFP is honored to bestow our first-ever Honorary Gotham Award to Sandra as part of an exciting conclusion to our 40th Anniversary of IFP Week," said Joana Vicente, Executive Director of IFP and the Made in NY Media Center. "Sandra's visionary initiative from the late 1970's embodies the essence of the independent filmmaker: get up every day to create, find your way around the gatekeepers, make movies that matter and have them seen – any way you can. Sandra's commitment to the preservation, restoration and release of bygone films, making available to audiences the means to study the historical and aesthetic development of American independent film is invaluable. We at IFP owe much gratitude to Sandra, including her fostering a niche that allows us to work in one of the most vibrant, dynamic, creative and frankly, fun, industries possible."
"The IFP was founded by indie filmmakers so audiences could see America from the viewpoint of the unrepresented. We were "diverse" before that term became ubiquitous,"' said Sandra Shulberg from the festive event attended by a wide representation of filmmakers and industry. "The first IFP Market and festival sidebar, 'American Independents', showcased the work of Shirley Clark, Martha Coolidge, Jesús Treviño, Haile Gerima, Warrington Hudlin, and the original 'Baaadaaassss' himself, Melvin Van Peebles. Now we are in a battle to save American independent cinema from technological obsolescence. The Honorary Gotham Award, for which I'm deeply grateful, allows me to highlight this crisis."
A longtime indie producer, film financier and advocate for off-Hollywood filmmakers, she served as Founding Director of the IFP and organized and launched its first film market for independent filmmakers. Her innovative initiative ushered in a new era for independent films underscoring their artistic importance, cultural resonance and commercial viability. She co-founded First Run Features and founded IndieCollect, a non-profit organization whose mission is to rescue and re-activate significant American independent films. IndieCollect has restored nearly 30 films, a number of which are in re-release or will be out soon: In The Soup, The Atomic Cafe, The War At Home, Thank You and Goodnight among others. Recently she completed a 10-year effort to restore and re-issue her father's film, Nuremberg: Its Lesson for Today, which was accompanied with her 130-page monograph, Filmmakers for the Prosecution. She serves as media consultant to surviving Nuremberg prosecutor Benjamin Ferencz. In addition, Schulberg is an Associate Professor at Columbia University's Graduate School of the Arts, where she teaches Feature Film Financing.
ABOUT IFP
The Independent Filmmaker Project (IFP) champions the future of storytelling by connecting artists with essential resources at all stages of development and distribution. The organization fosters a vibrant and sustainable independent storytelling community through its year-round programs, which include Independent Film Week, Filmmaker Magazine, the IFP Gotham Awards and the Made in NY Media Center by IFP, a tech and media incubator space developed with the New York Mayor's Office of Media and Entertainment.
IFP represents a growing network of storytellers around the world, and plays a key role in developing 350 new feature and documentary works each year. During its 40-year history, IFP has supported over 10,000+ projects and offered resources to more than 20,000+ filmmakers, including Barry Jenkins, Laura Poitras, Debra Granik, Miranda July, Michael Moore, Dee Rees, and Benh Zeitlin.
ABOUT THE IFP HONORARY GOTHAM AWARD
The IFP Honorary Gotham Award, established in 2018, aims to recognize an individual or an organization whose visionary contribution and outstanding service to the independent film industry has proven to be consequential and enduring, transcending both art and commerce.
Press Contacts:
FRANK PR, 646.861.0843
Stephanie Davidson
[email protected]
Bess Donoghue
[email protected]