IFP Announces Partnership with RYOT to Launch Next Generation 5G Storytelling Initiative
by April Bethea on October 4, 2018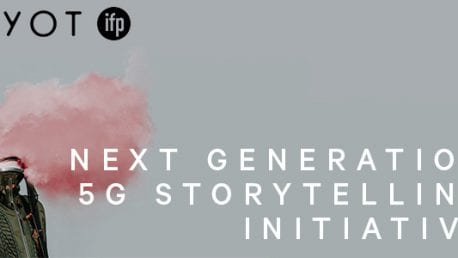 BROOKLYN, NY (OCTOBER 4, 2018) — The Independent Filmmaker Project ("IFP"), the nation's premier member organization of independent filmmakers and storytellers, and Verizon's RYOT, a premium entertainment studio, ("RYOT") announced today the launch of a new initiative focused on new storytelling forms developed exclusively for the 5G mobile network. IFP and RYOT will host a public discussion to showcase the technology and concepts that creatives may employ in developing the next generation of stories over 5G. This event will take place on October 18th at the Made in NY Media Center by IFP and will outline the format and timeline of the initiative, including an open call for submissions, lab intensive, and a robust LA and NYC-based residency program.
"Artists, filmmakers, creators — these will be the people who define the future of 5G storytelling," said Hayley Pappas, Chief Content Officer of RYOT. "It will be the stories they tell and the experiences they create that invite us into wholly uncharted territory and shape our understanding of what it means to consume and engage with a story in 5G. RYOT could not be more thrilled to partner with IFP to launch the Next Generation 5G Storytelling Initiative — a space to educate and incubate the boldest and most daring creators of today as they develop the stories and formats of tomorrow."
"IFP's robust community consists of the most prolific creators in the world, including filmmakers, virtual reality developers, podcasters, game developers and so much more," said Joana Vicente, the Executive Director of IFP. "The potential impact of this initiative is incredibly exciting, and we are thrilled to be working with RYOT at such an early stage in developing new storytelling forms through 5G."
To facilitate this step forward in 5G storytelling, RYOT recently announced the opening of a new production facility to serve as a hub for experimentation with new storytelling forms that leverage Verizon's Ultra Wideband 5G network. Located alongside Verizon's 5G Lab on its Playa Vista campus, the new RYOT Innovation Studio will play a central role in the residency phase of the Next Generation 5G Storytelling Initiative. The facility will provide storytellers access to Verizon's Ultra Wideband 5G network and opportunities to experiment with augmented and mixed reality, volumetrics, CGI, motion capture that will have a wide range of applications using the next-generation standard in mobile telecommunication.
Submissions for the 5G Next Generation Storytelling Initiative will be accepted by IFP beginning October 10, 2018, with all submissions due by November 16, 2018. Creative teams will be encouraged to propose ideas with ambitious scopes and conceive of form factors distinct from what has historically been possible, including new types of graphics and interactivity. Ten (10) projects will be selected to participate in a lab intensive at the Made in NY Media Center later this Fall. Following the intensive, three (3) final projects will be invited to further develop and produce their projects, using RYOT's facility and technical resources, and benefitting from guidance and regular workshopping with the Verizon and IFP teams. Entries can be submitted here: https://nymediacenter.submittable.com/submit.
ABOUT IFP
The Independent Filmmaker Project (IFP) champions the future of storytelling by connecting artists with essential resources at all stages of development and distribution. The organization fosters a vibrant and sustainable independent storytelling community through its year-round programs, which include IFP Week, IFP Labs (Film, Series & Audio Storytelling), IFP Expanded, Filmmaker Magazine, IFP Gotham Awards and the Made in NY Media Center by IFP, a tech and media incubator space developed with the New York Mayor's Office of Media and Entertainment.
ABOUT RYOT
RYOT is Oath's Emmy Award®-winning, Academy Award®-nominated premium entertainment studio that produces both feature-length and short content in traditional and emerging immersive formats. RYOT has produced a range of cutting-edge film, television, and immersive projects with festival premieres at Sundance, Tribeca, SXSW, and Hot Docs among others. RYOT'S films can be seen on HBO, Showtime, Netflix, Hulu, ESPN, National Geographic. Highlights include back-to-back Academy Award® nominations for Best Documentary Short Subject for the non-fiction shorts "Body Team 12" and "Watani: My Homeland," and this year RYOT became the only media company at both Sundance Film Festival and Tribeca Film Festival to have content premieres across every category and format.
ABOUT THE MADE IN NY MEDIA CENTER BY IFP
The Made in NY Media Center by IFP is a collaborative workspace and community designed to support and connect media-makers and innovators. The Media Center supports film, television, audio, gaming, design, animation, music, and more with a variety of public and member-based programs, classes, events, and workspace. A unique collaboration between the Made in NY business initiative, and the Independent Filmmaker Project, we are a new kind of coworking space and exhibition venue with the goal of incubating the next generation of artists and creators.