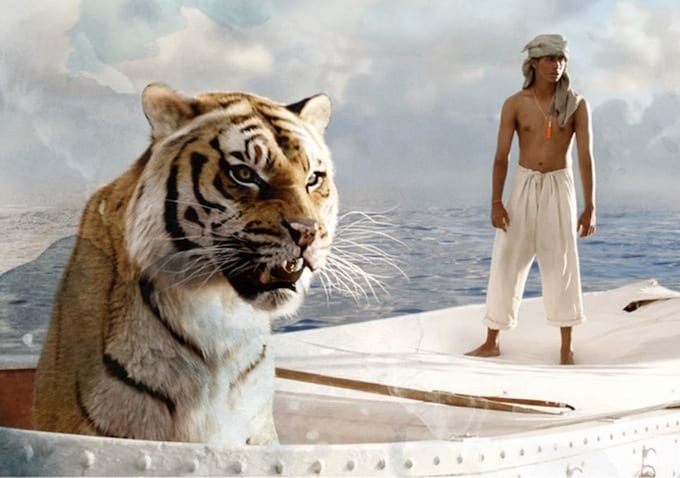 Did you know today is Pi Day?  Don't get excited for free pie or a day devoted to Darren Aronofsky's sci-fi indie classic.  March 14 (3/14 – a sly reference to Ang Lee's VFX-heavy "Life of Pi") is the day that VFX workers around the world hold townhall meetings to discuss the troubled state of their industry. From the outside, visual effects appears to be the epitome of cool at the crossroads of Hollywood and Silicon Valley. In some ways, that is true. However, the VFX industry is difficult to survive for both companies and workers.  A recent grassroots campaign on Facebook and Twitter has brought this to wider attention than ever before.
In the past few years, VFX companies and workers have been battling ever-increasing pressure to provide a greater amount of work for smaller budgets on shorter schedules.  Adding to the pressure for VFX companies are international outsourcing and tax subsidies that entice film studios to dole out VFX work to smaller companies in various US states and Canada. Within the past twelve months, two major Hollywood VFX companies, Digital Domain and Rhythmn & Hues, filed for bankruptcy.  This pressure on the VFX industry boiled over at last month's Academy Awards ceremony when Bill Westenhofer, an Oscar winner for his work on Life Of Pi, had his mic turned off and was ushered off the stage just as he began to mention the financial struggles the industry faces.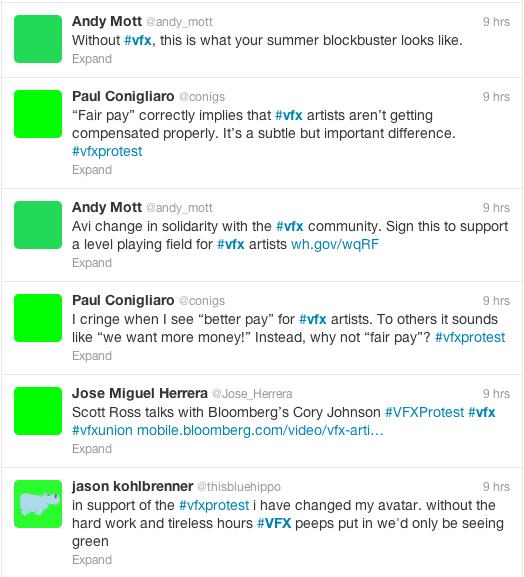 Soon after that Oscars debacle, a grassroots movement started amongst VFX workers to raise awareness of the various problems in their industry.  Thousands of VFX workers and their supporters changed their profile pictures to green.  Why green? The idea is to represent what films would look like without VFX.  Before VFX artists work on them, movies have a decidedly more emerald hue.
However, not everyone agrees what the green squares represent.  For some, they are a call to unionize VFX workers.  For others, the green is simply a way of showing support for a troubled industry.  It doesn't take a Ph.D. in economics to see how VFX companies may not want their workers to form a union.  On the other hand, VFX workers, who are often freelance or on contract, frequently work long hours without overtime and lack health and welfare benefits.  Unions and guilds typically set rules about overtime and provide benefits for freelance workers in the other aspects of the film industry.  Even so, it is not clear how much a VFX union would effect the trend of outsourcing work to Asian companies whose artists are paid a fraction of American workers' pay.
For the ailing VFX companies, some have suggested forming a trade association to better negotiate with studios. However, since several of the biggest VFX companies (ILM, Sony Imageworks and Pixar) are already owned by Hollywood studios, it's not clear if that would help much either.
                These issues (and surely others) will be discussed on Pi Day by VFX workers and companies.  Time will only tell how these problems are worked out. In the meantime, there is one way that the grassroots campaign has made a difference.  Nearly every VFX artist feels that they don't receive the respect they deserve for their work.  In the past few weeks, people have thought more about the dedicated workers who create the images that grace our screens rather than dismissing their work as performed by computers.
For more information about what's going on with VFX, check out these links:
http://www.fxguide.com/quicktakes/visualeffectsprotestatoscars/
http://www.hollywoodreporter.com/news/scott-ross-vfx-industry-needs-252524
http://provideocoalition.com/mchristiansen/story/why-is-the-vfx-business-failing-at-its-moment-of-greatest-success