Hi. My name is Leah Meyerhoff and IFP has kindly asked me to blog about my experiences making my first feature film Unicorns. I have been developing this project for a while now and have learned a lot about the independent film world and what works and what doesn't when trying to make a first feature. I am eager to share these lessons with other aspiring filmmakers in the hopes that someone else will benefit from my successes and learn from my mistakes. Please join me in this journey from pre-production to distribution, and all of the magical adventures in between.
On the day that I sat down to write this, a tornado hit New York City. Two tornadoes, in fact. Was it a random coincidence? A freak of nature? A sign from above? With the rain still dripping down the window panes and uprooted trees littering the streets below, I decided to take it as a metaphor for the world of independent filmmaking.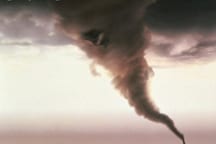 As a director, I have learned to be prepared for anything. Locations will be lost, actors will drop out at the last minute, and inevitably something will catch on fire. On the long and winding road from script to screen, there will be numerous setbacks and countless rejections. One day, the project will be moving along smoothly and the next something will come out of nowhere to throw everything into a tailspin. No one ever said filmmaking would be easy, but sometimes I wonder why it needs to be so hard.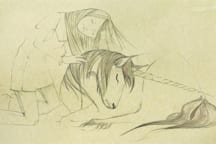 I began writing Unicorns as my thesis project at NYU. I had recently gotten out of a really unhealthy relationship. After I finally ended it for good, I asked myself "How did I get here? How did a smart, strong, feminist woman like myself get in so deep that I couldn't even see the situation around me?" Soon after, one of the high school students I was teaching approached me to say that she was afraid of her boyfriend but even more afraid of what would happen if she broke up with him. I realized that I had rarely seen the realities of domestic violence portrayed in film, especially as pertaining to teenagers. So I started to write. I wanted to tell the story of a real teenage girl in a way that has not been seen before.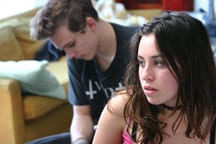 Years earlier, I had made a short film called Twitch, inspired by my experiences growing up with my disabled mother. Some of you might recognize it from the IFC reality series Film School (which was one of the more regrettable experiences of my life, but at least it funded the film!) Anyways, Twitch premiered internationally at Clermont-Ferrand and domestically at Slamdance, where it won a Grand Jury Prize. From there it traveled to over 200 film festivals, picking up a Student Academy Award nomination and a dozen other awards along the way. In the process, I learned a lot about festivals and the challenges of distribution. I also began to raise funds for Unicorns.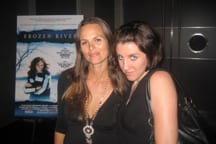 The next step was finding the right producer. I asked everyone I knew for recommendations and Scott Macaulay suggested that I contact Heather Rae. She had recently premiered Frozen River at Sundance, where it won the Grand Jury Prize. I was on the Slamdance shorts jury at the time so I had heard of the film but had not seen it yet. As luck would have it, the day I emailed her she was on her way to New York to show the film at the MoMa. We met for coffee before the screening and hit it off immediately.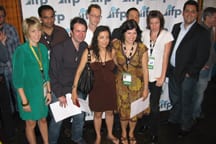 A lot has happened since then. The Unicorns screenplay was shortlisted for the Sundance Labs and accepted into the Emerging Narrative Labs. Frozen River was nominated for two Oscars and won an Independent Spirit Award. Unicorns won several screenwriting awards and a production grant from IFP. We held auditions on both coasts. We scouted endless locations. We raised private equity funds. We cast the leads and were written up in the trades. I directed a music video and a web series. I adopted a kitten and traveled the world.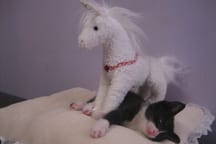 And then a tornado struck … followed by plenty of bad weather. My father got sick and I immediately put the rest of my life on hold. The economy crashed. We lost a large portion of our funding. One of our actors dropped out. The distribution landscape crumbled and independent filmmaking became that much harder. As Mark Gill so eloquently put it, "the sky really was falling." Just when it seemed like the clouds could not get any darker, they did. My father passed away and I pretty much dropped off the face of the earth for a long time.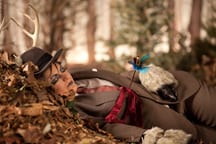 When I eventually emerged from the wreckage, I had a new urgency to make this film. First order of business: stop waiting for others to give me permission and pull the trigger myself. So we regrouped. I drastically rewrote the script. Several new producers came on board. We completely changed locations. We reworked our fundraising strategy and scaled the project down. We began assembling an amazing team of collaborators. From casting to cinematography, production design to costumes, we were moving forward on all fronts. The amount of support so far humbles and astounds me and our team continues to grow at a rapid pace.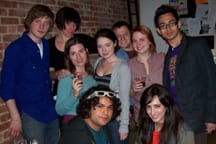 Along the way I met numerous mentors who offered advice on what they learned from making their first films. In return, I hope to be similarly helpful to other emerging filmmakers following in my footsteps. For now, the best I can say is that no one will ever believe in your film more than you. It is your job to navigate the boat through the storm and convince everyone around you that the sun is just around the bend. If you have faith in yourself, your collaborators and your story, then one way or another the film will get made. Most importantly, you need to learn to work with what you have rather than waiting around for what you don't.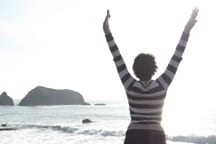 What has kept our team together is our belief in the script, the story and the film it will become. I believe in this movie, and, gratefully, apparently some very talented people believe in it also. It is this shared belief that keeps us plodding forward. We believe in each other. We believe in Unicorns.