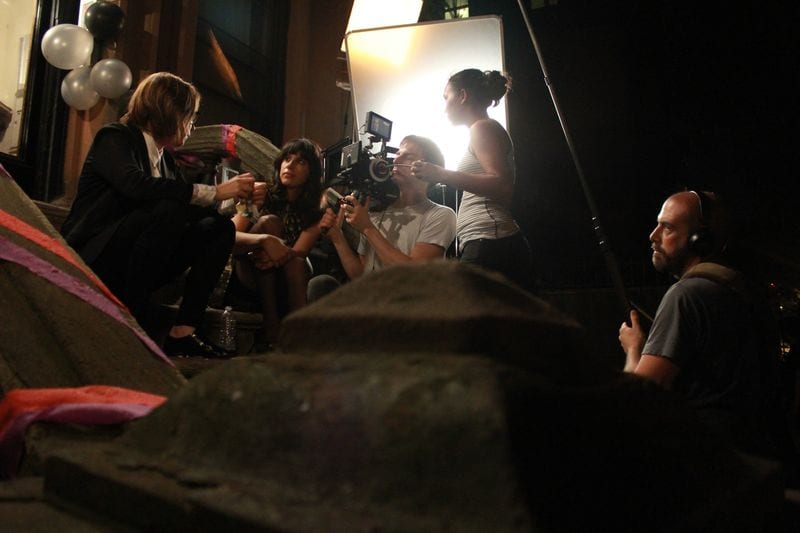 It has been a few weeks since I wrapped up production on my first feature film, Appropriate Behavior.  Having the opportunity to shoot your first feature must be what getting married is like for a certain type of woman. After so many years of fantasizing and months of preparation, it was beautiful, emotional,  and life-affirming experience that was over much too quickly and evoked instant nostalgia.  Not unlike a bridezilla, I got everything I wanted done my way and now I fall asleep replaying memories of the good old days (two weeks ago) when I had an assistant who made it possible for me to function by doing things like, compiling every movie threesome scene shot to date.
Along with directing, I chose to star in the film.  Why?  It is because I do not really identify as an actor, unless you count the two weeks I spent trying to lose my virginity at the American Academy of Dramatic Arts' summer program.  It was a big risk, but I held no doubts about appearing in my film because it felt honest -as opposed to having another actor do an impression of me.  Additionally, it felt like a natural step after performing in the web series I co-created, The Slope.
I get asked a lot what it was like to act and direct simultaneously and here is my answer: one job enabled the other.  There were many advantages. As an actor I had the luxury of taking chances, trying shit out and becoming incredibly vulnerable, all the while taking comfort in the fact that I was in a position of power and had the ability shape the performance as I see fit in post.  Even when I was on my knees, simulating oral sex, I kept reminding myself, "You do not have permission to be uncomfortable. You wrote this.  You can do it, put your back into it." and so on.
As a director I could communicate with my actors on a level I had never been able to before because I was knee deep (Hah!) in the scene with them.  On the flip side, you are working in two very contradictory roles, and giving notes to your fellow actors is super taboo, so sometimes balancing the bedside manner of both scene-partner and director was a total mind fuck.
Another challenge was learning how to pick my battles.  As a director, I have an opinion about everything, but as an actor I need to focus on not getting involved in fights so I can preserve my energy for what is most important.  Once, we had 30 mins left before the sun came up and still had an entire scene to shoot. I did not have time to check the frame for myself and that was terrifying, but ostensibly a small casualty in the face of a larger goal: getting the film made.  Fortunately, I surrounded myself with a spectacular creative team that I would never want to micromanage.
As I look back, what amazes me the most, is that the lessons I needed to learn presented themselves to me as the shoot progressed.  The best example I have of this is an incident that occurred on day one.  We were filming a scene in which I had to throw a strap-on dildo and harness into a dumpster, only to pull it back out and walk away with it dangling from my hand.  The location for this scene was in Gowanus and as soon as we had finished setting up, a herd of trucks and their respective drivers arrived.  And they were not having any of it.  Upon seeing me and my strap-on they assumed we were shooting a porn.  One man literally booed at me during a take.  He was an older, Santa-like figure wearing a yamaka.  The crew laughed it off, but I felt a lot of shame in that moment.
Powering through that seemingly insignificant discomfort, I recognized the most important lesson of starring in the film you direct: let go of any sense of self-awareness or propriety.  What you are doing may look silly, or stupid, or not good to people such as those who walk by, the location owner, or maybe even your sound guy.  It does not matter.  My rule became that I could not indulge any thoughts that involved how the film was being perceived by others.  And I was tested constantly.  Throughout three sex scenes, filming in my parents' home and some very unflattering lingerie, I had to trust the fact that I wrote the script, and as long as I followed my gut and stopped over-thinking, we would get what we needed.  And we did.