IFP Announces Project Forum Slate for Virtual Edition of 42nd Annual IFP Week
by Zach Mandinach on July 29, 2020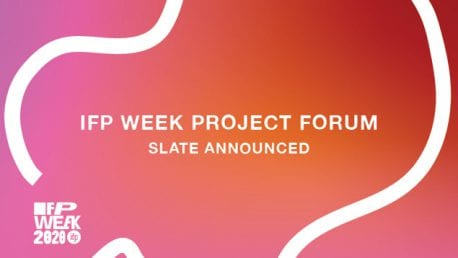 JULY 29, 2020 (New York, NY) – Today, IFP (Independent Filmmaker Project), announced its Project Forum slate, highlighting 144 feature-length and series projects, including, for the first time, a slate of 36 audio projects, in development and production set to participate in the upcoming 42nd annual edition of IFP Week, taking place entirely online September 20 – 25, 2020.
Along with the Project Forum's consistent and ongoing support for independent artists working in visual storytelling, this year will offer support to creators working in audio through the introduction of the IFP Week Audio Hub. Expanding upon IFP's core mission of championing and elevating independent storytellers, the Audio Hub will host 36 audio projects, wide-ranging in format and genres from both emerging and established talent, and aid in bridging the gap between independent audio makers and the ever-growing audio industry.
The Project Forum's No Borders International Co-Production Market will present 56 narrative features and series ranging in stages from early development through post-production. The virtual event will also present 52 nonfiction features and series in the Spotlight on Documentaries section.
The full list of projects participating in the 2020 IFP Week Project Forum is available here.
In addition to the first-ever Virtual Project Forum, IFP Week will present a multi-day slate of panels, workshops, case studies, and keynote conversations, hosted online and centered on the achievements of and pressing issues facing independent storytellers and industry professionals in these uncertain times. Additional details on the IFP Week schedule will be shared at a later date.
"During this time of great uncertainty, the team here at IFP is proud to have been able to pivot to a completely virtual event this year while considering a record-setting number of submissions, truly a testament to the vibrancy and the remarkable perseverance and passion of the industry and independent storytelling community," said IFP Executive Director, Jeffrey Sharp. "We also look forward to introducing a new element to IFP Week, with the debut of this year's Audio Hub, creating an opportunity and unique market for independently created audio content."
IFP's Project Forum is the only international co-production market in the U.S. featuring stories for multiple platforms and hosting pre-scheduled artist & industry meetings dedicated to furthering the work and careers of independent artists. Over the past several years, industry attendees at IFP Week made early connections with the creators of works in recent, current, or upcoming distribution such as American Factory (Netflix); The Last Black Man in San Francisco (A24); Crip Camp (Netflix); Miss Juneteenth (Vertical Entertainment); Selah and the Spades (Amazon Studios); Disclosure (Netflix); Monos (NEON); Swallow (IFC Films); Nine Days (Sony Pictures Classics); Crime + Punishment (Hulu); The Infiltrators (Oscilloscope Laboratories); Light From Light (Grasshopper Film); House of Hummingbird (Well Go USA); Mickey and the Bear (Utopia); Advocate (Film Movement/POV); Midnight Family (1091 Media); My Salinger Year (IFC Films); and The Truffle Hunters (Sony Pictures Classics)
2020 IFP Project Forum Highlights
Fiction Highlights
New narrative films from U.S. and international filmmakers include Bobby Fox in the Lower Dimension by Alexandre Moors (Blue Caprice), Magnolia Bloom by Phillip Youmans (Burning Cane), The Misconceived by Peter Parlow (The Plagiarists), and Mouse by Kelly O'Sullivan and Alex Thompson (Saint Frances).
Notable U.S. and international producers and executive producers coming to IFP Week with new narrative films and series include Babyland from Martichka Bozhilova (Touch Me Not); Digger from Marion MacGowan (The Great); First Generation from Asher Goldstein (Short Term 12); Heartless from Emile Lesclaux (Bacurau); Joro from Virginie Lacombe (Port Authority); Magnolia Bloom from Stephen "Dr" Love (The Land); Mine from Luisa Dantas (Land of Opportunity) and Angela Tucker (Black Folk Don't); Saltwater from Zoe Sua Cho (House of Hummingbird); The Spirit Guest from Cait Panesgroux and Elias Ribero (This Not a Burial, It's a Resurrection); Stardust from Gina Resnick (Thirteen Conversations About One Thing); and Street Food from Carlo Cresto Dina (Happy as Lazzaro).
Non-Fiction Highlights
New documentary features from top producers and executive producers include Bitterbrush from Oscar-nominated Su Kim (Hale County This Morning, This Evening); Cain and Abel from producer Karim Amer (The Square) and executive producers Spike Lee and Geralyn Dreyfous (Spaceship Earth); Days of Fire from John Baker (Dragonslayer); PARADISE (working title) from Marty Syjuco and Michael Collins (Give Up Tomorrow); and Seeds from producer Danielle Varga (The Hottest August) and executive producer Sabrina Schmidt Gordon (Quest).
Directors with new feature documentaries include America Sells Itself from Jason Osder (Let the Fire Burn); Burk Family Ties (working title) from Muffie Meyer (Grey Gardens); Free Money from Lauren DeFilippo (Red Heaven) and Sam Soko (Softie); King Coal from Elaine McMillion Sheldon ("Heroin(e)"); Sarah (working title) from Tracy Droz Tragos (Rich Hill); Summer with Roxanne from Nishtha Jain (Lakshmi and Me); and United States vs. Reality Winner from Sonia Kennebeck (National Bird).
Audio Hub Highlights
The Audio Hub aims to bring together emerging and established artists and bridge the gap between them and the ever-growing audio industry. New audio work supported through the Audio Hub includes new seasons (Star Power, the fourth season of award-winning podcast, Threshold), spin-offs (EOS10:Command, a sci-fi spinoff of acclaimed podcast, EOS10), adaptations (Ensemble for the Romantic Century, from Eve Wolf's celebrated stage productions of the same name), and original work from notable artists including America Decoded from producer Elizabeth Lodge Stepp (Monsters and Men); Searching for Stagger Lee from poet and essayist Hanif Abdurraqib (The Crown Ain't Worth Much); Svetlana! Svetlana! from writer Dan Kitrosser (We the Animals); and Untitled Musical Theater Characters Podcast from actor Raúl Esparza (Company; Speed-the-Plow).
IFP and IFP Week are generously supported by a group of loyal corporate, foundation and government benefactors. The 2020 Sponsors are Premier Sponsors Netflix and WarnerMedia; Platinum Sponsor Audible; Gold Sponsors SAGindie and Spotify. IFP Week is also supported by grants from the National Endowment for the Arts, the New York City Department of Cultural Affairs, and New York State Council on the Arts.
ABOUT IFP
The Independent Filmmaker Project (IFP) champions the future of storytelling by connecting film, series, digital and audio artists with essential resources at all stages of development through distribution. The organization fosters a vibrant and sustainable independent storytelling community through its year-round programs, which include IFP Week, IFP Labs (Film, Series & Audio Storytelling), Filmmaker Magazine and the IFP Gotham Awards.
About IFP Week
IFP's Project Forum provides the attending emerging and established storytellers with film, television, and audio projects in development with vital opportunities to connect with and learn from industry professionals, and, ultimately, to partner with them to bring their work into production and connect with global audiences. IFP's Project Forum is divided into sections for narrative and non-fiction storytelling, as well as a third, the Audio Hub, presenting work to attending industry:
PRESS CONTACT | FRANK PR
Stephanie Davidson | [email protected]
Bess Donoghue | [email protected]