30th Anniversary Gotham Awards Save the Date
by Chase Harrison on February 28, 2020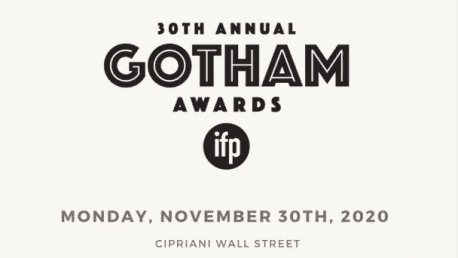 IFP announced today that the 30th Annual IFP Gotham Awards will take place on Monday, Nov. 30, 2020.
Along with the awards date announcement, the deadline for submissions for the competitive categories has also been dated for Thursday, September 17.
The competitive categories are: Best Feature, Best Documentary, Best Actor, Best Actress, Best Screenplay, Breakthrough Actor, the Bingham Ray Breakthrough Director Award, and two television categories – Breakthrough Series (over 40 minutes) and Breakthrough Series (under 40 minutes).
Nominations are slated to be announced later this year on Thursday, Oct. 22 with the winners being honored at Cipriani Wall Street on Nov. 30.
Due to the early ceremony date, the Gothams are one of the key launching pads for independent films and performances of the year. Last year, Noah Baumbach's Marriage Story from Netflix won four awards including Best Feature, Best Actor (Adam Driver), Best Screenplay, and the Audience Award, which all translated to Oscar nominations.