2018 IFP Gotham Awards Announce Tributes | Rachel Weisz to Receive Actress Tribute, Jon Kamen to Receive Industry Tribute
by April Bethea on September 14, 2018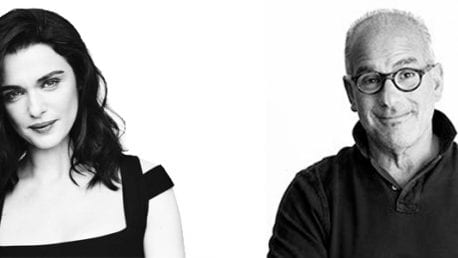 New York, NY (September 14, 2018) — The Independent Filmmaker Project (IFP), the nation's premier member organization of independent filmmakers and storytellers, announced today that Academy Award® and Golden Globe®-winning actress Rachel Weisz will receive the Actress Tribute and Jon Kamen, Founder of the Academy Award®-winning company, RadicalMedia, will receive the Industry Tribute at the 2018 IFP Gotham Awards. The first awards show of the season, the IFP Gotham Awards is one of the leading honors for independent film and media, providing critical early recognition to groundbreaking independent films and their writers, directors, producers, and actors with ten competitive awards categories. The IFP Gotham Awards also honors selected film industry icons as tributes each year. The ceremony will be held on Monday, November 26, 2018, at Cipriani Wall Street, New York City.
"We are thrilled to be honoring Rachel with the Actress Tribute this year. Throughout her career she has carefully chosen projects ranging from thought-provoking independent films to thrilling studio blockbusters. Rachel consistently seeks out complex roles and delivers unforgettable portrayals of spirited and intelligent characters. We look forward to celebrating her lasting contributions to the art of film," said Joana Vicente, Executive Director of IFP and the Made in NY Media Center. "We are equally delighted to present Jon with this year's Industry Tribute and to acknowledge him as a pioneer for his prescient use of transmedia. Under his RadicalMedia banner, Jon helped usher in the multi-platform era by producing a wide range of content – from independent docs to branded entertainment that lent itself to this new experience and by successfully adapting it as a business model."
Weisz will next be seen in Fox Searchlight Pictures' highly anticipated release of Yorgos Lanthimos' The Favourite, starring alongside Olivia Colman and Emma Stone, which recently premiered at the Venice International Film Festival and Telluride Film Festival before making its New York premiere as the Opening Night selection of the 56th New York Film Festival. The period drama of Queen Anne's rule of Britain during the early 18th century takes palace intrigue to a new level, portraying the political power struggles between Queen Anne (Colman) and her two confidantes Sarah Churchill (Weisz) and Abigail Hill (Stone). This is Weisz's second collaboration with the trailblazing Lanthimos, having performed in the multi-award-winning The Lobster in 2015.
Earlier this year, Weisz starred alongside Alessandro Nivola and Rachel McAdams in Sebastian Lelio's acclaimed film Disobedience, for which she also served as a producer. The film, which is based on the novel by Naomi Alderman, premiered at the 2017 Toronto Film Festival to rave reviews. In 2005 Ms. Weisz earned a Screen Actors Guild Award, Golden Globe® Award and the Academy Award® for her performance in Fernando Meirelles' The Constant Gardner.  In 2012 she won the New York Film Critics Circle Award for Best Actress as well as a Golden Globe® nomination for her performance in Terence Davies' The Deep Blue Sea. Her diverse credits include working with many signature directors including Paolo Sorrentino in Youth, Francis Lawrence in Constantine, Roger Michell in My Cousin Rachel, Derek Cianfrance in The Light Between the Oceans, Kar-Wai Wong in My Blueberry Nights, Peter Jackson in The Lovely Bones, Tony Gilroy in The Bourne Legacy, Darren Aronofsky in The Fountain and James Marsh in The Mercy.
As Chairman and CEO of RadicalMedia, Jon Kamen has created one of the world's leading generators of premium content across all media platforms. Originally renowned for its commercial and advertising success, RadicalMedia has grown to dominate every corner of superior content creation including television, feature films, music programming, live events, graphic and interactive design. Jon continues to embrace the future and push innovation by collaborating with Radical's community of artists, directors, producers, coders, thinkers, makers and doers. He aptly refers to RadicalMedia as a company that is Never Established.
With over 150 credits, Jon's artistic vision has been the force behind many Oscar®, Emmy®, Grammy® and Peabody Award®-winning and nominated titles including The Fog of War, What Happened, Miss Simone?, Paradise Lost, Concert for George, the pilot episode of AMC's Mad Men, My Next Guest Needs No Introduction with David Letterman, and The Fourth Estate.
Kamen, a recipient of the Smithsonian's National Design Award and Mayor Bloomberg's "Made in NY" Award, sits on the board of trustees for Rhode Island School of Design, Smithsonian Cooper Hewitt National Design Museum, The Museum of the Moving Image, and Mr. Holland's Opus Foundation.
Additional 2018 tributes will be announced in the coming weeks.
This year's honorees will join a distinguished group of previous honorees, including Nicole Kidman, Sophia Coppola, Former Vice President Al Gore, Oliver Stone, Arnon Milchan, Ethan Hawke, Amy Adams, Helen Mirren, Robert Redford, Tilda Swinton, Todd Haynes, Jeff Skoll, Ted Sarandos, James Schamus, Mayor Michael Bloomberg, Sheila Nevins, Jonathan Sehring, Roger Ebert, Matt Damon, Marion Cotillard, Natalie Portman, Javier Bardem, Penélope Cruz, David O. Russell, David Cronenberg, Mira Nair, Gus Van Sant, and more.
Each year IFP chooses a jury of stellar peers from the documentary, feature film and TV industry to select the recipients of the competitive awards. The ten competitive IFP Gotham Awards for 2018 include Best Feature, Best Actress, Best Actor, Best Documentary, Bingham Ray Breakthrough Director, Breakthrough Actor, Audience Award, Best Screenplay, Breakthrough Series – Short Form, and Breakthrough Series – Long Form. Once again this year, the IFP Gotham Audience Award (the only non-juried category) will be open to voting by IFP Members worldwide as a benefit of membership. Voting will take place online in November.
The Premier Sponsor of the 2018 IFP Gotham Awards is The New York Times, and the Platinum Sponsor is GreenSlate. The Official Water Sponsor is FIJI Water, and the Official Chocolate Sponsor is Lindt. Additionally, the awards will be promoted nationally in an eight-page special advertising section in The New York Times in November 2018.
Nominees will be announced on October 18th and winners will be honored at the star-studded ceremony at Cipriani Wall Street on November 26th. To purchase tables or tickets to attend, please contact Steven Pfeiffer by email at [email protected], or by phone at (212) 465-8200 Ext. 219.
The Independent Filmmaker Project (IFP) champions the future of storytelling by connecting artists with essential resources at all stages of development and distribution. The organization fosters a vibrant and sustainable independent storytelling community through its year-round programs, which include Independent Film Week, Filmmaker Magazine, the IFP Gotham Awards and the Made in NY Media Center by IFP, a tech and media incubator space developed with the New York Mayor's Office of Media and Entertainment. The 40th Anniversary of IFP Week will take place September 15-20, 2018.
IFP represents a growing network of storytellers around the world and plays a key role in developing 350 new feature and documentary works each year. During its 40-year history, IFP has supported over 10,000+ projects and offered resources to more than 20,000+ filmmakers, including Barry Jenkins, Laura Poitras, Debra Granik, Miranda July, Michael Moore, Dee Rees, and Benh Zeitlin. More info at www.ifp.org.
ABOUT THE GOTHAM AWARDS
The IFP Gotham Awards, selected by distinguished juries and presented in New York City, the home of independent film, are the first honors of the film awards season. This public showcase honors the filmmaking community, expands the audience for independent films, and supports the work that IFP does behind the scenes throughout the year to bring such films to fruition.
For information on attending: http://gotham.ifp.org
Press Contacts:
FRANK PR, 646.861.0843
Stephanie Davidson
[email protected]
Bess Donoghue
[email protected]