Studying the Subtext: Tyler Jensen on "Scream, Queen! My Nightmare on Elm Street"
by Erik Luers on October 19, 2015 in Interviews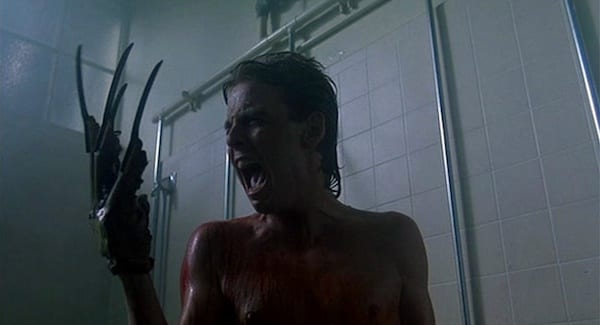 Often maligned and disregarded as the bastard child of the Nightmare on Elm Street franchise, A Nightmare on Elm Street 2: Freddy's Revenge celebrates its thirtieth anniversary on November 1st, and oh what a storied history it's had. Released only a year after Wes Craven's original terrifying introduction to the scarred and murderous character of Freddy Krueger, Nightmare 2 has been criticized for its abandoning of rules established by the original and subsequent entries in the franchise; rather than appear only in the dreams of his potential victims, here Mr. Krueger appears as a parasitic force hibernating in the body of our lead character Jesse. When discussing the high points of the franchise (nine entries and counting if you include the Nightmare/Friday the 13th crossover in Freddy VS Jason), Nightmare 2 is often ignored for having too little in common with the rest of the franchise. 
And yet time heals all wounds. Nightmare 2 has recently been thrust back into the spotlight due to a critical reappraisal that's honed in on the film's rarely shielded gay subtext. If you detect it (and it's hard not to), there are several readings of the narrative that recontextualize and strengthen its place in not only the series, but in the horror community in general. I spoke about that with Tyler Jensen, director of the upcoming documentary Scream, Queen! My Nightmare on Elm Street. Currently running a Kickstarter campaign through Wednesday, October 21st, Jensen's film focuses on Nightmare 2's lead actor Mark Patton, a gay man who hit it big with the film before completely disappearing from the public spotlight due in large part to a homophobic Hollywood community. Where Patton went and how the film affected his career are only a few things Jensen touches on in the conversation below.
— Erik Luers
IFP: Had you been a big fan of the Nightmare on Elm Street franchise before embarking on this documentary? What lead you to this project?
Jensen: I'm a huge fan of the series! My co-director Roman Chimienti had actually been working with Mark Patton [who plays the lead role of Jesse in A Nightmare on Elm Street 2] for about four years on this story, hoping to turn it into the film we're making now. I had met Roman on another project that he was doing sound on (and I was editing), and one day we he casually mentioned a project he was working on with Mark Patton related to A Nightmare on Elm Street 2. I looked at him said, "I need to work on this. This is everything I'm all about." I have a tattoo of the "Freddy Krueger telephone" on my arm, and I showed him the tattoo and didn't know what else to say. And so I entered the project as an editor — they hadn't shot anything yet. They were going to a convention in Florida for their first round of shooting, and I convinced them to let me come with them if I shot some of the footage. It turned out to be five of us sharing a hotel room and it became very obvious that no one really knew how to make a film just yet. We wanted to tell a story but weren't sure how to do it. I was the one who, at that point, had the most experience directing and shooting, etc., and so I felt I could work my way up, as I had always hoped to, from being an editor to being a cameraman and then a director. The long process between Roman and Mark helped greatly as well.
How did Roman get in touch with Mark Patton? He retired from professional acting almost immediately following the release of Nightmare 2 and disappeared from the public spotlight.
Jensen: Roman had contacted him through Facebook. Mark is a genius PR person, very connected to his fanbase, and agreed to talk to him, as he'd been wanting to do a story about this topic for a very long time. At the time, Mark had a crew working on another version of this movie called There Is No Jesse, which was a little bit more Nightmare on Elm Street 2-focused and ultimately didn't pan out. He and Roman then shifted the story to be more about what it is now, using his personal story to talk about the larger social issues at hand.
What stood out to you about Nightmare 2? The subtext seems to have boosted the film's stature and importance over the years due to the not-too-subtle subject matter, but in many fan circles, it's not one of the highest regarded entries in the franchise. Had it been a favorite of yours?
Jensen: Actually no, it hadn't been. I loved the series as a kid, but I would watch the original and A Nightmare on Elm Street 3: Dream Warriors and A Nightmare on Elm Street 4: The Dream Master (Wes Craven's New Nightmare, from 1994, was the only one that was in theaters by the time I was a fan; I had seen all of the others by the time that came out). Part 2 was one that had been passed over. I'm not sure as to why. I was first introduced to the series by my older sister when she used to babysit me. It wasn't until the Never Sleep Again documentary came out that that everyone was like, "did you know that Part 2 is super gay?" I had never thought of it like that. It was never the film I went back to as an Elm Street fan, and yet, to see it discussed [within that context] in Never Sleep Again was eye-opening. I realized that this was a very different story and that there was more to it than the documentary included, whether it be Mark's experience making the film or whether it be what happened to him after it was released. We're not just trying to make a documentary about A Nightmare on Elm Street 2. That film is our entry point into discussing larger issues regarding homophobia in Hollywood and AIDS-phobia in 1985. For people in the industry throughout the 1970s, everyone had generally been getting along. When AIDS came onto the scene [in the 80s] however, all the progress that had been made for the gay movement disappeared.
The film features a male "scream queen," quite a rare sight during the 1980s slasher craze obsessed with virginal and attractive Final Girls. What dynamics do you feel change when the lead protagonist is a male, not just in this film, but in horror in general?
Jensen: It's a very interesting concept to me. I watch horror movies specifically for the Final Girl and I've always identified with them. I'd read Carol J. Glover's "Men, Women, and Chain Saws" and I recall her dissection of how it's easier for audiences to identify with a woman in a victim role. To see a male screaming becomes almost comic, as males are supposed to be able to save the day. Even though there are men being killed off in these movies, they are killed off only because they are trying to be the strong ones, going to investigate on something [and suffering as a result].
A good portion of this film is spent in Jesse's bedroom. He often wakes up shirtless and sweaty, and in one very memorable sequence, cleans his room, puts on music, and uses some rather phalic-looking props to rock out to. It's become probably the most iconic moment of the movie, a dance sequence embarrassingly interrupted by the high school belle who has a crush on him.
Jensen: It definitely stands out in the film and people often question "why were they doing this?" I was able to speak to Jack Sholder, the director of the film, and he put it in a different context that made a bit more sense. While they were shooting, Risky Business had just been released starring Tom Cruise. People were going crazy for that scene where he dances around in his underwear, and the dance sequence in Nightmare 2 was their way of playing on that pop culture moment. It was a recreation of an iconic moment, and that was a revelation to me. When Jesse waits up shirtless in his bed throughout the film, you're not thinking of this in a gay context, but rather responding to popular culture at the time.
In the preview video on your Kickstarter page, Jack Sholder notes that when The Village Voice review for Nightmare 2 came out, it mentioned that it was a "gay horror film." Sholder was quite surprised by that claim, as he didn't see it in that context at all. Has he since come around to seeing this as a gay horror film?
Jensen: Yeah, that's part of the story too. How much did everyone really know during all this? Part of the reason why this story is worth telling is because it shows how time erodes everything. What was controversial in the 80s has now come around to being celebrated. Gay marriage is everywhere and gay people are on television and it isn't scary anymore. If someone is gay, that's seen as great, the best thing ever, and that in effect downplays all the hurt that can come with coming out or being forced out of the closet before someone is ready. Mark's career suffered [for his sexual orientation]. In trying to figure out how much the actors knew at the time, Robert Englund was onto something. He knew that it was very sexual between the characters of Jesse and Freddy, especially in that scene where he's tormenting him underneath the staircase, which is their first face-to-face interaction in the film. The other cast members didn't read into that subtext, but Mark tells the story of how he figured it out with a prop person and a person doing the set dressing and his personal makeup on the film.
You mentioned that Hollywood was very AIDS-phobic in the 1980s. Your Kickstarter video notes that if you were an actor about to appear on a television show at that time, you would first have to take a blood test before signing your contract. That's quite shocking to hear…
Jensen: That's one of the things we've been investigating throughout our shoot. Mark has some pretty horrible things to say about the Hollywood casting process and we begin to understand why he would walk away when everything in his career was going right at the time. For as much shit as Nightmare 2 receives,  it was hugely successful and launched the rest of the series. These films were still a gamble at that point, the studio believing they would make less money than they did the first time around, and yet Part 2 solidified the legacy and the franchise. Mark went from working with Robert Altman, Cher, Kathy Bates, Sandy Dennis and Karen Black on Broadway in Come Back to the 5 & Dime Jimmy Dean, Jimmy Dean to starring in his first movie, A Nightmare on Elm Street 2. His name comes before Robert Englund's in the opening credits. He was the star of the film! Why would he walk away from that success? It's the ultimate question of why would someone who everything is going right for walk away from it all?
Could you speak about the character of Coach Schneider, the gym teacher whose militant-like obsession of punishing Jesse every time he steps out of line makes him the most memorable character in the film? He's someone who hates who he is and abuses others to make himself feel more powerful. There's more to his character than meets the eye.
Jensen: When anyone says that this is a gay movie, it's because of Coach Schneider and the shower scene. I call it the most important shower scene since Psycho. It's interesting that the only nudity in the film comes from men and how much of the gay subtext comes from his character. He's referred to by one character as going to the "fag bars at night." The character of Coach Schneider is integral to our documentary and Mark has his own understanding of what that character represents.
Earlier you mentioned going to Florida to film at a convention. How much will your film touch on Nightmare 2's current fanbase? Who does that fanbase consist of?
Jensen: A lot of the film involves the fanbase, and that's been one of the most eye-opening experiences for me. Being a fan myself and understanding what the movie means to me is one thing, but everyone has their own story. A lot of people had been in shitty situations and then watched this movie of someone who is a similar situation triumphing in the end. While Freddy dies at the end of the movie only to be reborn again in the sequel, there's always that redemptive moment where the Final Boy or Final Girl finishes him off. That's what people latch onto, that survival story. It doesn't matter how awful it gets — people die in these films, after all — but someone will make it through. If you latch onto that, then it can give you hope. A lot of young, gay fans are discovering Nightmare 2 for the first time via Netflix and they're like, "I've never seen a movie about someone who's not super masculine" and "this is the first time I've seen a gay character in a movie that I can identify with." Hearing these stories, one after another, was overwhelming and fulfilling in a very positive way.
Any date in mind for your film's release? How far along are you in production?
Jensen: We have a few more shoots to do that are integral to our narrative, but ideally the film would be out by the first half of next year.
I'm really looking forward to it. When it first came on my radar, I couldn't believe this was really coming to fruition.
Jensen: Thanks! I know people talk negatively about Nightmare 2 for being so outside of the franchise in terms of following the "series' rules." At the time, however, their was no Elm Street franchise. Wes Craven was very clear about not wanting to do a sequel. When the series went forward [without him], there wasn't a concern to carry out the groundwork that Wes set.
And it's not like there aren't inconsistencies throughout the entire franchise….
Jensen: I think A Nightmare on Elm Street 2 is the Halloween 3: Season of the Witch of Freddy films. It's not the one you think of when you think of the series, but Nightmare 2, on its own terms, is pretty awesome. I've had the opportunity to watch it with Mark having to introduce so many screenings across the country, and it's still effective and it still works. That's part of why it's lasted for so long, along with the fact that it has this "other story" that no one ever thinks about or weren't aware of when they watched the film as children.
The Kickstarter campaign for Scream, Queen! My Nightmare on Elm Street concludes this Wednesday afternoon and can be found here.