Sleep No More: The Creative Team Behind Collective: Unconscious Discuss Their Dream-Inspired Collaboration
by Erik Luers on November 24, 2014 in Interviews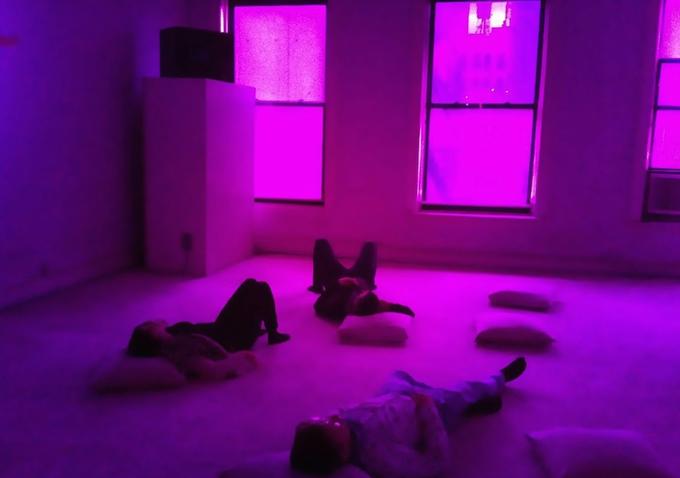 If you haven't heard, collective: unconscious, a new web series providing a look into the dreams of the filmmakers creating it, is set to premiere in the summer of 2015. If the name of collective: unconscious' creator, Dan Schoenbrun, sounds familiar, there's a reason for that. Dan previously served as Associate Director of Programming here at IFP, working with the organization for five years and becoming an integral part of the team. He was a strong champion for web series during his tenure, helping to launch the Web Series sidebar in our Emerging Storytellers program in 2014 and providing this very website with one of its most popular blog posts: "Why Web Series Matter."
Dan has since moved on to serve as Film Partnerships Lead at Kickstarter, and now he's launching his first ever campaign. Assembling a group of filmmakers that have been making waves throughout the independent film world — Lily Baldwin, Frances Bodomo, Daniel Carbone, Josephine Decker,  and Lauren Wolkstein — the project is, as Dan notes on the campaign page, "a five-episode collaborative web series where each episode will be directed by one of the filmmakers, adapting a dream that another one has had." If you have a few minutes, check out the campaign (and its featured video announcing the project's goals in a very humorous presentation) and then read the following interview. I spoke with Dan and participating filmmakers Lily Baldwin, Daniel Carbone and Lauren Wolkstein about how they got involved with the project, how they interpret dreams, and what kinds of exciting plans they have in preparing for the unknown.
— Erik Luers
IFP: How did this project come about? Had you all worked with each other in the past?
Schoenbrun: Much of this project, from meeting these people to coming up with the idea for it, came out of IFP. I spent five years at IFP, and those years were truly formative years for me. It was formative in terms of developing an understanding of what the industry was and in terms of meeting and building relationships into incredible and amazing work. IFP is an organization that has such an emphasis on pushing the conversation forward in terms of the realities of the film world and the stress points that filmmakers feel along the journey. The project came out of everything I learned from Amy [Dotson], Milton [Tabbot] and Joana [Vicente] and everyone at IFP. It started many years ago as a general idea of what could be a fun project. As I started to make it a reality, it all started from what I learned from working there.
Wolkstein: I first met Dan several years ago through IFP. My project was selected to be in the Emerging Storytellers section for Independent Film Week. We have remained friends ever since, and he's been one of the most supportive and encouraging people in my life. So thank you IFP for introducing us, and thank you Dan for supporting my work. Dan later approached me to direct one of the films in his new web series where we would adapt another filmmakers' dreams. He mentioned the other filmmakers that he was considering, and I jumped at the opportunity to work with such amazing talents.
Baldwin: Dan and I have been going back-and-forth online for a couple of years now. We just recently connected much more personally with my feature-film Glass, which was chosen for IFP's Independent Film Week in 2014. The rest is history. I love what Dan stands for and what he's trying to do. One night we were hashing out some ideas and Dan shared some thoughts about a project centered around dreams. I come from a dance background, but now also work in film, and it fit right into the areas that I was interested in. It made perfect sense and I was really excited.
Carbone: I first met Dan back in 2012 for the IFP Narrative Labs with my film, Hide Your Smiling Faces. Dan was one of the people who seemed to really respond to the film at IFP. We got along really well and stayed in touch. One of the things that had a real lasting impact on me, as someone just getting into features and wondering if it was a world in which I belonged, was when Dan told me that I'd be great and that I should stay on course. That's important to hear when you're trying to figure out if what it is you've been doing the past few years was really worthwhile. I was really excited when he asked me about this new project. I would've come on board with whatever he had in mind, but I was especially happy when he pitched this idea. It came at a really great time. I've wanted to get started on my second feature, but I don't have anything ready to go right now. It's a great opportunity to try some things that I may not have been willing to try in a feature. Being able to take a risk and not being afraid to fail isn't something we get to do very often. Also, I love that content on the web is becoming much more relevant now. I've always loved shorts but didn't know how they could be distributed or how people could see it. I'm really excited for this collaboration.
In terms of crowdfunding, how important is the creation of an introductory video when crafting a campaign like this? Did all of the participating filmmakers have a say in how it was created?
Schoenbrun: I would have loved that video to have been something the six of us directed together. It just wasn't possible, partly because we're stationed all over the world right now. Lauren Wolkstein helped and essentially ghost-directed the Kickstarter video with me in it. It was, however, a total collaboration in terms of the vibe we were aiming for with the project. I don't know if you noticed, but there are these little Easter Eggs that we drop into the video, such as pictures of all five of the filmmakers sleeping. We tried to make something that will emphasize the collaboration.
Carbone: I'm obsessed with the video. Everyone did an amazing job and it really worked to show how we're still discovering what the project is. The darkly comic tone is really appropriate.
After your dreams have been written down, they will be placed into a hat, and Dan will subsequently select the dreams to assign to you. This will be totally randomized. What's it like agreeing to a project in which you're not entirely sure of what it is you're going to be creating?
Carbone: That's my favorite part! It goes along with the idea of not being allowed to overthink things and work from instinct. I love this idea of not knowing what you're going to do. As we keep talking about this project and we're getting closer and closer to starting and putting some pieces together (where we might shoot, who we might collaborate with, etc.), we still don't know what our dream is going to be until we go into production. We're working from instinct and that goes along with the whole theme of dreams. We don't have much control over what we experience in our dreams, and when we wake up, we remember what we have and fill in the gaps for ourselves. I'm a big fan of the work of our other collaborators, and I think they're going to be very unique and make for five very different projects.
Schoenbrun: There's a reason I wanted to withhold the dreams from the filmmakers until right before they go into production. If they knew what their short was going to be before they went into making it, it'd be almost impossible for the filmmaker to not start thinking about the shooting schedule and things like that. But if they knew the budget they had to work with and then get their assigned dream, that changes a lot.
Baldwin: I trust all of the collaborators on this project. I have no doubt that this off-the-cuff approach will be rigorous and I'll be pushed into a corner. This opportunity to just play is an authentic inquisition. It's not about reaching and communicating as much as it's about exploring impulses.
Your segment could range from thirty seconds to thirty minutes. Does the lack of a strict length requirement also give you free range?
Baldwin: I love the idea of beginning with the confinements. Working with a small budget is very exciting, and giving myself even less to work with to see how much risk I can take is something I'm very interested in.
Wolkstein:I'm very excited by any project that encourages experimentation with form. We must take risks as filmmakers and this is a project that is asking us to make bold and original choices. What is there not to love about it? I am thrilled to be asked to experiment and to join this engaging, creative community of artists. I'm also really excited to be a part of the social collective experience.
Carbone: I have a basic concept for a lot of the things that I want do, but sometimes I'm not sure it's a short story, a short film, a documentary or something else. That's what I always get hung up on. What is it that I'm trying to make? I really like when the non-creative aspects are given to me. It frees me up to not have to do think about those kinds of things. I love that that's been taken care of, the packaging of it. I know the general size of what I'll be doing and I know how people are going to watch it, for the most part. That frees me up to not have to worry about if it's going to play on large screens of if it will play on people's phones. While it may still play on both of those, it's nice to have a general guideline on where these things will be and how they will exist. It allows us to focus on the creative side.
Baldwin: It feels like art for art's sake. It reminds me of the 1960s collaborative work between John Cage and Merce Cunningham.
Carbone: It reminds me of when I was younger, where I would pick up a camera and see what happens and not worry about if it was accessible, if a certain audience would be interested in a certain kind of content. Let's see what kind of amazing stuff we can put out there.
You have one backer who is entitled to a fifteen minute Skype session with a participating filmmaker of his or her choosing. If chosen, what type of advice could you offer them?
Baldwin: (Laughs) I think I'll only know what I could offer when I'm sitting across from them and looking into their eyes. It would echo what this project is about. I'd want to propagate risk and experimentation.
A theatrical premiere is preemptively set for the summer of 2015. Is it strictly a one-night event, or do you see a theatrical life for the project going forward?
Schoenbrun: Before we launched the campaign, we had a big conversation about this with the entire team. We can't really make a decision about what our distribution strategy will be until we know what our emphasis will be. We can't really know what our emphasis will be until we know what our budget is. We want the release strategy to be different, to be strange, to be totally in line with what the project itself is. Until we have our budget, we won't know if we're looking at thirty minutes of episodes or three hours of episodes, you know? We'll look at what we have and then do something that involves the audience and involves doing something more than just watching the episodes. The intention for the world premiere is for the filmmakers to find out, on that night, whose dream they were adapting and then watch their own dream. No matter what we do, an essential part of the process is to see the filmmakers reacting to their own dream and having a discussion about the process of bringing something so ephemeral and half-forgotten into reality and onto the screen.
collective: unconscious is a project on Kickstarter with three weeks left to go in its campaign. To learn more about the project and contribute to making it come to fruition, click here.