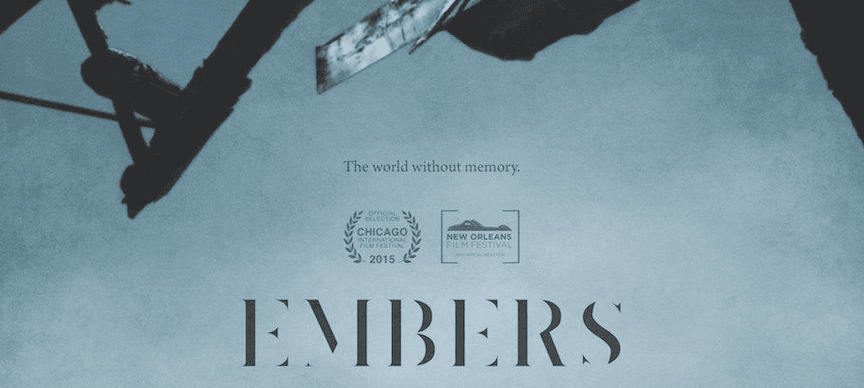 Filmmaker Claire Carré participated in the 2014 IFP Independent Filmmaker Labs with Embers, her first feature film.
Tomorrow I'll be flying to Park City to screen my first feature Embers as the Closing Night Film of the 2016 Slamdance Film Festival. For many American filmmakers, getting a rejection letter (or for the lucky less than 1%, an invitation) from Sundance or Slamdance is the start of their film's festival story. For me, it came as a surprising turn in the middle! I've had an incredible variety of experiences at festivals thus far, each bringing its own unique benefits. Along the way I have been able to form friendships with talented fellow filmmakers, speak with scientists, sign to an agency for features and TV, visited universities, and receive a bunch of reviews from film critics. Best of all, I got to share my first film with hundreds of film lovers and then ask them what they thought afterwards.
Back when I was in the IFP Narrative Filmmaker Lab and had only shot the first half of my film, there was a workshop session centered around festival strategy. IFP's Deputy Director and Head of Programming Amy Dotson broke the news to us that, from a probability standpoint, only a few of the films in the room would premiere at an "A-list" festival,and that we needed to come up with a festival strategy that best suited our personal goals for our film. In response to several nervous questions about the possibility of not getting into such-and-such festival, Dotson would calmly respond that each film finds its own unique path. At the time, I think we were all thinking "okay, that's great advice, but really my unique path is going to be about deciding which awesome festival to accept because they are all going to want this first film I've put so much sweat and tears into." Yeah….that's not how it went down for me. 
We ended up not finishing shooting the last section of Embers until mid-November, and missed the deadlines for festivals like Sundance and SXSW. Over the next few months I watched as my friends from the IFP Lab premiered their films at a diverse array of great festivals like Sundance, Berlin, Tribeca, and Seattle, and there I was, still buried in the edit. Despite the pressure I put on myself to finish post as quickly as possible, the whole process took a long time. It was worth it. The difference between the first rough cut I had in December and the picture-locked version after the sound mix in April was massive. Before the mix, the film felt like an edit. After the mix, it started to feel like watching a real movie. 
I figured it was good enough to send out, and since the summer and fall are full of top festivals in Europe, I thought maybe Locarno or Karlovy Vary or San Sebastian would be my premiere. Maybe even Venice? As I worked through finishing the vfx and the nitty gritty of post over the summer, the rejection letters from Europe rolled in. And the time difference made it even worse, as it felt like all too often I'd wake up and check my email first thing to discover a new email informing me that so many great films were submitted this year etc. etc., and mine was not one of the ones chosen. Most of the time, the American films selected had already premiered at Sundance. A couple festivals didn't even bother to watch my film before they rejected it. I got depressed. 
In August, with the completion of the color grade taking it up to the next level, the film was finally fully finished, and sitting on a DCP drive ready to go out into the world. Through strange synchronicity, that's when our first festival invitation came in the form of a phone call from Germany. 
Embers  had its World Premiere at the Oldenburg Film Festival in Germany in September. The festival experience was amazing. The festival is personally run by founder Torsten Neumann who makes a point of programming what he likes, hand-picking quirky discoveries that haven't been making the festival rounds. The festival is mostly run by volunteers from all across Europe, who come to work the festival in Oldenburg for free because it's really that fun. It isn't an industry festival, so we didn't need to worry about the business side; we were allowed to enjoy it. Oldenburg was five days of watching films all day and talking about films all night. Going to sleep at around 3am, I was maybe the earliest to leave the parties. In addition to meeting other talented filmmakers for a brief chat, we got to watch each other's films, have long talks about our influences and our challenges, and discuss how we might be able to collaborate and support each other in the future. We ate breakfast together. We ate dinner together. I even got to see the Final Cut of my favorite film, Blade Runner, presented in person by actress Joanna Cassidy. It was awesome.
The acceptance emails started to come in. In October we screened Embers at six festivals within two weeks (Chicago, New Orleans, Heartland, Flyway, Savannah and Molodist). We tried to go to as many as we could. Charles (my co-writer/co-producer/husband) and I personally traveled to four of them, with actress Iva Gocheva traveling to the fifth. 
Our US Premiere was at the Chicago International Film Festival in their New Directors category. Unlike the contained city of Oldenburg where the film festival was the big thing for everyone in town, the film festival in Chicago is sprawling in length and number of films, and just one event among many in a major city. The experience felt more like a series of individual events. These are my favorite moments: Standing in the giant theater at the AMC 25 Cineplex doing the sound check and seeing my film with great sound on a screen so big that it curved, talking on a panel about science and film with the director of the Cognitive Neuroscience program at Northwestern University, and sharing the film on the big screen with my family and our local cast and crew from Chicago.
The New Orleans Film Festival changed everything. Embers screened Friday and Saturday in Chicago and screened Sunday in New Orleans in an intense but exciting weekend. I arrived just in time for the filmmaker awards brunch. I was totally surprised to be called up on stage to accept the Jury award for Best Narrative Feature! A whole bunch of the core team from Embers had flown to New Orleans, and we got to celebrate together. But it only got better. The morning of our second screening in New Orleans I got an email with a link to Indiewire. It was an article titled "The Best Science Fiction Discovery of the Year" and it was all about my little film! The article was written by Eric Kohn, senior editor and film critic of Indiewire, who had been a member of the New Orleans Film Festival Jury and was literally the first critic in the United States to watch my film. 
My inbox exploded. All of a sudden, important people wanted to watch my film. I got emails from talent agents, managers, distributors and production companies. I even got a request to rush a BluRay to Disney. It was nuts. Thanks to the New Orleans Film Festival and Kohn's Indiewire article, our film received representation with a sales agent. Charles and I were signed by UTA for features, television and games and are already developing our next projects. And (fingers crossed) it looks like our film will soon get distribution.
It's hard to know what would have happened in an alternate universe, if we had waited and maybe premiered at a big industry festival. We would have had more people interested in our film from the start, but would we have been lost in the crowd, a microbudget sci-fi film in a sea saturated with indie all stars. I'll never know for sure.
In the midst of that whirlwind, Charles and I flew to Ukraine to screen Embers as the only American film in the International Competition at Molodist Kyiv International Film Festival, my first FIAPF and FIPRESCI festival. It felt like we were there not just as filmmakers but as cultural ambassadors (the US Embassy even covered our flights). In interviews (including one on live TV), I was asked big questions as a representative of the United States film industry that were a bit beyond my expertise – things like "How can more Ukrainian films get distribution in the US?" The most interesting aspect of the festival to me were the political overtones. Given their current situation with Russia, the festival was proudly nationalistic. Anthems were sung, political spoken word poetry was performed, and national festival award winners (all women!) each accepted their awards with fists in the air declaring "Ukraine Forever!"
I next brought the film to our first genre festival, Other Worlds Austin. Only in its second year, the festival was small in scale but big in heart and festival team spirit. Only at Other Worlds would I end up taking photos with someone else also wearing a Star Trek uniform. It was great to show our science fiction film to a crowd made up entirely of sci-fi fans, who really got it. Embers was the Closing Night Film and had the honor to win the Inaugural Mary Shelley Award. Our actress Greta Fernández won Best Actress in a Feature Film. The most touching moment of my festival experiences so far came from an audience member at Other Worlds Austin who had previously experienced amnesia after coming out of a coma. He told me that my film captured the confusion of what it felt like to not remember and to feel glimmers of meaning without being able to hold onto something specific. He insisted that I needed to keep making movies because he wanted to see them.
That brings us to today. Tomorrow I head to Park City to continue my festival journey with excitement and curiosity for where this winding road will take me next!