Documenting the New Media Uprising: Andrew Napier on "Mad as Hell" and The Young Turks
by Erik Luers on November 18, 2014 in Interviews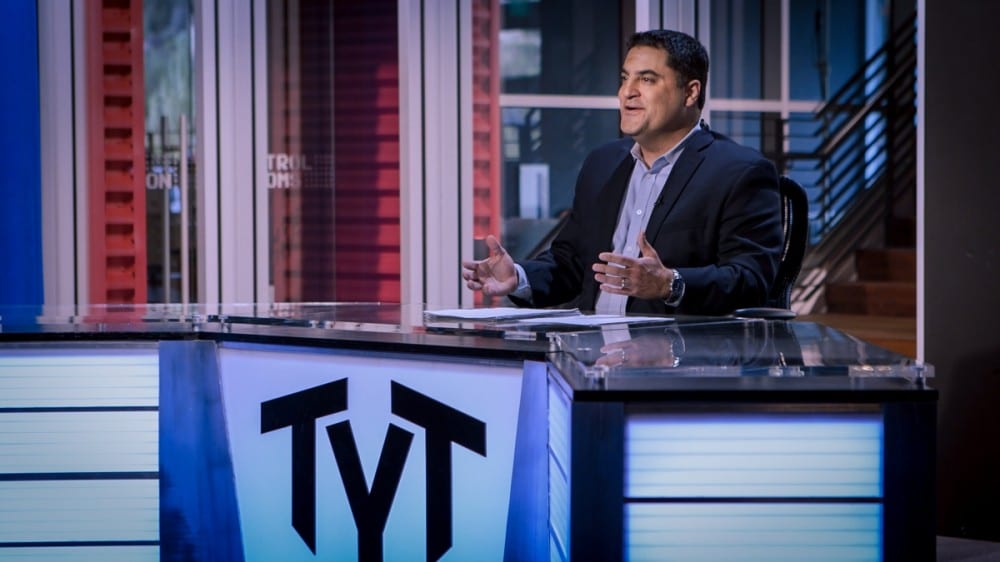 I've been a fan of The Young Turks, an online news show that currently has well over 1.5 billion views on Youtube, for approximately five years now. Created and co-hosted by Cenk Uygur, an eccentric, hard-hitting and humorous figure who gives off the feeling of both a leader and an old friend, The Young Turks' daily news program is as informative as it is fun. Neither a left nor right-wing pulpit for recycled talking points, every media personality and political figure is fair game; Bill Maher, Sean Hannity, Rush Limbaugh, Kim Kardashian, and Barack Obama are often granted equal flack when necessary. Covering the media stories of the day with the entertainment kerfuffles of the moment, The Young Turks works best as an arena for interesting, uninterrupted conversation. Conflicting points-of-view are presented, debates occur between the co-hosts, and occasionally a laugh or two can be had. Each segment is given ample amounts of time to evaluate and dissect the subject at hand. If you have a few minutes, give some of their segments a watch here.
Mad as Hell, the first feature-length documentary on The Young Turks, is being distributed in North America by Oscilloscope Laboratories & theatrically via Gathr Films. It's already toured the festival circuit to much success — it won the Conscious Media Award at the Hot Docs International Documentary Film Festival in Toronto — and the strong word-of-mouth is well warranted. It's an informative film that provides insider access and behind-the-scenes footage that only someone involved with the company could obtain. As it gets set to make its New York debut on November 24th, I spoke with documentary filmmaker Andrew Napier (himself a longtime member of the Young Turks community) about how he became involved with The Young Turks, taking a stab at traditional media, his ventures into crowdfunding, and the difficulty of getting an independent film distributed.
— Erik Luers
Before we begin, I hear you're working on a remake of Dogtooth (the 2009 Greek film from director Yorgos Lanthimos)? That's pretty awesome.
Napier: That's nice of you to say. It's been a lot of fun and I'm lucky to be involved in it. It's a challenging script to adapt for American audiences. But I love the original film by Yorgos, as it's a beautiful film and an incredible work of art. It's got very a strong following, and if our remake happens, I think some people are going to hate me for doing it! But the learning experience and challenge has been worth it.
IFP: Were you familiar with The Young Turks before you started shooting Mad As Hell? How did you get involved with the company and in making this film?
Napier: I'm originally from Wisconsin and I've always wanted to be a filmmaker. That's always been my main passion. Back in 2008, I was going to UW-Madison and I wasn't feeling very fulfilled film-wise. I eventually got really lucky, and through a series of events, was able to go to Los Angeles and meet Quentin Tarantino. I was invited onto the set of Inglorious Basterds in Berlin [Andrew was an extra in the film playing a Nazi and working as a production assistant and intern]. Tarantino told me to move to Los Angeles to keep making movies, and I did. I dropped out of UW-Madison, packed up my car and drove to Los Angeles from Wisconsin. Once I arrived, I had to accomplish two things: I had to make a living to be able to stay in LA, and I wanted to win my parents support back, as they were a little sore for me dropping out of school. They were still supportive, of course, but they were thinking I'd move out there for a few months months, run out of money, and then I'd come crawling back to Wisconsin and return to school.
My dad and brother were both really big fans of this weird online show called The Young Turks. My dad could never pronounce Cenk Uygur's name, but he was so interested in this guy and what he had to say. I found out that TYT was based out of LA, so I went in and started working as an intern, which eventually led to a full time job directing, producing, and editing for TYT. My parents were excited about it and the possibility of a potential job.
But I was out in LA to make movies, not work a 9 to 5 for a news show, as much as I did like working for them. I thought Cenk was such an interesting character, and so I asked him at the end of my first week what he would think about me doing a documentary about him and filming behind-the-scenes of The Young Turks. Cenk told me, "I always wanted to have a documentary made about me!" I then started filming but didn't know how the documentary would be shaped. I didn't know what would happen with their eventual success on Youtube, their experiences with MSNBC and Current TV, or anything. I was very lucky to be there with a camera rolling.
Did you pursue other film projects when you worked for The Young Turks?
 
Napier: I worked for TYT for about 3 years, then Curfew [a film produced by Napier that won the Academy Award for Best Short Film, Live Action in 2013] happened. That was an incredible experience, and soon after I was able to make filmmaking my full time job. Between leaving TYT a couple years ago and now, I have worked on 6 feature films, 4 shorts, and sold one screenplay. But even after leaving TYT I kept coming back to film for Mad As Hell, as the story was constantly evolving.
Did you want the film to be a biopic of Cenk? Or did it eventually become an encompassing presentation of The Young Turks as a whole? We see photos of Cenk as a child, following him all the way to adulthood where he sees his name literally up in lights in Time Square. Is it an individual's rags-to-riches story or a portrait of The Young Turks?
Napier: Yes. All that sounds good. (Laughs) It's a story of a man who went from just wanting to have his face on camera, from pursuing this individual dream, to building a company that was a part of the Youtube/online revolution, which ironically got him involved in traditional media, where he was able to see the problems that existed. The film is about someone who shifts from his own personal success to a need to fix the system. It's a biopic, a new media tech story, a look at corruption in politics and media in America. It's a lot, which made editing the film difficult. But the core of the story, however, is about a man and his dreams and goals, and how they change.
You interview many of Cenk's close acquaintances who don't pull any punches. You speak with his family, his childhood friends (including long-time Young Turk David Koller), his former co-host Jill Pike, his law school friend who seems to be a little confused by Cenk's success…Was it important for the film to have a honest and frank discussion about Cenk?

Napier: My conditions in doing this film was that I would own the film and have final cut. I was very grateful and impressed with Cenk and The Young Turks to allow this. It can't be easy to be the subject of a film and not have control. I wanted to present Cenk and everyone for who they are. I didn't want this to be a fluff piece. The film wasn't funded or made by The Young Turks. It was made independently by myself and my team of independent filmmakers. I wanted it to be both rewarding for fans but also accessible and interesting to people who have never heard about TYT before. Really I got lucky because Cenk respected what I wanted to achieve, and I respect him for allowing it. And I got lucky with all the interviews. They were all so candid and honest because that's who all these people at TYT are and what makes them and the show so interesting. As Dave Koller would say in the film "Cenk keeps it real… what ever the hell that means."
There's some great archival footage in the film that I had never seen before. Cenk on CNN in the 1990s, Cenk and Ben Mankiewicz on television in Miami…How did you find some of that great material?
Napier: Cenk made some of it very easy for me, because any time he was on TV when he was younger, his friends or family recorded it. He kept them so that he could edit the footage into clip reels so that he could find more work. There were other clips and footage I either heard about or knew existed but could not find anywhere and it took months or even years to find. Trying to find the footage of Cenk telling the guest on air to shut up, and Cenk bashing Chris Mathews,  took over a year of searching and digging to locate.
In the film's end credits, you thank over 1,000 of your Indiegogo supporters. Could you speak a little bit about the process of crowdfunding and what you needed from them?
Napier: This was right when Kickstarter and Indiegogo was starting up, before the Veronica Mars film took to the world of crowdfunding to get financed. We wound up raising approximately $70,000 for Mad As Hell from a little over a 1,000 backers. I did an interview with Indiegogo soon after we raised the money, and I had said that I was waiting for some big cult figure or icon to get into this world of crowdfunding, because they will want to raise money independent of studios and the potential would be massive for them. One month later, the Veronica Mars team launched their campaign. I knew that would change everything, and it really did. I'm very lucky that we've had the fanbase to help fund this film and finish it professionally.
Did you always hope for the film to receive theatrical distribution?  It's obviously very tough for documentaries, let alone narrative films, to acquire a national theatrical roll-out. Were you adamant about getting the film into theatres?
Napier: I'm a big advocate of new media, digital and online, etc. Nontraditional media is obviously what the film's story is about. But I also love the traditional movie theater experience. It's always better to see a movie in a packed theater, whether it be a new Star Wars or the latest Werner Herzog film, with people who really care about it. So I wanted The Young Turks' strong community of passionate viewers to experience the film together on the big screen, and this was only solidified after we played at the Hot Docs film festival in Toronto.
I had so many people laugh in my face when I told them I wanted to release the film this way in theaters. After Hot Docs, I was approached by Gathr Films. They do a new model of theatrical crowdsourcing, "theatrical on-demand," where fans can request screenings. If that screening can get enough people to pre-order a ticket (without them getting charged), then the screening is confirmed and everyone gets charged at the same time. The screening then takes place at their local movie theater. This seemed like the perfect model for our audience. We're doing three months of exclusive theatrical on-demand Gathr screenings, starting with Los Angeles and now all over the country. Cenk and I are going to as many of them as we can.
For the screenings we've missed, I look online and see crowds holding posters and taking pictures together at the event. It really feels good to see groups of people coming together to have a good time and watch this film together. We're going to do that across the country for the next few months. I guess we're semi-traditional and semi-untraditional in how we're doing it. Oscilloscope Laboratories, a distributor I've always been a big fan of, (and worked with before on The Past is a Grotesque Animal) came on board to distribute the film on all platforms like ITunes, Netflix, On Demand, TV VOD, DVD, & BLU-Ray and more. That wide release starts on February 6th. In the week before the wide release, we'll do a one-week traditional theatrical run in Los Angeles and New York. With Gathr we wanted to allow the fans all over the country experience the film in a theater. With the traditional run we want to draw the attention of people who don't know who The Young Turks are but might be interested in this subject matter of news and politics and Cenk's story.
Mad As Hell screens at the Union Square Stadium 14 in Manhattan on Monday, November 24th. Tickets are available here. A wide release via Oscilloscope Laboratories will take place Feb 6th. For more information, please visit: www.MadAsHellFilm.com