A Father's Tale: Angus MacLachlan on "Goodbye to All That"
by Erik Luers on December 16, 2014 in Interviews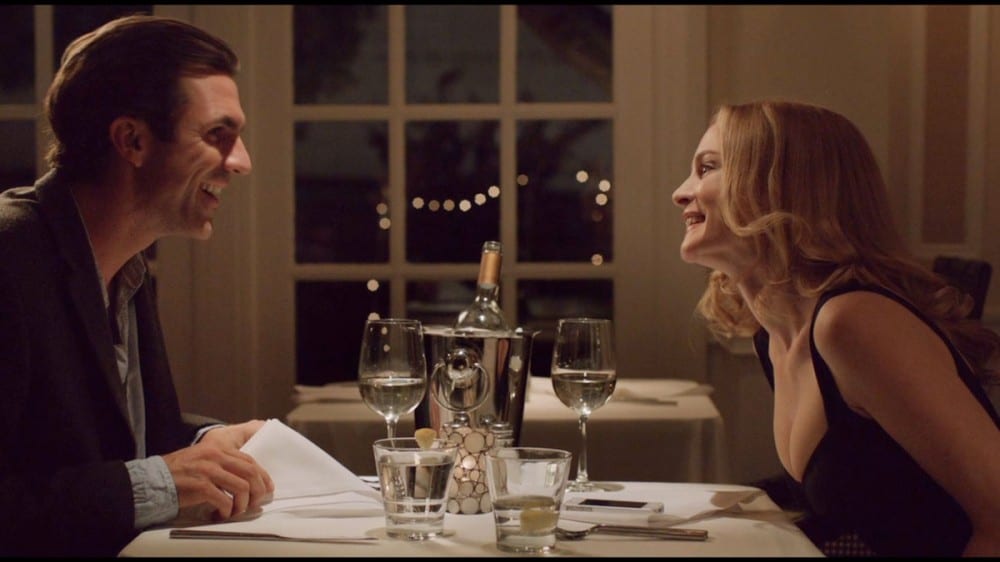 Although father may not always know best, Goodbye to All That's heartfelt and humorous look at a middle-age dad who, after an unpleasant divorce, is quickly thrown into a world of new opportunities (of the female variety) and struggles (concerns for his kin), proves that he most certainly tries. Director Angus MacLachlan, known in the film world for writing the Academy Award-nominated Junebug and Robert De Niro starrer Stone, makes his directorial debut here, proving that he has quite an assured approach to getting the best out of his actors; he guides them to strong performances that are equally realistic and morosely funny (his lead, Paul Schneider, won the 2014 Best Actor Award at the Tribeca Film Festival). As the film gets set to open, I spoke with MacLachlan about what lead him to the directing chair and just how much of a collaborative effort goes into the filmmaking process. The film is currently playing at the IFC Center and is available On Demand.
— Erik Luers
IFP: What lead you to Goodbye to All That, your directorial debut? As a screenwriter, had you often been on set for your previous films? Is that how you "caught the bug?"
MacLachlan: I've been on the set of all the films I've written. I was first educated as an actor, and then was a playwright and screenwriter for a number of years (I also directed for the stage a lot). It was something that I always wanted to do, and my directorial debut came about when I offered my screenplay to Phil Morrison, the director of Junebug. He said "Angus, the central emotional component of your film is the father-daughter relationship, and I don't have children, but you do. I think you should direct it." I then gave it to another friend, who is also a director, and he said the same thing. Eventually, I spoke to my producers and they asked who I wanted to direct the film. I said that I wanted someone as good as Phil [Morrison], but if we couldn't get him, then I was interested in doing it myself. They thought about it, came back, and said "well, let's see if we can try and do that."
Having now directed a feature, do you see filmmaking as more of a collaborative process? While you also wrote the screenplay for the film, this is your first time working with a cinematographer, editor, etc.  Do you find yourself thinking more about how to do things like a scene transition, when to employ a dissolve, when to fade to black, etc.?
MacLachlan: Oh yeah. You know, as a screenwriter, that's one of the frustrating things. Not only did I have aspirations to direct, but as an actor and a Visual Arts major in school, I had a real idea of how I think things should be played in a scene. I had a great editor on this project, Jennifer Lilly, who I sat beside everyday and we'd say "let's try this, let's try that, let's move this around…" I loved that collaboration. That was a fantastic aspect of directing and was one of the things I enjoyed the most, considering directing was the scariest thing I'd ever done! I was so scared. [laughs]
How important is casting then? Do you direct and edit to the strength of the performance?
MacLachlan: We had a great casting director, Mark Bennett, and I loved the cast we came up with. But it really did show to me, being in the editing room, how vulnerable performances on film are. You can really, really create a performance in the editing room. You can make someone look much worse than they normally are or much better than they normally are. You can really create moments that work well, in the act of playing, by how long you cut back-and-forth between two actors. That was amazing to me. Film actors have to really throw themselves into the dark and have to trust their director that something good will come from it. It's why a lot of times people go, "I don't understand. That actor was so good in that movie and yet so terrible in this other one!" That happens a lot, and as an actor, you're really at the mercy of the elements chosen by the director. 
You had mentioned that you are a father yourself, so I'd like to ask how Goodbye to All That came to be. It feels inspired by the films of Robert Benton, with situations at times reminiscent of Benton's Kramer VS Kramer. It's rare to see a father's side of this story.
MacLachlan: Well, I'm not divorced, but I do have one daughter (like Otto does in the film). It came about because a lot of my friends had gone through breakups like this, and I started to takes notes about their experiences. They would tell me stories that were harrowing and funny and neurotic and exciting and really sad, and all the while, I kept taking notes. And you're right, this is sort of a slightly funnier version of Kramer VS Kramer. Another inspiration was  An Unmarried Woman from 1978, a film that focuses on a mother learning how to stand on her own two feet. I wanted to see if you could tell that story from a man's perspective. It's not that Otto is immature, but rather that he's unconscious and has to have his consciousness raised. When An Unmarried Woman came out, it was about the feminist movement and about raising the female consciousness to say that "if a man can do it, then I can do it too." I think there are a lot of men who don't know what's going on, don't pay attention, and need to have their consciousness raised.

Why did you choose to set the film in North Carolina? I know your lead actor, Paul Schneider, is from there, but do you share any history with the state?
MacLachlan: That's where I'm from and I still live there. The film is shot in my hometown, and there's actually a lot of North Carolinans in the film. Amy Sedaris is from Raleigh and Heather Lawless, who plays Lara, is from Cherokee. And Anna Camp is from South Carolina, so there's a lot of connections.
The film encompasses a very distinct, classical piano score throughout the film. It feels perfectly right for the setting. Could you speak about working with a composer?
MacLachlan: All of the music is actually heightened piano concertos. Early on, when I was first imagining directing the film, I knew I wanted music and I knew that I didn't want pop music. I really couldn't afford that and I think it's a real cliche now. There's something about heightened piano concertos that really felt like the character of Otto. There's a certain out of control element to them, like silent comedians, and I feel like Otto is somewhat out of control at certain points in his life. The music is also in the public domain. I had to fight for them a lot. A lot of people said that it wasn't going to work and that we need other music in there, and yet there's something interesting about the formality of the classical music that we used and this story.
The film begins with Otto competing in a track competition, and subsequently throughout the film we are exposed to a tracking shot of him running and having to deal with an injury he had sustained earlier in the film. Was it important to create a physical distinction for the character? It's such a recurring motif to keep going back to that injury as Otto's personal experiences get tougher.
MacLachlan: Absolutely. It was one of my intentions to make Otto an athlete and particularly a runner, because runners are trained not to pay attention to pain. They are supposed to run through their pain, sometimes to the detriment of their bodies and thus hurting themselves more. That's who Otto is. He doesn't pay attention to his pain. I mean, something has been wrong in his marriage for quite a while that he had not paying attention to. I wanted him to have an injury, his Achilles Heel, that he keeps trying to run past and yet it's still there. He loses to a woman — an older woman, at that — in the last scene of him running (whereas he won the first race we see him in). There's a real key there that was intentional for me, to physicalize it. He's going to have this injury and this scar forever, and it's very much like divorce. You're going to live with it forever and you can never get away from it, especially if you're a parent.
The film really captures the joy of being single again and being able to flirt with someone privately online, whether it be thru dating websites or on Facebook. It also documents the pain of finding out (via social media) that your wife has been doing much more than just flirting. Much of the excitement and pain apparent is derived simply from the camera's attention to Schneider's face. How do you shoot a compelling scene involving an actor, one-on-one, without another physical presence there? 
MacLachlan: The scenes that you're talking about, where Otto finds out that his wife is cheating on him, were interesting because it's all very clearly written out in the script. It's written that he has trouble remembering his wife's Facebook password, finally remembers it, discovers her secret, and then gets upset. But when we shot it, it got very interesting. I would say his character's thoughts while he was performing them. It's something that we both came up with. I would say "oh, what's her password again? God, I thought I remembered it…..oh yeah, that's it! Wait, what is that? Oh fuck!" I was standing beside the camera saying Otto's thoughts, which was something that Paul really wanted. And in regard to the phone conversations featured in the film, we shot them separately. Some actors like to have an actual person, or the other actor, feeding him the lines when we're just shooting one side. Paul didn't want that. In the big scene where he and the character of Lara are talking on the phone, we didn't have our actress, Heather Lawless, read the lines, but rather our script supervisor in another room, doing the dialogue with him. When we shot Heather's side of that conversation, Paul volunteered to hide behind the couch she's sitting on and run the scene with her. It was a very nice thing to do, as it was his day off and he came in to do that for her.
Speaking of finding ways to shoot those telephone conversations, did you ever struggle with how to keep them lively? A phone call is not something inherently cinematic, but you make them very entertaining. A few examples include Otto talking to his friend on the phone about his marriage, as you cut to his friend on the other line, a nonchalant grade school principal with students sluggishly sitting in his office. I'm also reminded of the last phone call in the film, between Otto and his daughter, which is unique because we're only shown Otto….
MacLachlan: You know, that was something I didn't even realize until we were shooting. Whenever Otto talks to his daughter, you don't hear her. It wasn't a conscious decision. Most of the other phone conversations in the film feature both people on the phone. That's again a testament to Paul's acting. That last conversation in the film was done completely on his own. There's one other conversation in the film, where he calls up Lara and asks her to come over, that Paul did completely by himself. It is a curious thing, to keep a phone conversation alive in a movie. The big conversation between Lara and Paul features the two characters in separate rooms. Sometimes when you see movies with people on the phone, you think "this is boring! I want to see the two people together," but I don't feel that it's boring here, because of the performances and the length of the scene.
The film also has some fun with the very religious (one character is hypersexualized and yet has to consult her Bible afterward because she feels guilty about her urges). And yet, by having Otto's daughter interested in church as well, perhaps it's not all antagonistic.
MacLachlan: Religion is a funny thing to present sincerely. I don't know if it's particularly regional, but we had a lot of religion in Junebug too and a lot of people noticed it. I'm not religious, but it's something that's in a lot of people's lives (and a lot of people I know's lives). Children of Otto's daughter's age start to ask about God, and if they don't go to church, they're wondering why they're not. The daughter sees her father getting hurt all the time and wonders what kind of God would do that. Because of this, she wants to talk to the female minister. And in regard to Debbie Spangler [the hypersexualized character previously mentioned], I don't think her problem is that she's religious, but that she's a little bit bipolar. That's the problem. She has overpowering feelings that get away from her every once in a while.
When you're directing a scene, do you think about genre at all? I'm thinking of the scene with the therapist, where she explains to Otto, in front of his wife, that his marriage is over. It's very funny due to the awkward humility of the situation, but it's also somewhat sad and tragic. 
MacLachlan: I don't really think in that way. I've heard this film described in so many different ways, whether by calling it a dramedy, or a comedy, or a drama, or a romantic comedy. I just think that life is funny and sad at the same time. It can be horrifying too. I think it has all of these mixtures and I enjoy films that are like that and have those elements.