The Gotham Announces Winners of 5th Annual Focus Features & Jetblue Student Short Film Showcase
by The Gotham Staff on November 16, 2023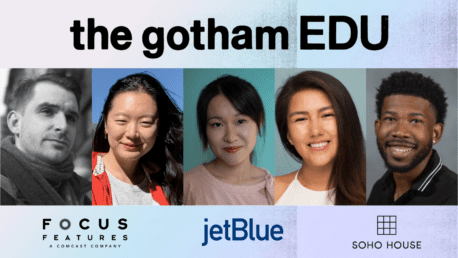 Winners to be Recognized at 33rd annual Gotham Awards Ceremony, taking place Monday, November 27, 2023 at Cipriani Wall Street in New York City
NEW YORK, NY (November 16, 2023) — Ahead of the 33rd annual Gotham Awards Ceremony, taking place live and in person on Monday, November 27, 2023 in New York City, The Gotham Film & Media Institute announced the winners of its fifth annual Focus Features & JetBlue Student Short Film Showcase. The five winning filmmakers include Kevin Haefelin (Fuse, Columbia University), Xinjing Lao (Xiaohui and His Cows, New York University), Sisa Quispe (Urpi: Her Last Wish, City College of New York), James Ross (Don't Blink, Florida State University), and Mel Sangyi Zhao (Return to Youth, California Institute of the Arts and 2022 Gotham EDU Film and Media Career Development program graduate).
With the critical support of returning partners JetBlue and Focus Features as well as Soho House, The Gotham aims to discover and empower a diverse group of emerging filmmakers as well as foster multi-platform distribution of their work through the annual program.
"With both extraordinary talent and vision, these students have demonstrated clear command of the craft that will take them all very far on their filmmaking journeys," said Jeffrey Sharp, Executive Director of The Gotham Film & Media Institute. "We're thrilled to recognize each of them at the upcoming Gotham Awards Ceremony and are grateful for the support of our faithful partners JetBlue, Focus Features, and Soho House."
"The overwhelming response from applicants for the Short Film Showcase has been really inspiring to see and a great indication of today's vibrant up-and-coming filmmaking community," said Focus Features Chairman Peter Kujawski and Vice Chairman Jason Cassidy (a new member of The Gotham's Board of Directors) in a joint statement. "In a year where we received a record number of submissions from a record number of universities, we could not be more excited to continue this partnership with The Gotham and JetBlue and look forward to discovering the industry's next generation of talented storytellers."
The fifth annual Focus Features & JetBlue Student Short Film Showcase received projects from 34 graduate film schools, more than half of the graduate film programs in the United States. A special jury of filmmakers, curators, and critics – including Opal H. Bennett (Executive Producer, POV Shorts and Senior Producer, POV), Jesse Trussell (Programmer, Brooklyn Academy of Music), and Maria Altamirano (Producer) – selected the five winning filmmakers, who will be recognized during the 2023 Gotham Awards Ceremony, taking place live and in person on Monday, November 27, 2023 at Cipriani Wall Street in New York City. Each winner will receive a $10,000 grant and will have their films shown for twelve months on JetBlue's seatback entertainment systems under the "Gotham Selects" movie category and on Focus Features digital streaming platforms. Throughout 2024, the winning filmmakers will also receive ongoing mentorship and workshopping opportunities from The Gotham.
This year's participating schools include American Film Institute Conservatory, Beaconhouse National University (Lahore, Pakistan), California Institute of the Arts, Chapman University, City College of New York, Columbia College Chicago, Columbia University, DePaul University, Emerson College, Feirstein Graduate School of Cinema (Brooklyn College), Florida State University, Full Sail University, Loyola Marymount University, MIT Sloan School of Management, New York Film Academy, NYU, Ohio University, San Francisco State University, Savannah College of Art and Design, Southern California Institute of Architecture, Stanford University, Stony Brook University, Syracuse University, Temple University, The City College of New York (CUNY), The New School, The University of Texas at Austin, UCLA, University of North Carolina Wilmington, University of California Santa Cruz, University of California.,Los Angeles
University of Central Florida, University of Miami, University of New Orleans, USC Cinematic Arts, and Vermont College of Fine Arts.
Kevin Haefelin's The Fuse was previously shortlisted for the 2023 Yugo BAFTA Student Awards. Mel Sangyi Zhao is a 2022 graduate of the Gotham EDU Film and Media Career Development program graduate. The winners of the first annual Focus Features & JetBlue Student Short Film Showcase included Saim Sadiq, the writer and director of Joyland, the film selected as the Pakistani entry for Best International Feature Film at the 95th Academy Awards.
"We are proud to continue our partnership with The Gotham Film & Media Institute for a fifth year as we believe that entertainment is more than an opportunity for enjoyment, but another avenue for discovery, education and connection to the world," said Mariya Stoyanova, director of product development, JetBlue. "At JetBlue, we champion stories that inspire humanity and look forward to amplifying these award-winning films as we feature them on our seatback entertainment screens."
Jo Addy, Global Film Director for Soho House said, "As an organization, bringing together and supporting creatives is in our DNA. We're delighted to support The Gotham and this remarkable program. At Soho House locations across North America, we're excited to screen these short films from young filmmakers who are just starting their careers."
About Focus Features
Focus Features' slate includes Alexander Payne's The Holdovers starring Paul Giamatti and Da'Vine Joy Randolph, along with upcoming titles Drive-Away Dolls from Ethan Coen and Tricia Cooke starring Margaret Qualley, Geraldine Viswanathan, and Beanie Feldstein, Zelda William's feature directorial debut Lisa Frankenstein, written by Diablo Cody, as well as Back to Black about the life and music of Amy Winehouse from director Sam Taylor-Johnson, Robert Eggers' reimagining of Nosferatu, which stars Bill Skarsgard, Lily Rose-Depp, Nicholas Hoult, Aaron-Taylor Johnson and Willem Dafoe, Baltasar Kormakur's Touch, and Goran Stolevski's new feature, Housekeeping for Beginners, among others.
About JetBlue
JetBlue is New York's Hometown Airline®, and a leading carrier in Boston, Fort Lauderdale-Hollywood, Los Angeles, Orlando and San Juan. JetBlue carries customers to more than 100 destinations throughout the United States, Latin America, the Caribbean, Canada and Europe. For more information and the best fares, visit jetblue.com.
About Soho House
Founded in 1995 by Nick Jones, Soho House is a place for our diverse membership to
connect, grow, have fun, and make an impact. Today, there are members and Houses
around the world, as well as restaurants, spas, workspaces, and cinemas. With 41 locations globally Soho House is a platform that fosters creativity in all its forms, a place where people can share ideas and make connections in physical and digital spaces.
About The Gotham Film & Media Institute
The Gotham celebrates and nurtures independent film and media creators, providing career-building resources, access to industry influencers, and pathways to wider recognition. The organization, under the leadership of Executive Director and award-winning producer Jeffrey Sharp, fosters a vibrant and sustainable independent storytelling community through its year-round programs, which include Gotham Week, Gotham Labs, Filmmaker Magazine, the Gotham Awards, Gotham EDU, Owning It, and Expanding Communities.
About the Gotham Awards
The Gotham Awards is the first major awards show of the awards season that honors outstanding and groundbreaking voices in storytelling. For over 30 years, The Gotham Awards provides support for the work that The Gotham Film & Media Institute does year-round to celebrate and nurture film and media creators with vital resources to bring their work to fruition.
Media Contact
The Lede Company