The Gotham Announces Project Market Slate for Gotham Week 2022
by Gotham on July 27, 2022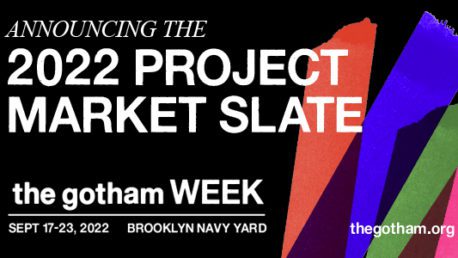 142 Projects Selected for 44th Annual Gotham Week Project Market
Taking Place In-Person and Virtually September 17-23, 2022
(August 1, 2022 – New York, NY) – The Gotham Film & Media Institute announced today the slate for its Project Market, which will be held during Gotham Week September 17-23, 2022, in person at the Brooklyn Navy Yard. Concurrent virtual programming and events are also planned. The selection includes 142 fiction and nonfiction features, series, and audio projects, all in development and production stages. The Project Market, which turns 44 this year, has supported independent artists working in visual storytelling for decades and, in recent years, has extended its support towards series in all formats including audio storytelling.
"Covering a wide range of formats, subjects, and genres, this year's Project Market slate features some of the boldest and most exciting voices in independent storytelling," said Jeffrey Sharp, The Gotham's Executive Director. "We are thrilled to welcome everyone back to Gotham Week at Brooklyn Navy Yard where we look forward to supporting these excellent projects in person. As always, we are extremely grateful for our new and returning sponsors who provide critical support to independent creators and new voices in media."
The slate, featuring both U.S. and international projects, comprises 65 fiction feature and series projects, 60 documentary feature and series projects, and a range of 17 diverse audio projects in multiple genres. These numbers include 25 international projects across several programming sections chosen in collaboration with 13 of The Gotham's international presenting partners: Australian International Screen Forum; International Film Festival Rotterdam's CineMart; CoPro – The Israeli Coproduction Market; Durban FilmMart; European Audiovisual Entrepreneurs (EAVE); French in Motion; Israel Film Fund; Los Cabos International Film Festival; National Film & Video Foundation (NFVF) and KwaZulu-Natal Film Commission (KZNFC); Screen Scotland; Telefilm Canada; and TorinoFilmLab.
The Gotham Week Project Market is the only international co-production market in the U.S. featuring stories for multiple platforms from independent creators. The event hosts pre-scheduled one-to-one industry meetings dedicated to elevating the work of independent artists and facilitating career-spanning relationships with distributors, financiers, production companies, festival programmers, sales/talent agents and other potential collaborators. These invaluable relationships continue well beyond the span of Gotham Week.
Over the past few years, industry attendees at Gotham Week have made early connections with the creators of works now in distribution such as Aftershock (Hulu); Beba (NEON); Nanny (Blumhouse/Prime Video); Resurrection (IFC Films); Ascension (NEON); Free Chol Soo Lee (MUBI); Honk for Jesus. Save Your Soul. (Focus Features/Peacock); Poser (Oscilloscope); My Old School (Magnolia Pictures), Clara Sola (Oscilloscope), Ma Belle, My Beauty (Good Deed); Crip Camp (Netflix); American Factory (Netflix); The Last Black Man in San Francisco (A24); Miss Juneteenth (Vertical Entertainment); Stray (Magnolia Pictures); Lingua Franca (ARRAY); Selah and the Spades (Amazon Studios); Monos (NEON); I'm No Longer Here (Netflix); The Man Who Sold His Skin (Samuel Goldwyn Films); House of Hummingbird (Well Go USA); and The Truffle Hunters (Sony Pictures Classics).
Past films and alumni that have gotten their start at Gotham Week include Moonlight (Barry Jenkins), Crip Camp (James Lebrecht, Nicole Newnham), Songs My Brothers Taught Me (Chloé Zhao), Beasts of the Southern Wild (Behn Zeitlin), Pariah (Dee Rees), The Middle of Nowhere (Ava DuVernay), Slacker (Richard Linklater), Clerks (Kevin Smith), Roger and Me (Michael Moore), Down By Law & Permanent Vacation (Jim Jarmusch) and Welcome to the Dollhouse (Todd Solondz) among many others.
The Project Market meetings will be held in person Monday, September 19th – Wednesday, September 21st, while Project Market virtual meetings will take place on Thursday, September 22nd, and Friday, September 23rd.
As previously announced, Gotham Week will also feature its usual Gotham Week Conference exploring the art and business of film and media today, and the inaugural Gotham Week Expo, which will bring together partners from The Gotham's Expanding Communities, Owning It, and Gotham EDU programs for the first time. The Expo will showcase thought leadership on the advancement of the film and media industries while amplifying partner organizations and communities.
The Gotham and Gotham Week are generously supported by a group of loyal corporate, foundation and government benefactors. The 2022 Sponsors include Premier Sponsors Amazon Studios and Netflix; Platinum Sponsor Audible; and Gold Sponsors SAGindie and WarnerMedia. Gotham Week is also supported by grants from the National Endowment for the Arts, the New York City Department of Cultural Affairs, and the New York State Council on the Arts.
The full list of 142 projects participating in the 2022 Gotham Week Project Market is available here.
2022 Gotham Project Market Highlights
U.S. Fiction Features Highlights
New fiction feature films include Cross Pollination from Joseph Sackett (Homebody); Hawaiian Vacation from Dyana Winkler (United Skates); and No Love Lost from Diana Peralta (De Lo Mio). Debut fiction features include Homewrecker by Matthew Puccini ("Dirty"); In Search of Time by Jamil McGinnis and Pat Heywood ("Gramercy"); and Sales Per Hour from Michelle Uranowitz and Daniel Jaffe ("Sales Per Hour").
New fiction feature films from notable producers and executive producers include The Accompanist from Kara Durrett (Honk for Jesus. Save Your Soul) and Jonathan Duffy & Kelly Willams (Sorry to Bother You); Dìdi (弟弟) from Carlos López Estrada and Kelly Marie Tran (Summertime); Fierce Attachments from Amy Lo (Nancy); forward from Gabrielle Nadig (Little Woods); and Wishes Sink in Man Made Lakes from Madeleine Askwith (The Mountains Are a Dream That Call to Me.)
International Features Highlights
Established directors with new projects include Théo Court (White on White, Best Director, Venice Horizons 2019; official Chilean entry for the 94th Academy Awards) with his third feature, Three Black Nights, and Moshe Rosenthal (Karaoke) with Independence. Notable producers include Luca Borghese (Monsters and Men, Diane), Clément Miserez (The Deep House), Anand Ramayya & Kelly Balon (Donkeyhead), and Tim White (I Am Mother).
Narrative Series Highlights
New series from prominent TV executive producers and film producers include Jessica Mecklenburg (Dopesick) with Dancing on the Volcano, Janet Mock (Pose) with Femme Queen Chronicles, Andrew Coles (Twenties, Queen & Slim) with Youth, Brian Coffey (Starred Up) with The Cut, Angus Lamont ('71) with Joseph Knight and Jay van Hoy (The Witch, Uncle Frank) with Wiring Utopia.
​​Spotlight on Documentaries Highlights
With a history of presenting work from both new and veteran nonfiction filmmakers, some notable directors with new work include Reid Davenport (I Didn't See You There) with Life After, Jessica Dimmock and Zackary Canepari (Flint Town) with Thoughts & Prayers, Angelo Madsen Minax (North by Current) with A Body to Live In, Vaishali Sinha (Ask the Sexpert) with Give It a Shot, and Kim A. Snyder (Newtown, Us Kids) with The Librarians.
New documentary features from top producers and executive producers include Caryn Capotosto (Won't You Be My Neighbor) and Lauren Greenfield (Generation Wealth) with Ro Haber's We Are Pat, Jess Devaney (Pray Away) with Jalena Keane-Lee's Standing Above the Clouds and Life After, Kirstine Barfod (The Cave) on Alina Simone's Black Snow, and Erika Dilday (In Transit, After Sherman) and Catherine Gund (Aggie) on Gund's Meanwhile.
Audio Series and Originals Highlights
Audio Series & Originals recognizes the incredible growth of the podcast industry, and is excited to support an array of innovative, independent creators with original narrative and non-fiction pieces by notable voices like that of Onyx Èspri and Martina Abrahamas Ilunga (Natal from You Had Me At Black) with Hope In Margot, Christopher Dole (Arden, Human Resources, and My Big Score) with The Life and Times of a Chosen One, and Winnie & Alex Kemp (The Imperfection and Batman Unburied) with Gray City.
About The Gotham Film & Media Institute
The Gotham celebrates and nurtures independent film and media creators, providing career-building resources, access to industry influencers, and pathways to wider recognition. The organization, under the leadership of Executive Director and award-winning producer Jeffrey Sharp, fosters a vibrant and sustainable independent storytelling community through its year-round programs, which include Gotham Week, Gotham Labs, Filmmaker Magazine, the Gotham Awards, Gotham EDU, Owning It, and Expanding Communities.
About Gotham Week
Gotham Week gives independent creators critical industry access and resources — and celebrates the creativity, daring and determination that The Gotham is all about. It provides a unique platform from which many groundbreaking careers and projects have been launched.
Media Contact