IFP Relaunches Membership with New Levels and Benefits
by Chase Harrison on November 20, 2019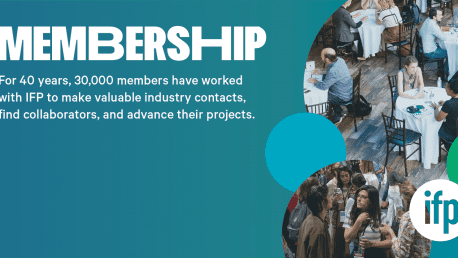 For over forty years, more than 30,000 members have worked with the Independent Filmmaker Project (IFP) to make valuable industry contacts, find collaborators, and advanced their project. For the first time in years, IFP is updating our membership levels and adding new perks to existing levels.
In addition to the existing levels IFP Digital and Z, the level formerly called "General" is now Essential. Additionally, there are two new levels of membership called IFP Pro and IFP Resident.
IFP Pro includes all of the Essential benefits plus one free Meet the Decision Makers session, one free Direct Access session, speed networking mixers, and no additional fees when submitting your project to IFP programs.
IFP Resident (formerly known as Media Center membership) includes everything mentioned above plus a dedicated desk at the Made in NY Media Center by IFP, which includes full access to everything the Media Center has to offer: conference rooms, a post-production suite, audio recording capabilities, and rooftop access, which will be the perfect spot to take meetings once spring arrives.
Take a look at all the membership levels and their perks. Sign up for an IFP membership here.
Digital ($40 / year)
-Digital subscription to Filmmaker Magazine
-Eligibility to submit projects to IFP Programs
-Eligibility for Fiscal Sponsorship Program
-Access to online resources
Z ($60 / year)
All Digital Membership Benefits Plus:
-Must be 25 or under
-Eligibility to submit projects to IFP Programs
-Filmmaker Magazine (Digital and Print)
-Member discounts with select industry vendors
-Access to online resources
-Discounted rate for Media Center Theater
-20% discounts on ClassWork
-25% off seminars and public programs
-Free unlimited screenings
-Free My First Time
-Free IFP Z-specific programs
Essential ($100 / year)
All IFP Z Membership Benefits Plus:
-Eligibility for Fiscal Sponsorship Program
-Discount on Media Center theater
-Member newsletter features
-Discounts on Direct Access
-Discounts on Meet the Decision Makers
-Discounts on Master Classes
-25% off Variety Business Intelligence
-Free social mixers
Pro ($250 / year)
All Essential Membership Benefits Plus:
-Quarterly social media promotion
-Access to "Meet the Expert" (1 / quarter)
-Complimentary Project Submissions
-One free "Meet the Decision Maker"
-One free "Direct Access"
-Speed networking mixers
-Discounts for Premium Variety Business Intelligence membership
Resident ($450 / year)
All IFP Pro Membership Benefits Plus:

-Dedicated desk at the Made in NY Media Center
-Full Media Center access including conference rooms, kitchen, post-production suite, podcast/audio recording studio, access to rooftop garden and workspace, private phone booths, mailroom, and personal storage unit
-Limited free usage of Media Center theater and reception space
-DUMBO VIP Pass