IFP Announces Project Forum Slate for 41st Edition of IFP Week
by Gotham on July 25, 2019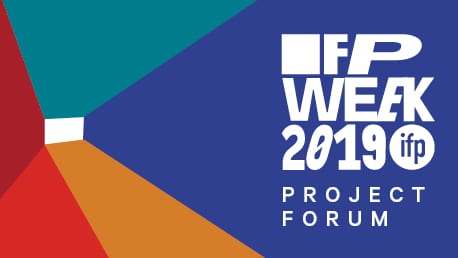 July 25, 2019 (New York, NY) – Today, IFP (Independent Filmmaker Project) announced its IFP Project Forum slate, highlighting 143 feature-length and series projects in development and production set to participate in the upcoming 41st annual edition of IFP Week, September 15 – 19, 2019 in DUMBO, Brooklyn.
IFP's Project Forum is the only international co-production market in the U.S. featuring stories for multiple platforms and hosting over 3,000 pre-scheduled artist & industry meetings dedicated to moving those projects forward. In addition, IFP Week presents a multi-day slate of talks, public screenings and events celebrating bold and singular storytelling in all its forms. Approximately 300 directors, writers, producers, executive producers and other creators will attend the event this year to pitch their projects to a wide range of industry.
"We are thrilled to launch the 41st edition of IFP Week with a renewed commitment to celebrating independent storytellers," said Jeffrey Sharp, IFP Executive Director. "As the content industry shifts, and opportunities emerge for new and diverse voices, IFP finds itself squarely in the middle of the conversation yet again in its historic role at the forefront of discovery. I couldn't be more excited to be a part of this year's event for what promises to be an unforgettable week."
Over the past several years industry attendees at IFP Week made early connections with the creators of works in current or upcoming distribution such as American Factory (Netflix); The Last Black Man in San Francisco (A24); Selah and the Spades (Amazon Studios); Knock Down the House (Netflix); The Hottest August (ITVS/Independent Lens/Grasshopper Film); Monos (Neon); Love, Gilda (CNN Films and Magnolia Pictures); Roll Red Roll (POV); Shirkers (Netflix); Crime + Punishment (Hulu); House of Hummingbird (Well Go USA); The Tale (HBO); Monsters and Men (Neon), Bathtubs over Broadway (Focus Features); Sorry to Bother You (Annapurna Pictures); Jinn (Orion Classics), and The Third Wife (Film Movement).
2019 Highlights
This year, in addition to an impressive number of first and second-time feature filmmakers, notable veterans and IFP alumni returning this year with new works include:
Narrative Highlights
New narrative films and series anchored by top producers and EPs include Belonging from Simone Ling (They), Bluets from Taylor Shung (Mickey and the Bear), Estado del Imperio from Nicolás Celis (Roma), The Starling Girl from Kara Durrett (Topside), Transmania from Ryan Cunningham (Broad City), The Villager from Chris Ohlson (Kumiko, the Treasure Hunter), and Leche from Marttise Hill and Julius Pryor (Cronies) and Shruti Ganguly (H.).
New narrative films and series directed and created by U.S. and international storytellers include Hank by David Jacobson (Down in the Valley), Higher by Kirsten Tan (Pop Aye), La Fiebre by Mateo Bendesky (Los Miembros de la Familia), The Final Print by Woojin Jang (Autumn, Autumn), Love Runs Wild by Christopher Radcliff (The Strange Ones), The Panopticon by Jim Loach (Oranges and Sunshine), The Persian Version by Maryam Keshavarz (Circumstance), Sannyasa by Shawn Snyder (To Dust), and two narrative feature debuts by award-winning documentary filmmakers – Queen of Wands by Deborah Esquenazi (Southwest of Salem: The Story of the San Antonio Four) and Umi by Erik Shirai (The Birth of Saké).
Non-Fiction Highlights
New documentary features and series from top producers and executive producers include Bella from Susan Bedusa and Douglas Tirola (Bisbee '17), The Dilemma of Desire from Diane Quon (Minding the Gap), Naz from Elhum Shakerifar (A Syrian Love Story), Untitled Dwarfism Project from Jessica Devaney (The Feeling of Being Watched), Next Generation Sex from Rachel Lears (Knock Down the House), and Black Mothers and A Place to Learn from Sabrina Schmidt Gordon (Quest).
Directors with new feature documentaries and series include Celluloid Dreams from Ilinca Calugareanu (Chuck Norris vs Communism), Senseless by Guy Davidi (Five Broken Cameras), Kids, Life and Rock 'N' Roll by Sara Nodjoumi and Till Schauder (When God Sleeps), Lydia Lunch – The War Is Never Over by Beth B (Exposed), The Spies Who Loved Me by Yvonne Welbon (Sisters in Cinema), Untitled Stasi Documentary by Gabriel Silverman and Jamie Coughlin (TransMilitary), and Run with It  by Oscar-nominated Nomi Talisman and Dee Hibbert-Jones (Last Day of Freedom).
The 2019 Project Forum selections were curated by IFP's full-time program staff, including Milton Tabbot, Senior Director of Programming and Charlotte Reekers, Senior Program Manager, Non-Fiction and Fiscal Sponsorship (for Spotlight on Documentaries) and Zach Mandinach, Director of Narrative Programming, and Gabriele Capolino, Senior Manager, Episodic and International Programming (for No Borders)
For the full Project Forum slate:
https://thegotham.org/press/ifp-week-project-forum-complete-list-2019-ifp-week
Project Forum Spotlight Country: Portugal
The 2019 edition of the Project Forum features Portugal as the Spotlight Country. In partnership with ICA—Instituto do Cinema e do Audiovisual— eight projects (four narrative features in development, two work-in-progress documentaries, and two narrative series in development) will participate in the Project Forum, as well as attending bespoke programming for the attending representatives. The projects selected include new works from the most exciting rising directors, creators, and producers from Portugal, including Joao Miller Guerra & Filipa Reis (Djon África), Pedro Cabeleira (Damned Summer), Marco Martins (Saint George), and Edgar Medina (upcoming TV series South).
Additional business and networking highlights of the week will include:
Producers Network
Taking place over the course of two days during IFP Week, the IFP Producers Network enables select fiction and nonfiction producers to take part in a series of intensive discussions and meetings with projects in the Project Forum in an effort to promote sustainability for U.S. and international producers. Invited participants in the Producers Network include all 2019 IFP Producer Fellows from year-round programs, including the Cannes Producer's Network, the Rotterdam Lab, the IFP-Blackhouse Multicultural Producers Lab, as well as Portuguese producers from IFP's 2019 partnership with ICA (Instituto do Cinema e do Audiovisual) in Lisbon.
Episodic Day
Attending Industry will be invited to the Episodic Day, set for Monday, September 16: an exclusive day of pitches of all 30 fiction and nonfiction series selected in the Project Forum. The day will feature multiple pitching sessions as well as a cocktail reception, sponsored by French in Motion and SeriesMania, exclusively for the participating series creators and Industry interested in episodic content.
Additional programming for IFP Week, including public programming, will be announced in the coming weeks.
ABOUT IFP PROJECT FORUM
IFP's Project Forum provides the attending emerging and established storytellers with film, television, and digital projects in development with vital opportunities to connect with and learn from industry professionals, and, ultimately, to partner with them to bring their work into production and connect with global audiences. IFP's Project Forum is divided into two sections for narrative and non-fiction storytelling, presenting work to attending industry:
No Borders International Co-Production Market
Presenting a mix of 68 narrative features and series (digital, limited, and traditional) from development through postproduction, this section includes emerging and established storytellers from the U.S. and around the world.
Spotlight on Documentaries
Presenting a mix of 75 documentary features and non-fiction series ranging from an early financing stage (i.e. early development/production) to those nearing completion (i.e. in postproduction or rough-cut stage), this section includes emerging and established artists in non-fiction from the U.S. and around the world.
LEADING SPONSORS
The IFP and IFP Week are generously supported by a group of loyal corporate, foundation and government benefactors. The 2019 Sponsors are Premier Sponsors HBO, Amazon Studios and Netflix; Spotlight Country Portugal – Instituto do Cinema e do AudioVisual (ICA); Gold Sponsors A&E IndieFilms, Breaker and SAGindie; and Community Partner BRIC. IFP Week is also supported by grants from the National Endowment for the Arts, the New York City Department of Cultural Affairs, New York State Council on the Arts, the Rockefeller Foundation and the Time Warner Foundation.
ABOUT IFP
The Independent Filmmaker Project (IFP) champions the future of storytelling by connecting film, series, digital and audio artists with essential resources at all stages of development through distribution. The organization fosters a vibrant and sustainable independent storytelling community through its year-round programs, which include IFP Week, IFP Labs (Film, Series & Audio Storytelling), Filmmaker Magazine, IFP Gotham Awards and the Made in NY Media Center by IFP, a tech and media incubator space developed with the New York Mayor's Office of Media and Entertainment. www.ifp.org
PRESS CONTACTS
FRANK PR
646.861.0843
[email protected]
[email protected]