IFP Project Forum Complete List – 2018 IFP Week
by Zach Mandinach on July 26, 2018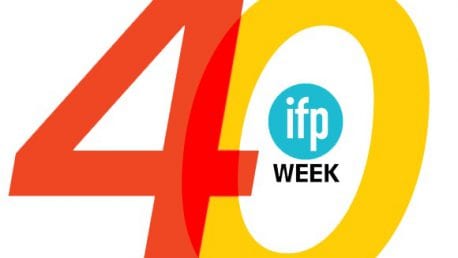 To read the official press release regarding the Project Forum at the 2018 IFP Week, please click here.
No Borders International Co-Production Market
Presenting a mix of 78 narrative features, series (digital, limited, and traditional) and audio stories (podcast, app, or tech based) from development through post-production, this section includes emerging and established storytellers from the U.S. and over 13 countries.
AUDIO SERIES
Appearances directed and written by Sharon Mashihi, produced by Monique Laborde, edited by Kaitlin Prest, and executive produced by Sharon Mashihi and Kaitlin Prest. Iranians are perfect as fuck, or at least, they appear to be. (Drama)
Homegirls in the City directed and written by Ivana Tucker and produced by Milana Edwards and Ivana Tucker. The best 10 minutes you've had all cuffing season: From brunching to job hunting to mid-week panic attacks, this is a collection of stories from homegirls who are honest with themselves, each other, and the world. (Comedy)
Josh and Selma Forever and Ever written and produced by Jason Gots, edited by Monica McFawn. 11-year-old Josh's life is in freefall.  On a series of surreal adventures into the Mind-Worlds of other children, Josh discovers a new sense of purpose and comes face-to-face with a terrible truth. (Fantasy)
Keeper One written by Brontë Mansfield, produced by Brian Fabry Dorsam and Brontë Mansfield, and edited by Elyse Blennerhassett and Cher Vincent. A belt buckle found in the ruins of Chicago in 2025 could be a teenage girl's ticket off the planet–and onto one of the space colonies orbiting above. (Adventure)
FEATURE FILMS
1982 directed and written by Oualid Mouaness and produced by Alix Madigan, Myriam Sassine, and Georges Schoucair. An 11-year-old boy is determined to tell a girl in his class that he loves her but has trouble finding the courage to do so until the unexpected occurs; an air invasion reaches Beirut and the school is being evacuated. He gets even more determined. (Drama)
Aquí y Ahora directed and written by Paz León, produced by Hernán Jimenez and Laura Avila Tascan, and executive produced by Hernán Jimenez, Paz León, and Laura Avila Tascan. An insecure dancer gets offered to join a dance company abroad in what seems to be the worst possible timing. (Drama)
Bitterroot directed and written by Vera Brunner-Sung and produced by Giulia Caruso and Ki Jin Kim. As his ailing mother seeks help from the spirit realm, a Hmong man in Montana finds his world begin to crumble. (Drama)
Bury Me on Gold Mountain directed and written by Li Lu. In 1881, a young Chinese woman must fight to survive in the rugged American West after being sold to an unknown man in the remote mountains of Idaho. (Western)
Cambridge directed by Henry Hayes, written by Henry Hayes and Zolan Kanno-Youngs, and produced by Lizzie Shapiro. When Stephen Silva's close friend betrays him and commits an act of terrorism, he is forced to testify against the young man he grew up with—the Boston Bomber. (Based on a True Story)
Centre of the Earth directed and written by Gabriel Mascaro and produced by Rachel Daisy Ellis. A coming of age story, we accompany Luzia, 83 years old, as she reinvents her co-existence and rediscovers love, in spite of impossibly restrictive circumstances. (Drama)
Checkout directed and written by Jonathan Dekel and produced by Chilik Michaeli and Avraham Pirchi. A desperate Mossad spy refuses to check out of his hotel in Istanbul and return home. A thirst for glory begins consuming his soul as a legendary target checks in. (Dark Comedy)
Clementine directed and written by Lara Jean Gallagher, produced by Aimee Lynn Barneburg, Lara Jean Gallagher, and Davis Priestley, and executive produced by Kim Bailey and Isabel Marden. A heartbroken woman steals away to her estranged lover's lake house in the Pacific Northwest where she becomes entangled with a teenage girl. (Drama)
Colewell directed and written by Tom Quinn and produced by Alexandra Byer, Craig Shilowich, and Matthew Thurm. For thirty-five years, Nora Pancowski has been the postmaster of Colewell, Pennsylvania. She receives notice that the USPS is closing her office in 30 days. Does she fight to keep it open or accept early retirement? (Drama)
Death Trip '69 directed and written by Matt Palmer and produced by Alastair Clark and Anna Griffin. Five teenagers head for San Francisco to join the Hippie movement but a deadly, murderous cult lies in wait for them along Route '66. (Horror)
Doha – The Rising Sun directed and written by Eimi Imanishi, produced by Julia Thompson and Shrihari Sathe. Deported from Europe, Mariam is forced to return home to Western Sahara. Adrift in the very place that's supposed to be her home, she begins a desperate search for the means to assert agency over her own life. (Coming of Age)
Electrocute directed and written by Gastón Solnicki, produced by Benjamin Domenech, and executive produced by Eugenio Fernández Abril. A young medical student in Buenos Aires is about to be married but suffers from congenital cardiac arrhythmia. A life of hospital emergencies, and the revelations of neurobiology, force her to flee the false comforts of a bourgeois, Jewish upbringing. (Drama)
The Expat directed by Daniel Laabs, written by Jan Brandt and Daniel Laabs, and produced by Jeff Walker. The story of one man's terrifying retreat into a familiar stranger's lawless paradise of rum, survival, and midnight shark fishing. (Thriller)
Farewell Amor directed and written by Ekwa Msangi and produced by Ekwa Msangi and Huriyyah Muhammad. After 17 years apart, Angolan immigrant Walter is joined in the U.S. by his wife and daughter. Now strangers sharing a cramped Brooklyn apartment, they struggle to bridge the vast emotional distance between them. (Drama)
A Few Days in the Sun directed by Mauro Mueller, written by David Figueroa García and Mauro Mueller, produced by Doro Bachrach and Leslie Holleran, and executive produced by Mark Raso. The unexpected collision of a European couple on vacation in Mexico and a working class Mexican couple forced by circumstance to serve as their jailers. (Dramatic Thriller)
For Entertainment Purposes Only directed and written by Colin Healey, produced by Ian Bell, Dave Schachter, and Mary Ashton Burgh, and executive produced by Mark Myers. A struggling psychic scammer finds the client of her dreams in a rich man who wants his ex-girlfriend back through supernatural means. (Dark Comedy)
Girl Show directed and written by Erin Sanger. In 1970's suburban Oklahoma, a quiet small town girl is seduced into the world of carnival stripping and discovers unexpected liberation. (Coming of Age)
The Grasshopper directed and written by Brad Bischoff and produced by Alex Hidago. An Arab-American immigrant lures his wife into a day of debauchery in the face of their affluent, conservative neighborhood. (Drama)
The Gymnast directed and written by Charlotte Glynn and produced by Charlotte Glynn, Mike Harrop, Brian Koppelman, and David Levien. In a former mill-town devastated by loss of industry, a 14-year-old aspiring Olympic gymnast and her a single father, a die hard "gym dad", must fight to reinvent themselves after a potentially career ending injury. (Coming of Age)
Haunted directed by Koen Mortier, written by Brock Norman Brock and Koen Mortier, and produced by Eurydice Gysel. A group of aspiring writers go on a retreat, from which they cannot escape. Instead of writing, they tell each other stories about their own personal horrors, while creating more. (Horror)
House of Hummingbird directed and written by Bora Kim and produced by Bora Kim and Zoe Sua Cho. Seoul, 1994 — in the year the Seongsu bridge collapsed, 14-year-old Eunhee wanders the city searching for love. (Drama)
I'm No Longer Here directed and written by Fernando Frias de la Parra and produced by Gerry Kim, Gerardo Gatica, and Alberto Muffelmann. Ulises escapes the violence plaguing his hometown of Monterrey by migrating to New York, but soon longs for home after he faces alienation in America. (Coming of Age)
Jerusalem – The Quarters directed and written by Arsinée Khanjian, Mohsen Makhmalbaf, Anna Muylaert, and Todd Solondz, produced by Scott Berrie, Iafa Britz, Gal Greenspan, Titus Kreyenberg, Paul Scherzer, and executive produced by Danelle Eliav. "The Quarters" assembles four renowned directors from across the globe in creating a cinematic mosaic of Jerusalem's Old City quarters – Christian, Muslim, Jewish, Armenian. (Drama)
Katie Wright written by C. Wrenn Ball. Just as the Wright Brothers are set to capitalize on the invention of their airplane, Orville is badly injured in a public crash, and sister Katie unexpectedly emerges to lead their business. (Based on a True Story)
Kayla and Eddie en Français directed and written by Iyabo Boyd. Kayla's plan to impress an investor in Paris is thwarted when her estranged former addict father Eddie shows up unannounced with hopes of making amends. (Drama)
Lamb on the Throne directed and written by April Moore, produced by Paula Andrea González-Nasser and Armaan Uplekar, and executive produced by Sara Murphy and Adele Romanski. A teenaged dropout finds herself in an illicit relationship with the local megachurch's youth pastor, attracting the scorn of her rural Florida community. (Coming of Age)
Lost Bayou directed by Brian Richard, written by Hunter Burke, and produced by Hunter Burke, Brian Richard, and Kenneth Reynolds. A daughter ventures into the Louisiana swamp to reconnect with her faith healer father, only to discover he's hiding a disturbing secret aboard his houseboat. (Drama)
The Mesopotamian directed and written by Esra Saydam and produced by Gerry Kim and Alvaro R. Valente. Two EMT partners with previous war experiences, try to heal their seemingly loveless and metropolitan lives as they navigate an otherwise unseen New York City. (Drama)
Nhomlaau directed and written by Asantewaa Prempeh and produced by Natalie Eakin and Emily Iason. A South Sudanese refugee living in New York City struggles with her core beliefs and identity after the end of her first queer relationship. (Drama)
Nine Days directed and written by Edson Oda and produced by Jason Michael Berman, Mette-Marie Kongsved, and Laura Tunstall. In a house distant from the reality we know, a reclusive man interviews personifications of human souls for the privilege of being born. (Drama)
No Half Steppin' directed and written Joel Vargas and produced by James Duarte, Kelvis Fernandez, and Alyssa Villegas. When Malik's mother confiscates the speaker he uses to dance on the subway, he reinvents himself as the "man of the house" to earn her respect. (Drama)
Noah Land directed and written by Cenk Ertürk and produced by Alp Ertürk. A son struggles to fulfill his father's dying wish to be buried under the "Noah Tree" – a tree his father swears he planted but the surrounding village believes that the tree was planted by the prophet, Noah. (Drama)
Nobody Nothing Nowhere directed and written by Rachel Wolther and Alex Fischer. Ruth wants a life. The only problem is, the universe is literally designed solely for someone else, a bland guy named Dave. (Sci-Fi)
Noche de Fuego directed and written by Tatiana Huezo, produced by Nicolás Celis, and executive produced by Jim Stark. Life in a town at war seen through the eyes of three young girls on the path to adolescence. (Drama)
The Novice directed and written by Lauren Hadaway and produced by Ryan Hawkins and Zack Zucker. An obsessive novice rower descends into madness in pursuit of her goal: a seat in the first varsity boat. (Drama)
The Other Side (working title) directed and written by Barbara Cigarroa and produced by Julie O'Leary. Set in Brownsville, Texas, during the 2014 child migration crisis, Lucy, a low-income Mexican-American teen and her father sponsor two undocumented brothers for money. As tensions rise between her father and the eldest brother, Lucy must confront where her allegiances lie. (Drama)
Potato Dreams of America directed and written by Wes Hurley and produced by Mel Eslyn and Mischa Jakupcak. An autobiographical dramedy about a gay boy growing up in the Soviet Union, his mail-order-bride mom and their adventurous escape to America. (Based on a True Story)
Return of the Owl directed and written by Martika Escobar and produced by Mario Cornejo and Monster Jimenez. Fiction and reality blur when Leonor, a 1980s action-film writer, falls into a coma and enters the world of her final, unfinished, screenplay. (Dark Comedy)
A Rooster on the Fire Escape directed and written by Guetty Felin and produced by Danielle Dreis and Murielle Thierrin. Hector Celestin uproots his family from Haiti to protect them, but can he really keep them safe in America as past secrets threaten to destroy them. (Drama)
Saint-Narcisse directed and written by Bruce LaBruce and produced Nicolas Comeau. Twins separated at birth reunite their paths, find their mother, and embark on a path of sex, redemption… and love. (Drama)
Sanzaru directed and written by Xia Magnus, produced by Joshua Raymond Lee, Xia Magnus, Anthony Pedone, Alyssa Polk, and Kenny Riches, and executive produced by Alyssa Polk and Kenny Riches. When a mild Filipino nurse is hired by an elderly woman declining into dementia, the walls between this world and the next crumble as she uncovers her employer's shocking family secret. (Horror)
Saul at Night directed by Cory Santilli, written by Daniel Miska, produced by Raz Cunningham and Julie Snyder, and executive produced by Stephen Skoly. In a world where sleep schedules are government controlled in order to increase societal productivity and order, one man must invent ways to connect with his family after being placed on a sleep schedule opposite his wife and daughter. (Drama)
The Short History of the Long Road directed and written by Ani Simon-Kennedy, produced by Ani Simon-Kennedy, Cailin Yasko, Darren Dean, Bettina Kadoorie, Kishori Rajan, and Eddie Rubin, and executive produced by Bettina Kadoorie. Nola grew up living out of a van with her father. When tragedy strikes, she forges onwards with only her wits and memories as her road map. (Coming of Age)
Siberia and Him directed and written by Viatcheslav Kopturevskiy, produced by Annya Elnikova and Viatcheslav Kopturevskiy, and executive produced by Viatcheslav Kopturevskiy. A closeted policeman falls into forbidden love with his wife' younger brother in a run-down town of Siberia, Russia. (Drama)
Sin La Habana directed and written by Kaveh Nabatian and produced by Tougas-Frechette Gabrielle and Menaic Raoul. A Cuban ballet dancer has dreams of starting a new life with his girlfriend somewhere more prosperous. He seduces a foreign woman to gain passage to Canada, with complicated consequences. (Drama)
Sleepwalk directed and written by Ricardo Silva, produced by Paulina Valencia, and executive produced by Ryan Zacarias. What is a miracle? The resurrection of Mano Frita, member of Mexican gang Yunta 55 will be set on camera as a cinematographic miracle. (Based on a True Story)
Tammy's Always Dying directed by Amy Jo Johnson, written by Joanne Sarazen, produced by Jessica Adams and Harry Cherniak, and executive produced by Joannie Burstein. A working class daughter must continually sacrifice her own happiness in order to care for her deeply selfish and chronically suicidal mother. (Dark Comedy)
FICTION SERIES
A Priori written and executive produced by Márcia Mayer and Alan Blanco. A reverse telling of Tony Walker's journey through the justice system – a devoted father and social worker executed for the murder of a teenage client. (Crime Thriller)
Art Camp written by Brent Edwards, directed by Spike Hoban, produced by Sean Riddle, and executive produced by Alysse Campbell, Will Feichter, and Chris Young. "Art Camp" is a dark comedy mockumentary series following a young woman who infiltrates a secluded mountain art school to discover the truth about her estranged father. (Dark Comedy)
Beard written, directed, produced, and executive produced by Angie Browne. When Dawn's best guy friend comes out of the closet with his first boyfriend, the struggle to find her purpose in his life is real. (Comedy)
Blurs directed and written by Jonterri Gadson. "Blurs" is a half hour comedy that reveals the lives of black people hidden in the blurry backgrounds of our favorite 80s/90s films and tv shows. (Comedy)
Breaking News directed and written by Catherine Eaton. The new girl on an American news crew covering conflict-zones, Ren has to figure out how to navigate an industry where the greatest commodity is fear. (Adventure)
Breezin' written by Myna Joseph and John Magary and executive produced by Amy Lo. A wild, bittersweet comedy set on a cut-rate cruise ship, where the passengers expect paradise and the crew expects hell. (Comedy)
Changed World written by Dan Cooper, Anya Beyersdorf, Ben Howling, Yolanda Ramke, directed by Dan Cooper, and produced by Dan Cooper and Ben Howling. A sci-fi anthology series exploring the extreme lengths people will go to survive in a post-apocalyptic future where starvation, exploitation and mutated beasts are everyday threats to survival. (Sci-Fi)
Cottonwood written by Sarah Sellman and executive produced by Racelle Rosett. A group of teenagers must unravel the dark secrets behind a series of gruesome livestock mutilations and confront their parents' complicated past. Based on true events investigated by the FBI in the 60's. (Drama)
Dream Team directed and written by Lev Kalman and Whitney Horn, produced by Lev Kalman, Whitney Horn, Vanessa McDonnell and Dan Schoenbrun, and executive produced by Lev Kalman and Whitney Horn. In this absurdist homage to '90s basic cable TV thrillers, two sexy Interpol agents investigate strange and supernatural crimes across the vacation towns of North America. (Comedy)
Fake News directed, written, produced, and executive produced by Alex Dobrenko and Andrew Turner. BREAKING: Russian trolls work alongside American writers to create fake tweets and memes destined to destroy America. (Comedy)
The Field written by Sara Cooper and Lev David and produced by Jennifer Kawaja, Isaac Moogajane and Julia Sereny. A young, Canadian-raised trauma surgeon has her idealism challenged when she starts her first aid mission in South Sudan. (Drama)
The Fugitive Game written by Martha Swetzoff, produced by Ryan Cunningham and Martha Swetzoff. Munich: 1912. Emmy Hennings must navigate extremes of art, love, politics, prostitution, and prison to found the first anti-war punk art movement, Dada. (Historical Fiction)
The Heart directed, written, produced, and executive produced by Drew Denny and Kaitlin Prest. Based on the award-winning podcast by the same name, "The Heart" is a 30-minute comedy series following a fictional Kaitlin Prest as she and her rad queer crew of Montreal radio geeks struggle to take their show from punk to the pros. (Comedy)
I Adore Dolores written by Sam Marine, Jo Roueiheb, and Emily Wilson, produced by Michael Borowiec, directed by Sam Marine and Emily Wilson, Sam Marine and Emily Wilson, and executive produced by Michael Borowiec, Sam Marine, Jo Roueiheb,  and Emily Wilson. In a surreal sitcom world, Dolores – a manic, over-optimistic divorcée – tries to win back her clown stepdaughter by purchasing the apartment building where she lives under house arrest. (Comedy)
I Married a Lemon directed and written by Timothy Cooper and produced by Surina Jindal and Simon Taufique. A Type-A, overachiever, discovers on her wedding day that her perfect Tinder Groom lied. About everything. We soon learn that she lied about everything, too. (Romantic Comedy)
Owls & Echoes directed and written by Hope Olaidé Wilson, produced by Kelly Klein and Hope Olaidé Wilson, and executive produced by Hope Olaidé Wilson. "Owls & Echoes" is a dark comedy anthology comprised of multiple vignettes exploring happiness, identity, common sense and the fragility of assumptions. (Dark Comedy)
Radical Eye: The Life and Times of Tina Modotti written by Aaron Brookner and Paula Vaccaro, directed by Edoardo De Angelis, produced by Aaron Brookner, Elena Manrique, and Paula Vaccaro and executive produced by Aaron Brookner, Alex Garcia, and Paula Vaccaro. The extraordinary life story of Tina Modotti – from humble Italian factory worker to movie star, renowned photographer, model, revolutionary, spy, artist and war hero. (Based on a True Story)
Rainbow Ruthie directed and written by Ruthie Marantz and produced by Millicent Cho. Now in her mid thirties, an ex teen star from Manhattan public access television in the nineties decides to relive her glory days. (Comedy)
The Shamrocks written, produced, and executive produced by Kate Barry and Chris Sharp. With a hunger for life, fun, and fair-play, Billy Barron leads a group of Irish immigrants to form The Shamrocks Soccer Club in NYC 1960. (Based on a True Story)
She Who Searches written by Kate Ascott-Evans and produced by Kate Ascott-Evans and Ryan Cunningham. South Africa 1999: murky international aid agencies, witchcraft and arms dealers collide when an albino street child vanishes and a kleptomaniac high school student realizes her life depends on finding him. (Dramatic Thriller)
Tethered directed and written by Leslie Rathe. Tethered is an unflinchingly original "traumedy" about a new mom suffering an identity crisis while battling an inner voice that refuses to give in to motherhood. (Dark Comedy)
The Trap written by Bethan Marlow, produced by Hannah Thomas, and executive produced by Ed Talfan. You can take the girl out of Sunny Hill but you can't take Sunny Hill out of the girl. (Dramatic Thriller)
View from the Floor written by Mindie Lind, directed by Megan Griffiths, and executive produced by Megan Griffiths and Mindie Lind. A Seattle-based dramedy about sex, drugs and rock-n-roll, without legs. (Drama)
Watched directed and written by Afia Nathaniel. A Muslim teenager in New York city is forced to become a snitch for the FBI. Based on the novel WATCHED by Marina Budhos. (Dramatic Thriller)
We Are directed and written by Eugene Kotlyarenko and produced by A.J. Del Cueto and Eugene Kotlyarenko. Over the course of several delirious nights at a virtual reality entertainment center, an employee hitting rock bottom falls under the spell of a charming, random vagrant, who may not be so random after all. (Dark Comedy)
We-Koko directed and written by Anu Valia. The lives of citizens in a small, Midwestern town are turned upside down when a mysterious movie production takes over their neighborhood to film. (Dark Comedy)
Year Zero written by Ruby Marez and Brooke Sebold, directed by Brooke Sebold, and executive produced by Ruby Marez and Brooke Sebold. With zero survival skills or money, Brooke and Ruby abandon the patriarchy to build an intersectional utopian society on a private island with NO MEN ALLOWED. (Comedy)
Spotlight On Documentaries
Presenting a mix of 72 documentary features, non-fiction series and audio stories ranging from an early financing stage (i.e. early development/production) to those nearing completion (i.e. in postproduction or rough-cut stage), this section includes emerging and established artists in non-fiction from the U.S. and around the world.
AUDIO SERIES
Dedicate It directed, written and produced by Emily Ludolph. A private message in plain sight.
Other Men Need Help directed and written by Mark Pagán and produced by Mark Pagán and Caitlin Mae Burke. Other Men Need Help is a podcast about the emblems, habits, and struts in the male performance.
School Colors directed by Max Freedman, written by Mark Winston Griffith, and produced by Max Freedman and Mark Winston Griffith. School Colors takes on difficult questions about race, class, and democracy in American cities, through the story of one public school district in the iconic Black neighborhood of Bedford-Stuyvesant, Brooklyn.
DOCUMENTARY FEATURES
40 Days and 40 Nights directed and produced by Dara Kell. Despite violent opposition, a disabled preacher from North Carolina led the largest campaign of civil disobedience in US history: the 2018 Poor People's Campaign.
499 Years directed by Rodrigo Reyes and produced by Su Kim, Inti Cordera and Andrew Houchens. A hybrid film, 499 years explores the brutal legacy of colonialism in contemporary Mexico nearly five-hundred years after Cortez landed in the Aztec Empire.
512 Hours directed and produced by Adina Istrate and Giannina La Salvia. "Doing nothing is the beginning of something." – Marina Abramovic
An Act of Worship directed by Nausheen Dadabhoy and produced by Sofian Kahn. An Act of Worship follows young Muslim women activists at a time when hate crimes against Muslims have reached their highest level since 9/11.
The American Sector directed by Pacho Velez and Courtney Stephens, written by Courtney Stephens, and produced by Pacho Velez. The American Sector captures the seventy-five panels of the Berlin Wall scattered across America, exploring how these monuments to the past resonate in the present.
American Trial: The Eric Garner Story directed by Roee Messinger, produced by Roee Messinger and Alena Svyatova, and executive produced by Ralph Richardson and James Jenkins. The trial that could have followed the death of Eric Garner at the hands of the police, with real attorneys and the actual witnesses who would have testified had the case been tried.
Anbessa directed by Mo Scarpelli, produced by Caitlin Mae Burke and executive produced by Gelila Bekele, Damon Smith, and Martin Marquet. A young boy living at the edge of the modern world seeks his place within it, exposing the tensions around "progress" engulfing him and his country.
Anxiety Club directed and produced by Wendy Lobel. Funny and intimate, Anxiety Club captures the humanity of anxiety through the eyes of comedians and explores their efforts to get from anxious to calm.
Because I'm Here directed, written, and produced by Andrew Garrison. Black, devoutly Christian, and Queer–musician and coalminer Earl Gilmore lived two lives in his remote town, inventing himself in joy and pain.
Betty & Henri directed and written by Doug Block and produced by Doug Block and Lori Cheatle. The discovery of an anonymous, 20-year-old love letter launches a quest to solve the mystery while exploring love in an age of increasing social alienation.
Bioko; The Fight to End Malaria directed and written by Tripp Clemens, produced by Will Humphrey and executive produced by Andrea Van Buren. In suburban Maryland, a husband and wife pair of scientists quietly attempt to develop the first vaccine for malaria, the world's deadliest disease.
Bloodthicker directed by Zac Manuel, produced by Chris Haney, and executive produced by Justin Fontenot. Three young rappers build upon their father's music legacies while navigating the pitfalls of rap culture.
Body Parts directed by Kristy Guevara-Flanagan and produced by Helen Hood Scheer. Body Parts explores the nude female body in Hollywood media—hyper-sexualized, under attack and exploited — and what this means for women in the real world.
Border South directed by Raúl O. Paz Pastrana, written by Raúl O. Paz Pastrana and Jason De Leon, and produced by Raúl O. Paz Pastrana, Ellen Knechel, and Jason De Leon. Told against the backdrop of the Kafkaesque North-American migrant trail, Border South weaves together migrant stories of resilience and survival from different vantage points.
The Burning Field directed by Justin Weinrich and produced by Justin Weinrich and Anita Afonu. Four young Ghanians navigate the harsh realities of life in an environmental wasteland, where children burn computers and dream of a world away from the smoke.
Carcere Mare (Prison Sea) directed by Antonio Tibaldi, written by Antonio Tibaldi and Alex Lora, and produced by Antonio Tibaldi and Enrica Capra. Prisoners on the remote island of Gorgona, Europe's last agricultural penal colony. They farm the land, care for the animals, hoping for a second chance.
Case 993 directed by Shareef Nasir, written by Leah Mahan, produced by Dana Nachman, and executive produced by Danny Glover, Josh Braun and Dan Braun. Case 993 is the gripping citizen-detective story of one man delving into the contested history surrounding the assassination of Malcolm X.
Chains directed by Zoe Potkin, produced by Zoe Potkin, Kate Barry and Alan Oxman, and executive produced by Katie Couric and Vanessa Potkin. Framed for murder by mafia cops, wrongfully incarcerated for 19 years, Barry Gibbs was finally set free only to discover his nightmare had just begun.
Charm Circle directed by Nira Burstein and produced by Nira Burstein and Jameka Autry. Nira Burstein turns the camera on her eccentric family as they navigate the chaos that divides them.
Chèche Lavi (Looking for Life) directed and written by Sam Ellison and produced by Kyle Martin, Rachel Cantave, Kim Parker, Abraham Ávila, and Nora Mendis. Quiet brotherhood shines in the eye of a geopolitical storm as two Haitian refugees find themselves stranded at the US-Mexico border. With no one to depend on but each other, difficult choices lead them towards drastically different futures.
The Chicago Franchise directed by Randall Dottin, produced by Randall Dottin and Angela Tucker, and executive produced by Cynthia Kobel. After the city of Chicago tore down its high rise public housing towers in 2011, the murder rate continued to climb. This was no accident. The Chicago Franchise explores the complicated relationship between gun violence, poverty and residential segregation.
Confucian Dream directed by Mijie Li and produced by Jeff Reichert and Betsy Tsai. With society rapidly modernizing around them, many Chinese families now look to ancient traditions to improve their quality of life. Confucian Dream tells the story of one young mother who decides to seek out the teachings of Confucius to reunify her estranged family.
Cured directed and written by Bennett Singer and Patrick Sammon, and produced by Bennett Singer, Patrick Sammon and Mridu Chandra. Until 1973, the medical establishment considered every gay and lesbian person mentally ill. Cured tells the David-versus-Goliath story of the activists who challenged this diagnosis — and won.
Dharavi directed by Smriti Mundhra, produced by Sonita Gale, and executive produced by AR Rahman, Shekhar Kapur and Samir Bangara. Dharavi is a coming-of-age portrait of two brothers struggling to sustain the hip hop movement they created in the by-lanes of Mumbai's largest slum.
Flood directed, written, and produced by Katy Scoggin. A filmmaker tries to fix her problems with her evangelical father in a screenplay with a happy ending. When her plan backfires, she quits writing lines and starts to listen.
For Madmen Only (working title) directed by Heather Ross, written by Heather Ross and Adam Samuel Goldman, and produced by Heather Ross, Adam Samuel Goldman, and Hannah Bombelles. Unstable humor guru Del Close takes a break from the business of redefining 20th century comedy to write his autobiography for D.C. Comics.
The Great Experiment directed by Greta Schiller, written and produced by Andrea Weiss and Linda Villarosa, and executive produced by Stanley Nelson. Revisiting the dramatic story of the 1969 campus strike at the City College of New York by Black and Latino students which resulted in the radical experiment of Open Admissions.
Heroes directed and produced by Avishai Yeganyahu Mekonen and Shari Rothfarb Mekonen and executive produced by Daniel Chalfen. Heroes (working title) is the inspiring, untold story of the decades-long fight of a group of Ethiopian activists to save their 2,500-year-old community from obliteration.
The Hive directed and produced by Edgar Barens. After a twelve-year hiatus in executions, life on Nevada's death row may finally be coming to an end for its eighty-one prisoners.
The Home directed by Jessie Zinn, written by Chase Musslewhite, and produced by Chase Musslewhite and Jessie Zinn. Residents of a South African old age home struggle to elect a new resident committee amidst the chaos of the home's noisy renovations.
The Hunt directed and produced by Michael Dweck and Gregory Kershaw.  The Hunt is an immersive, cinematic documentary that explores the mysterious and magical world of Italian truffle hunters and their struggle to hold onto a centuries-old tradition in the face of climate change, globalization, and their own mortality.
In Amazon We Trust directed by David Carr-Brown and produced by Christoph Jörg and Femke Wolting. In Amazon We Trust is an investigation about the world's most trusted brand.
The In Between directed by Robie Flores and produced by Alejandro Flores and Robie Flores. The US/Mexico border is the infamous setting to millions of headlines and news videos building it up to be a ruthless warzone and dangerous point of entry. But what does the border actually look like when the news cameras are gone?
Jacinta directed by Jessica Earnshaw, produced by Jessica Earnshaw, Holly Meehl and Nimisha Mukerji, and executive produced by Dan Cogan, Regina Scully, Geralyn Dreyfous, Jamie Wolf, Patty Quillin, and Jenny Raskin.  Jacinta follows a young mother in and out of prison in Maine, while exploring the relationship between trauma and love within a family fractured by a cycle of addiction and incarceration.
Knock Down the House directed by Rachel Lears, written by Rachel Lears and Robin Blotnick, and produced by Robin Blotnick, Rachel Lears, and Sarah Olson. Four women run for Congress, overcoming personal adversity to battle powerful political machines across America. One of their races will change the country forever.
The Labudovic Reels directed and written by Mila Turajlic and produced by Mila Turajlic and Carine Chichkowsky. President Tito's cameraman reveals the secret weapon of solidarity among liberation movements – cinema.
Lady Buds directed by Chris J. Russo, produced by Chris J. Russo, Michael Katz and Sarah Olson, and executive produced by Chris J. Russo. Six women emerge from the shadows of the California cannabis industry to go legal. But with corporate weed booming, who will survive legalization?
Liberal, Kansas directed by Shari Robertson and produced by Michael Camerini. In Southwest Kansas, sudden FBI arrests. A massive anti-Muslim terror conspiracy. What's the truth about the case, and what's the truth about this town?
A Machine to Live In directed by Yoni Goldstein and Meredith Zielke, written by Yoni Goldstein and Sebastian Alvarez, produced by     Sebastian Alvarez, and executive produced by Andrew Benz. A Machine to Live In is a documentary about cosmic power structures: set in the remote desert region of Brazil, the film connects the utopian dreams of a corrupt state to the mystical architecture of space-age cults.
Made in Boise directed by Beth Aala and produced by Beth Aala, Beth Levison and Alex Pitz. Four women find purpose carrying babies for strangers in Boise, Idaho – America's unregulated and unofficial "surrogacy capital" – but encounter unexpected complexities along the way.
Madidi directed by Elizabeth Unger, written by Mark Monroe, and produced by Elizabeth Unger and Kate Brooks.
Misha's Story directed by Sam Hobkinson and produced by Al Morrow, Matt Wells and Poppy Dixon. A holocaust survival memoir is revealed to be a fake and hides an audacious deception built to mask an even darker secret.
Narrowsburg directed by Martha Shane and produced by Martha Shane, Beck Kitsis and Dan Nuxoll. Narrowsburg tells the story of a French producer and a mafioso-turned-actor who attempted to turn a small Catskills town into the "Sundance of the East."
People's Hospital directed by Siyi Chen, produced by Siyi Chen, Ruohan Xu and Violet Feng, and executive produced by Jean Tsien. As the Chinese society criticizes dysfunctional hospitals, a doctor's daughter revisits the small-town hospital where she grew up — this time with a camera, in the middle of a chaotic ER.
Pool Movie (working title) directed, written and produced by Vicky Funari and executive produced by Vivian Kleiman. In an aquacize class at a neighborhood pool, older people find strength, grace, and community. A profound look at healthy aging in the 21st century.
Pray Away directed by Kristine Stolakis and produced by Kristine Stolakis and Jessica Devaney. The story of the history and continuation of the reparative therapy or "pray the gay away" movement.
Princess Nokia – Untitled directed by Orian Barki, Dan Sickles, and Antonio Santini, produced by Dan Sickles and Antonio Santini, and executive produced by Christine Vachon and David Hinojosa. A dreamy, sonic look at being young, brown, queer, famous, and in love in NYC.
Refusing to Ghost directed by Sara Ross-Samko, written by Chris Dennis, and produced by Sara Ross-Samko and Chris Dennis. A tale of tales, "Refusing to Ghost" is a 16mm portrait of a Western gold town and a dreamlike sketch of American myths.
Represent directed by Hillary Bachelder, produced by Anne Sobel, and executive produced by Rosie Garthwaite. In America's heartland, three first time female candidates risk their careers, their reputations, and the wellbeing of their loved ones to run for political office.
Rewind directed by Sasha Neulinger, written by Avela Grenier and Shasta Grenier, and executive produced by Thomas Winston and Cindy Meehl. Digging through the vast collection of his father's home videos, a young man reconstructs the unthinkable story of his boyhood and exposes vile abuse passed through generations.
Shirley Clarke documentary directed by Immy Humes. Shirley Clarke broke into the men's club and made great movies about people Hollywood never pictured. But then she herself was erased from the picture.
Socks on Fire: Uncle John and the Copper Headed Water Rattlers directed and written by Bo McGuire and produced by Bo McGuire, Tatiana Bears and Billy Ray Brewton. A failed poet takes up cinematic arms when he returns home to discover his aunt has locked his drag queen uncle out of the family home.
Sugar directed and written by Sophie Mathisen, produced by Samm Haillay and Sophie Mathisen, and executive produced by Ian Davies, Rebecca Long, Krysanne Katsoolis, and Deanne Weir. Feminist filmmaker Sophie goes undercover to expose the lies of the world's leading Sugar Daddy dating service and confronts the wider myth of post-feminism, one Daddy at a time.
This Body, Too directed and written by Arisleyda Dilone and produced by Arisleyda Dilone and Ian Bell. Faced with having to remove or replace her expired breast implants, a Dominican filmmaker examines the concepts of femininity and gender norms as an intersex-woman.
Untitled Criminal Justice / High School Project directed by Maisie Crow and produced by Maisie Crow and Heidi Reinberg.
Untitled Stewart Brand Documentary directed, written and produced by Jason Sussberg and David Alvarado. Facing climate catastrophe and mass extinction, a legendary environmentalist proposes a solution: resurrect extinct species. But former allies vow to stop him.
Vision Portraits directed by Rodney Evans, produced by Rodney Evans and Robert Wunder, and executive produced by Joseph Lovett. Vision Portraits is a feature length documentary that chronicles the creative paths of blind and visually impaired artists including a photographer (John Dugdale), dancer (Kayla Hamilton), writer (Ryan Knighton) and the film's director, Rodney Evans.
What It Takes directed by Deborah Dickson and Tom Hurwitz and produced by Veronique Bernard and Susan Kahn. In the most segregated school system in the U.S. a young Latino principal inspires his students to become agents of change and fight for equality.
Without Arrows directed and produced by Jonathan Olshefski. After being away for over ten years, Delwin Fiddler Jr. returns to the Cheyenne River Sioux reservation in an attempt to reconnect with his family.
Women in Blue directed by Deirdre Fishel, produced by Beth Levison and executive produced by Gini Reticker. A female police chief and a determined band of women officers work to redefine "protect and serve," when a tragic shooting upends their progress.
NONFICTION SERIES
& Daughters directed by Sarah Keeling and produced by Sarah Keeling and Adrián Gutiérrez. Forging ahead in male-dominated industries, six daughters challenge tradition as they each take over their family's business.
Autopsy of a System directed by Sophie Finkelstein and produced by Sophie Finkelstein and Reka Posta. Decades after meeting on an autopsy, Michael & Linda Kenney Baden use their legal and forensic expertise to dissect the failures of the American justice system.
Cancer: A Love Story directed and written by Christen Clifford and produced by Christen Clifford and Will Sweeney. Sex. Family. Poisonous frogs. Cancer: A Love Story is an autobiographical documentary series about rape, illness, and the crazy things I did to heal myself.
Digital Dating Documentary Series directed and produced by Ellen Martinez and Steph Ching and executive produced by Julie Goldman, Chris Clements and Carolyn Hepburn. Documentary series about online dating and matchmaking around the world. Each episode takes place in a different country and explores how modern technology has transformed our search for love.
The History of White People in America directed by Ed Bell, Pierce Freelon, Jonathan Halperin, Aaron Keane and Drew Takahashi, written by Jonathan Halperin and Pierce Freelon, and produced by Jonathan Halperin and Clementine Briand. The History of White People in America is an animated musical that tells the mostly unknown racial history of the United States.
I Am An African directed and written by Adetoro Makinde and produced by Adetoro Makinde and Bridget Pickering. Exploring what it means to be African through the eyes of an African when they are noticed by the world.
Moochie directed by Samuel Collardey and produced by Martine Dorin. Moochie is a six-part documentary miniseries about a murder case, shot as events unfold, from police investigation to the jury's final verdict.
Radical directed by Jessica Vale and produced Jessica Vale and Rebecca Teitel. A documentary series about female extremists whose activism crosses into terrorism, exploring what drove them across that line — and whether it's possible to come back.
Unladylike directed and written by Charlotte Mangin, produced by Kathy Leichter, and executive produced Sandra Rattley. Unladylike features unsung women who changed America at the turn of the 20th century, in honor of the 100th anniversary of women's suffrage in 2020.