Congratulations to the 2019 IFP Cannes Producer's Network Fellows
by April Bethea on May 16, 2019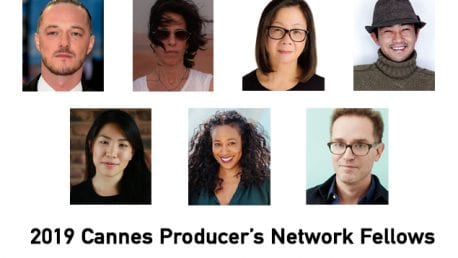 Selected from an incredibly strong pool of applicants, which includes both narrative and documentary producers, this year's attending fellows are: Alvaro R. Valente (Night Comes On), Beth Levison (32 Pills: My Sister's Suicide), Diane Quon (Minding the Gap), Ki Jin Kim (Columbus), Rachael Fung (Little Woods), Sabrina Schmidt Gordon (Quest), and Sam Bisbee (Hearts Beat Loud).
IFP is the sole U.S. Partner Organization for the Cannes Producer's Network, annually selecting and sponsoring attendance for up to seven independent producers to participate in the Producer's Network & Industry Workshop's prestigious week-long immersion programs.
Running concurrently with Cannes Film Festival, the 2019 Cannes Producer's Network will be held May 15 – 21, and is specifically designed for established producers to build up their international networks and share expertise on the international production, financing, legal and packaging.
ABOUT THE 2019 CANNES PRODUCER'S NETWORK FELLOWS
Alvaro R. Valente is an Italian-Belgian producer based in the US. His producing work has been showcased in more than 400 festivals. His latest film NIGHT COMES ON (Sundance 2018 NEXT Award) was released theatrically in the U.S., France and Belgium. His other credits include CHILD EATER, ACROSS THE SEA, RUSSIAN AMERICAN and LOST TRANSMISSIONS.
Beth Levison is an Emmy and Peabody-winning producer and the founder of Hazel Pictures in NYC. Her previous films include 32 PILLS:  MY SISTER'S SUICIDE (HBO, 2017), THE TRIALS OF SPRING (Gini Reticker, PBS, 2019) and her directorial/producing debut LEMON. Levison is also a co-founder of the Documentary Producers Alliance (DPA).
Diane Quon is an Academy Award-nominated producer. She was a marketing executive at NBC and Paramount.  She is now producing Kartemquin documentaries: MINDING THE GAP by Bing Liu; LEFT-HANDED PIANIST with Howard Reich; Maria Finitzo's THE DILEMA OF DESIRE; and FINDING YINGYING by Jenny Shi.
Ki Jin Kim is a Los Angeles-based Korean filmmaker. With producing partner Giulia Caruso, Kim founded Nonetheless Productions and was nominated for the 2018 Piaget Producers Award. Notable work includes Kogonada's COLUMBUS, nominated for several Film Independent Spirit & IFP Gotham Awards, and SPA NIGHT, for which Kim won a Film Independent Spirit Award.
Rachael Fung is an independent producer dedicated to bringing to life original stories that speak to the universality of human emotion while simultaneously exposing audiences to different worlds, characters and stories. She produced Nia DaCosta's feature debut LITTLE WOODS starring Tessa Thompson and Lily James as well as David Raboy's feature debut THE GIANT. Previously, she was Associate Producer for Baz Luhrmann's company, Bazmark and commercially, Rachael has worked with clients including Cadillac, NBCUniversal and PepsiCo. Rachael started her career at Red Crown Productions and was recently a fellow with San Francisco Film. She was born and raised in Sydney, Australia and has been based in New York for the past 12 years.
Sabrina Schmidt Gordon is an Emmy-nominated documentary filmmaker. She is known for producing and editing films on cultural and social issues. She co-produced and edited DOCUMENTED, a documentary about Jose Antonio Vargas, a journalist and immigration activist. DOCUMENTED was nominated for the 2015 NAACP Image Award for Outstanding Documentary. Her film BADDddd SONIA SANCHEZ, an episode of America ReFramed about poet and activist Sonia Sanchez, was nominated for a News & Documentary Emmy Award for Outstanding Arts & Culture Documentary. Other notable filmography include HIP HOP: BEYOND BEATS AND RHYMES, produced with Byron Hurt, and QUEST, which was nominated for the 2018 Film Independent Spirit Award for Best Documentary Feature.
Sam Bisbee is a Film Independent Spirit Award nominated producer and founding partner of Park Pictures Features. Credits include the Oscar-winning short THE NEW TENANTS and nine features that have premiered at Sundance Film Festival, including COP CAR, OTHER PEOPLE, THE HERO, HEARTS BEAT LOUD and the HBO documentary THE SENTENCE.