HBO Documentary Films and The Gotham Film & Media Institute Now Accepting Submissions For Documentary Development Initiative 
by The Gotham Staff on August 1, 2023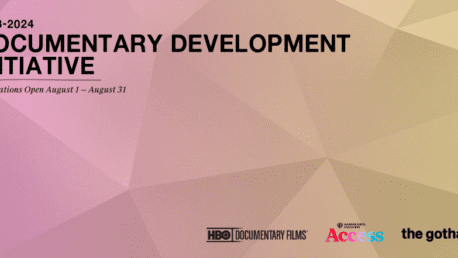 NEW YORK (August 1, 2023) – HBO Documentary Films and The Gotham Film & Media Institute announced today that they are now accepting submissions for the second cohort of their Documentary Development Initiative. Created for storytellers who identify as BIPOC, LGBTQ+, and/or storytellers with disabilities, the Initiative provides resources to develop thought-provoking, character-driven contemporary ideas for documentary films and limited series. The Documentary Development Initiative, which launched fall 2022, awards filmmakers grants of $50,000 for research and creative development at an early stage.
"It has been a joy to watch the creative process unfold during the course of this past year's development initiative," said Sara Rodriguez, Senior Vice President, HBO Documentary Films Programming, "We are thrilled this essential program will continue to help elevate the voices in our documentary community that don't often get heard."
"We are thrilled to continue our partnership with HBO Documentary Films on this empowering initiative seeking to uplift voices in the media industry," said Kia Brooks, Deputy Director of The Gotham Film & Media Institute. "We have seen time and time again the impact we can make when we equip storytellers from historically excluded communities with the necessary resources to bolster their careers. After a successful first year, we are excited to support a new cohort of creatives."
"WBD DEI is proud to be part of the effort to increase opportunities and representation in media," said Grace Anne Moss, Vice President, Equity and Inclusion Pipeline Programs, "The Documentary Development Initiative helps to ensure meaningful inclusion in the documentary space from an early stage of the creative process."
In its first year, the program offered $50,000 grants, one-on-one mentorship, and group workshops to 10 emerging filmmakers from across the United States. Beyond the initial grant, HBO Documentary Films and The Gotham Film & Media Institute provided resources and mentorship to support the development of documentary projects.
"When I began making films not that long ago, I could count on my hand the number of contemporary BIPOC directors I could look up to. So for me, mentorship is about building solidarity and community," said Cecilia Aldarondo, award-winning documentary director, producer, and first cohort mentor. "I don't want to be one of the only (insert marginalized identity here) filmmakers out there hustling. I want a field as complex and nuanced as the world we live in. When there are more of us, we feel less alone, make better work, and build a safer, richer, and more exciting world. I mentor so that I can have more peers, more friends, more allies!"
"This fellowship offered me the freedom and time to consider my vision and the direction I want to take my work, to further explore and understand myself as an artist," said Jasmin Mara López, a recipient from the first cohort. "The most rewarding aspect of this has been to build community and learn from a beautiful group of thoughtful individuals—mentors and fellows."
"Rarely in our careers are we afforded the privilege of space between our projects and work. The ability to take a step back and think about what types of stories move us and shape the ways we want to present work to the world," said Zeshawn Ali, a recipient from the first cohort.
"This program was a rare opportunity where we could ideate with a foundation of support, mentorship and community. It encouraged me personally to think about more creative risks and work that felt more personal. I'm really thankful for the opportunity this program has given me."
Funding for these grants is sponsored by HBO Documentary Films and WBD Access. Ideas generated through the Initiative are offered to HBO on a "first-look" basis, giving the network the first opportunity to make an offer to develop them further.
Those interested in applying can do so HERE. Applications will be accepted until August 31 at 11:59 pm HT (Hawaii-Aleutian).
About The Gotham Film & Media Institute
The Gotham champions the future of storytelling by connecting artists with essential resources at all stages of development and distribution. The organization, under the leadership of Executive Director and award-winning producer Jeffrey Sharp, fosters a vibrant and sustainable independent storytelling community through its year-round programs, which include Gotham Week, Gotham Labs, Filmmaker Magazine, the Gotham Awards, and Gotham EDU.
About WBD Access
At Warner Bros. Discovery we believe in authentic, meaningful connection—to each other, to culture, and to our consumer. That's why we empower fearless storytellers who bring our world into focus—and create cultural touchstones with the power to draw us together. Through best-in-class talent development programs, mentorship, placement opportunities and industry exposure, WBD Access serves as a powerful conduit connecting underrepresented talent to our content and brands. For more information on WBD Access visit https://www.warner-access.com/
About Warner Bros. Discovery
Warner Bros. Discovery (NASDAQ: WBD) is a leading global media and entertainment company that creates and distributes the world's most differentiated and complete portfolio of content and brands across television, film and streaming. Available in more than 220 countries and territories and 50 languages, Warner Bros. Discovery inspires, informs and entertains audiences worldwide through its iconic brands and products including: Discovery Channel, Max, discovery+, CNN, DC, Eurosport, HBO, HBO Max, HGTV, Food Network, OWN, Investigation Discovery, TLC, Magnolia Network, TNT, TBS, truTV, Travel Channel, MotorTrend, Animal Planet, Science Channel, Warner Bros. Film Group, Warner Bros. Television Group, Warner Bros. Games, New Line Cinema, Cartoon Network, Adult Swim, Turner Classic Movies, Discovery en Español, Hogar de HGTV and others. For more information, please visit www.wbd.com.
Media Contact