IFP Announces Twelve Episodic Projects Selected for 2018 IFP Screen Forward Labs
by April Bethea on June 4, 2018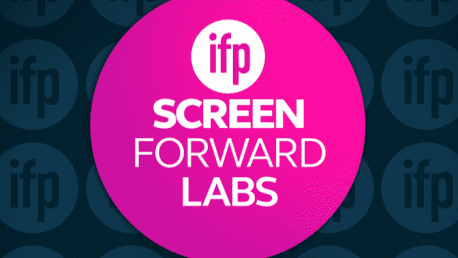 Brooklyn, NY (June 4, 2018) – The Independent Filmmaker Project (IFP) announced today the projects selected for the fourth annual Screen Forward Labs, IFP's yearlong fellowship for content creators with story-driven, serialized projects. The program kicks off today, running June 4-8 at the Made in NY Media Center by IFP located in DUMBO, Brooklyn including for the first time both non-fiction and fiction series aimed at television and digital platforms.
"We are thrilled to be able to expand this year's slate of incredible projects to also include nonfiction along with fiction serialized content. This year 73% of projects selected are created by female creators and 50% are led by all-female teams," said Joana Vicente, IFPs Executive Director.
The Labs provide multiple levels of mentorship throughout the process, to be overseen by 2018 Lab Leaders Nick Borenstein (Content & Programming Consultant) and Neerja Narayanan (Creative Producer, Sony Pictures International Productions), as well as speakers and workshop leaders from CNN, First Look Media, IFC TV, Olive Productions, Pulse Films, Starz, and Vice, as well as The Knick writer-producer Steven Katz, and series creators Radhika Vaz (Shugs & Fats) and Maral Satari (Manimal Kingdom).
ABOUT IFP SCREEN FORWARD LABS
During its 40-year history, IFP has supported over 10,000 projects and offered resources to more than 20,000 artists working at the intersection of film, television, VR and new media.
Inspired by the successful long-running IFP Filmmaker Labs that focus on helping directors complete, market and introduce audiences to cutting edge first-features, the Screen Forward Labs will support innovative, series content creators with $10,000 worth of services and year-round support.
Under the leadership of IFP Head of Programming Amy Dotson and International and Episodic Manager & Producer, Gabriele Capolino, the Labs will provide 12 teams of creators with the knowledge, resources and mentor support necessary for developing strong pitches, securing financing to go from pilot to series, creating marketing strategies and finding unique avenues for the distribution of their work. Individualized attention for each project will also be paid to building engaged audiences, as well as long-term strategy for career sustainability and launch.
The Labs are designed for innovative showrunners and creatives with fiction and nonfiction serialized projects created on all platforms and formats including web series, VR, or app based work. All projects must have at minimum representative sample visual content (a completed episode, demo, excerpt) already in place, and cannot have already launched their project publicly. The Screen Forward Labs will culminate with all projects presenting and pitching to investors, online distributors, network executives and tech companies at IFP Week 2018.
And post-Labs, all content creator teams will receive a free, six-month residency at the Made in NY Media Center as well as ongoing individualized access to classes, workshops and support from industry and creative mentors.
2018 IFP SCREEN FORWARD LABS FELLOWS
The twelve selected projects all have completed pilots and/or proof of concept shot; they represent a mix of genres ranging from comedy, nonfiction, to sci-fi, with intended formats ranging from app-based, digital series, television, and cross-platform storytelling:
• & Daughters (Nonfiction): a documentary series featuring the daughters of '& Daughter' family businesses operating in industrial fields where women are the minority of the labor force. Sarah Keeling (Creator, Director, Writer, Producer)
• Art Camp (Dark Comedy/Mockumentary): A young woman enrolls in a secluded, suspicious art camp unaware she's on the verge of uncovering the sinister legacy of the Odalvi Center for Artistic Practice. Daniel Cook (Creator, Editor), Alysse Campbell (Executive Producer), Will Feichter (Executive Producer)
• Audio Smut (Comedy/Drama):inspired by the award-winning podcast, Audio Smut is a half hour comedy-drama series following Kaitlin Prest and her rad crew of BFF's as they struggle to make a radio show about sex and love. Kaitlin Prest (Creator, Writer, Producer), Drew Denny (Creator, Director, Writer, Producer)
• Cancer: A Love Story (Nonfiction): a cancer diagnosis forces a 40-something feminist performance artist to re-evaluate her relationships, her artwork, and confront her painful past. Christen Clifford (Creator, Director, Writer, Producer)
• Changed World (Sci-Fi): starvation, exploitation and mutated beasts are constant threats to survival in this post-apocalyptic world set thirty years in the future, overcome only by the endurance of the human spirit. Dan Cooper (Creator, Director, Writer, Producer, Executive Producer, Editor).
• Crossing the Line (Nonfiction): legal and forensic experts, Michael and Linda Kenney Baden, take an unprecedented look behind the scenes of the American criminal justice system. Illuminated by some of their most notorious cases, the Baden's will re-examine a flawed investigation, shedding light on the systemic injustices that dominate the current headlines. Sophie Finkelstein (Creator, Producer), Reka Posta (Creator, Producer) 
• Fake News (Comedy): Welcome to the Internet Research Lab (IRL), the first Russian troll farm set here in our fine United States. Made in the mockumentary style of "The Office," Fake News is about the lies we tell ourselves, each other, and our countries in order to survive. Alex Dobrenko (Creator, Director, Writer, Producer), Andrew Turner (Creator, Director, Writer, Producer) 
• I Adore Dolores (Dark Comedy): In a surreal sitcom world, Dolores – a manic, over-optimistic divorcée – tries to win back her clown stepdaughter by purchasing the apartment building where she lives under house arrest. Sam Marine (Creator, Director, Writer, Producer), Jo Roueiheb (Creator, Writer, Actor), Emily Wilson (Creator, Director, Writer, Producer, Editor)
• I Married a Lemon (Comedy): A newly married couple bumbles through the most absurd, bizarre, best days of their lives together, starting with their wedding day—despite a steadily growing realization that they knew almost nothing about each other's true pasts, families, and accomplishments. Timothy Cooper (Creator, Director, Writer), Simon Taufique (Producer, Composer), Surina Jindal (Producer) 
• The Limits of Dissent (Nonfiction): a limited documentary series examining the line between radical activism and revolutionary terror. Episode One features former Weather Underground member Judith Clark and her controversial fight for clemency. Jessica Vale (Creator, Director, Producer, Executive Producer), Rebecca Teitel (Producer, Executive Producer), Traven Rice (Consulting Producer)
• Owls & Echoes (Dark Comedy): a dark comedy anthology comprised of multiple vignettes exploring happiness, identity, common sense and the fragility of assumptions. Hope Olaidé Wilson (Creator, Director, Writer, Producer), Rhett DuPont (Editor), Quincy Ledbetter (Post Production Consultant, Colourist)
• Tethered (Dark Comedy): a new mom suffers an identity crisis after giving birth to her son and her alter ego. A rebellious headstrong younger version of herself who refuses to let go of the past. Leslie Rathe (Creator, Director, Writer)
SUPPORT FOR IFP SCREEN FORWARD LABS
The IFP Screen Forward Labs are made possible by the generous support of our lead sponsor, the Time Warner Foundation.
About IFP
The Independent Filmmaker Project (IFP) champions the future of storytelling by connecting artists with essential resources at all stages of development and distribution. The organization fosters a vibrant and sustainable independent storytelling community through its year-round programs, which include IFP Week, IFP Labs (Film, Series & Audio Storytelling), IFP Expanded, Filmmaker Magazine, IFP Gotham Awards and the Made in NY Media Center by IFP, a tech and media incubator space developed with the New York Mayor's Office of Media and Entertainment.
PR CONTACT: 

FRANK PR, 646.861.0843 

[email protected]