2020 IFP Gotham Awards Announce Director's Tribute for Steve McQueen and Industry Tribute for Ryan Murphy
by Zach Mandinach on December 9, 2020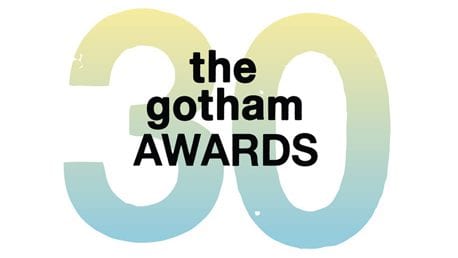 New York, NY (December 9, 2020) – The Independent Filmmaker Project (IFP), announced today that Academy Award-winning filmmaker Steve McQueen will receive a Director's Tribute, and Emmy, Golden Globe, Tony and Peabody Award-winning screenwriter, producer and director Ryan Murphy will receive the Industry Tribute at the 2020 IFP Gotham Awards.  The IFP Gotham Awards is one of the leading awards for independent film and signals the kick-off to the film awards season.  As the first major awards ceremony of the season, the IFP Gotham Awards provide critical early recognition and media attention to worthy independent films  and their writers, directors, producers, and actors with eleven competitive awards categories. The awards are also unique for their ability to assist in catapulting award recipients prominently into national awards season attention.  The 30th Anniversary of the IFP Gotham Awards ceremony will be held on Monday, January 11th, 2021. The awards show will be presented live from Cipriani Wall Street New York in a hybrid format featuring virtual interactive tables in order to follow health and safety protocols brought on by the COVID-19 pandemic.
"Steve McQueen is a force within the industry, directing one of most impactful and influential films of the year.  His bold, masterful storytelling has riveted audiences for the past decade making him one of the most iconic filmmakers today," said Jeffrey Sharp, Executive Director of IFP. "Ryan Murphy has created some of the most cherished and acclaimed television series and films in recent years. Ryan across his many successful shows has built a home on the screen where his characters, and frankly all of us feel included, making him one of the most dynamic and well-loved creators by colleagues and audiences alike.  Steve and Ryan's commitment to inclusivity within the industry and their continued support for independent film and television is completely in line with IFP's mission, and we look forward to honoring them this year."
Steve McQueen is an Academy Award-winning producer and Academy Award and Golden Globe-nominated director.  His feature film directorial debut HUNGER, starring Michael Fassbender, received a BAFTA Award for Most Promising Newcomer and a BAFTA nomination for Best British Film. He went on to collaborate with Fassbender on the BAFTA-nominated SHAME and 12 YEARS A SLAVE, also starring Chiwetel Ejiofor and Lupita Nyong'o, for which he won an Academy Award and Golden Globe for Best Picture and was nominated for an Academy Award and Golden Globe for directing.  He also directed WIDOWS in 2018 starring Viola Davis, Michelle Rodriguez, Elizabeth Debicki and Cynthia Erivo.  The five films that make up his new anthology series SMALL AXE, set from the late 1960s to the mid-1980s, each tell a different story involving London's West Indian community, whose lives have been shaped by their own force of will, despite rampant racism and discrimination. The series recently premiered on Amazon Prime Video. 
Ryan Murphy is an Emmy, Golden Globe, Tony and Peabody Award-winning screenwriter, producer and director.  He created and produced a number of hit television series including Nip/Tuck, Glee, American Horror Story, American Crime Story, Scream Queens, Pose and The Politician, many of which he also directed.  In much of his storytelling Murphy has worked to include marginalised characters. Throughout his career, Murphy has received six Primetime Emmy Awards from 32 nominations, a Tony Award from two nominations, and two Grammy Award nominations.   He has directed feature films including RUNNING WITH SCISSORS, starring Joseph Cross and Evan Rachel Wood, EAT PRAY LOVE, starring Julia Roberts and Javier Bardem, and THE NORMAL HEART, starring Mark Ruffalo, Matt Bomer and Jim Parsons.  Murphy's upcoming film THE PROM, adapted from the Tony Award-nominated Broadway musical of the same name, which he directed and produced will premiere on Netflix December 11, 2020.  The film stars Meryl Streep, James Corden, Nicole Kidman, Keegan-Michael Key, Andrew Rannells, Jo Ellen Pellman, Ariana Debose, Kevin Chamberlin and Kerry Washington. 
It was previously announced that Chadwick Boseman and Viola Davis will receive this year's Actor and Actress Tribute. For information please visit: http://gotham.ifp.org.
Tributes will be honored and winners presented live from Cipriani Wall Street New York in a hybrid format featuring virtual interactive tables.  To purchase virtual tables or tickets to attend, please contact Steven Pfeiffer by email at [email protected], or by phone at (212) 465-8200 Ext. 219.
ABOUT STEVE McQUEEN
Academy Award winner Steve McQueen is a British artist and filmmaker. His critically acclaimed first feature HUNGER (2008), starring Michael Fassbender as an IRA hunger-striker, won the Camera D'Or at the Cannes Film Festival in 2008. He re-teamed with Fassbender for his follow up feature SHAME (2011) for which Fassbender won the Volpi Cup at the Venice Film Festival for Best Actor, ranks as one of the highest grossing NC-17 rated movies. McQueen's 12 YEARS A SLAVE (2013) dominated awards season, winning, amongst many others, the Academy Award, Golden Globe, BAFTA and AAFCA Awards for Best Picture while McQueen received DGA, Academy, BAFTA and Golden Globe directing nods. His third feature WIDOWS (2018) was one of the best reviewed films of the year and starred Viola Davis, Cynthia Erivo, Elizabeth Debicki and Michelle Rodriguez. His most recent project, SMALL AXE (2020) is an anthology series comprised of five original films about resilience and triumph in London's West Indian community from the 60s-80s. Three of the five films in the series, Mangrove, Lovers Rock, and Red, White and Blue opened the 58th New York Film Festival in September.
McQueen is the recipient of many accolades for his work as a visual artist. In 2016, the Johannes Vermeer Award was presented to him at The Hague. In that same year, the British Film Institute awarded McQueen with a Fellowship. McQueen won the Turner Prize in 1999. His artwork is exhibited and held in major museums around the world. A retrospective was recently exhibited at the Art Institute of Chicago and at the Schaulager in Basel. Tate Modern and Tate Britain were home to two critically acclaimed shows in 2019/2020, Year 3 and a Retrospective Steve McQueen.
In 2020, McQueen was awarded a knighthood in the Queen's New Year's Honours List for his services to the Arts.
ABOUT RYAN MURPHY
Ryan Murphy is an Emmy, Golden Globe, Tony and Peabody Award-winning screenwriter, producer and director. He created the cult-favorite series Popular; Golden Globe-winning television drama Nip/Tuck; Emmy and Golden Globe Award-winning series Glee; Emmy and Golden Globe Award-winning anthology series American Horror Story and American Crime Story; Emmy-winning anthology series FEUD; Pose; Scream Queens; and 9-1-1.
In 2016, Murphy's first installment of American Crime Story, "The People vs OJ Simpson," won 10 Emmy Awards, including Outstanding Limited Series. His second installment of American Crime Story, "The Assassination of Gianni Versace," won seven 2018 Emmy Awards, including Outstanding Directing for a Limited Series and Outstanding Limited Series. In 2019, Versace won two Golden Globe Awards for Best Television Limited Series and Best Performance by an Actor in a Limited Series.
His most recent Netflix series, Hollywood was nominated for twelve Emmy awards and The Politician was nominated for five Emmy awards and two Golden Globes, including Best Television Series — Musical or Comedy. FX's POSE has been nominated for thirteen Emmy awards, winning Outstanding Lead Actor in a Drama Series for Billy Porter in 2019, and received several Golden Globe Nominations. The show has made history by featuring the largest transgender series regular cast and the largest LGBTQ cast ever for a scripted series. He also co-wrote, directed, and produced the recent series Ratched, which had 48 million viewers in its first 28 days, making it Netflix's biggest original season one of 2020.
On stage, he produced the Tony Award-winning Broadway hit The Boys in the Band, starring Jim Parsons, Zachary Quinto and Matt Bomer.
Murphy directed the HBO movie The Normal Heart, which received Emmy and Golden Globe awards, including the Emmy for Outstanding Television Movie. He also wrote and directed the Golden Globe-nominated film Running with Scissors, starring Annette Bening and Gwyneth Paltrow, and the box office hit Eat, Pray, Love, starring Julia Roberts and Javier Bardem, and produced the film adaptation of The Boys in the Band for Netflix.
Most recently, Murphy directed the feature adaption of the Broadway hit, The Prom, with a cast that includes Meryl Streep, Nicole Kidman and James Corden.
In 2018, he received a star on the Hollywood Walk of Fame and in 2019, he was selected as a 'Titan' for the Time Magazine's annual 100 Most Influential People list.
Sponsors
The Premier Sponsor of the 2020 Gotham Awards is The New York Times. The Official Auto Partner is Cadillac, the Official Water Partner is FIJI Water, the Official Airline Partner is JetBlue, and the Official Wine Partner is Robert Hall Winery.
About IFP
The Independent Filmmaker Project (IFP) champions the future of storytelling by connecting artists with essential resources at all stages of development and distribution. The organization, under the leadership of Executive Director and award-winning producer Jeffrey Sharp, fosters a vibrant and sustainable independent storytelling community through its year-round programs, which include IFP Week, Filmmaker Magazine, and the IFP Gotham Awards.
About the IFP Gotham Awards
The IFP Gotham Awards, selected by distinguished juries and presented in New York City, the home of independent film, are the first honors of the film awards season. This public showcase honors the filmmaking community, expands the audience for independent films, and supports the work that IFP does behind the scenes throughout the year to bring such films to fruition.
For information on attending: http://gotham.ifp.org
# # #
PRESS CONTACTS:
FRANK PR | 646.861.0843
Stephanie Davidson | [email protected]
Bess Donoghue | [email protected]