2019 IFP Gotham Awards Announce Actress and Industry Tributes
by Chase Harrison on September 26, 2019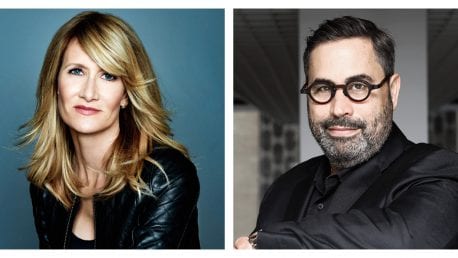 LAURA DERN TO RECEIVE ACTRESS TRIBUTE
GLEN BASNER TO RECEIVE INDUSTRY TRIBUTE
Monday, December 2nd at Cipriani Wall Street
New York, NY (September 26, 2019) – The Independent Filmmaker Project (IFP), announced today that Academy Award®-nominated and Golden Globe® and Emmy® Award-winning actress Laura Dern will receive the Actress Tribute and Glen Basner, founder and CEO of FilmNation Entertainment, a leading producer, financier and distributor of independent films, will receive the Industry Tribute at the 2019 IFP Gotham Awards. The first awards show of the season, the IFP Gotham Awards is one of the leading honors for independent film and media, providing critical early recognition to groundbreaking independent films and their writers, directors, producers, and actors with ten competitive awards categories. The ceremony will be held on Monday, December 2, 2019, at Cipriani Wall Street, New York City.
"We are thrilled to be honoring the extraordinary talents of one of our most beloved actors, Laura Dern, with this year's Actress Tribute. From her early roles in Blue Velvet and Jurassic Park to her more recent performances in Big Little Lies, Little Women, and Marriage Story, Laura transcends the screen and imbues each and every one of her characters with a deep intelligence and warmth," said Jeff Sharp, Executive Director of IFP and the Made in NY Media Center. "We are equally excited to present Glen Basner with the Industry Tribute. Glen has established himself as one of the most prolific and successful sales, finance, distribution and content-driven executives working today. Glen and his company FilmNation are part of the heart and soul of the New York film community. Both Laura and Glen embody the best of our independent film industry. Their commitment to the filmmaking craft and to the IFP continues to inspire."
Laura Dern has touched many audiences and critics alike with her moving and heartfelt performances. In addition to her two Oscar® nominations for Rambling Rose and Wild, Dern has garnered four Golden Globe Award®- wins, with seven nominations in total, as well as a Primetime Emmy Award®-win and seven nominations in total. In 2019, Dern once again portrayed Renata Klein in the second season of HBO's Big Little Lies; she was also seen in Justin Kelly's JT LeRoy and Ed Zwick's Trial By Fire. Later this year, Dern will next be seen in Noah Baumbach's Marriage Story for Netflix in theaters November 6th and streaming on December 6th, as well as Little Women, which was written for the screen and directed by Greta Gerwig and will be released by Sony Pictures on December 25th.
Glen Basner is the CEO and founder of FilmNation Entertainment, a prolific independent film and television company that has focused on bolstering its content creation in recent years. Since the New York based company's inception in 2008 FilmNation has garnered more than 40 Academy Award® nominations and eight wins, with releases including Tom Hooper's The King's Speech, starring Colin Firth, Denis Villeneuve's Arrival, starring Amy Adams, Kumail Nanjiani's and Emily V. Gordon's The Big Sick, Morten Tyldum's The Imitation Game, starring Benedict Cumberbatch & Keira Knightley and Lenny Abrahamson's Room, starring Brie Larson. Recent releases include Nisha Ganatra's Late Night starring Emma Thompson and Mindy Kaling, and Sebastian Lelio's Gloria Bell starring Julianne Moore. In 2017 FilmNation expanded its platform including works in theater, podcasting and television, which include the Tony Award®- winning musical The Band's Visit and upcoming Broadway show The Sound Inside, as well as TV projects including Derek Cianfrance's I Know This is True for HBO, starring Mark Ruffalo; an adaption of Isabel Allende's The House of Spirits; Daisy Goodwin's American Heiress; and John Updike's Rabbit Run. Upcoming film releases from the company include Pedro Almodóvar's Pain and Glory, starring Antonio Banderas which will be released in theaters October 4, 2019, Armando Iannucci's The Personal History of David Copperfield starring Dev Patel, and Emerald Fennell's Promising Young Woman starring Carey Mulligan.
The IFP previously announced the Director and Actor Tributes to be presented to Ava DuVernay and Sam Rockwell, respectively, at the 2019 IFP Gotham Awards. Nominations will be announced on October 24th.
For information please visit the Gothams website.
ABOUT LAURA DERN
Laura Dern first made her mark on screen in the film Alice Doesn't Live Here Anymore, as well roles in her early teens with roles in Foxes and Mask. Additional film credits include Star Wars: Episode VIII, Wilson, The Founder, Certain Woman, Wild for which she earned her second Academy Award nomination, 99 Homes, The Fault in our Stars, The Master, Everything Must Go, Little Fockers, Year of the Dog, Inland Empire, Lonely Hearts, Happy Endings, We Don't Live Here Anymore, I Am Sam, Novocaine, Focus, Citizen Ruth, Jurassic Park, A Perfect World, A Perfect World, Rambling Rose (Academy Award Nomination), Smooth Talk, and Mask. Blue Velvet, Wild at Heart, Dr. T and the Women, October Sky, Mask, Fat Man and Little Boy, Haunted Summer, Teachers, Foxes, and Ladies and Gentleman, The Fabulous Stains. Her television credits include HBO's The Tale, which earned Dern her seventh Emmy nomination, and Big Little Lies which earned her a Primetime Emmy Award and Golden Globe award for her role as Renata; Enlightened. Recount, Damaged Care, Within These Walls, Daddy and Them, The Baby Dance, Afterburn, Fallen Angels, and Down Came a Blackbird. In 1997, Dern was nominated for an Emmy Award and won an American Comedy Award for her guest-starring role in the controversial 'puppy episode' of the ABC comedy, Ellen.  In addition to her extensive film and television credits, Dern has been prolific in her producing career. In 2010, in celebration of their family legacy in film and television, Dern, her mother, Diane Ladd, and father, Bruce Dern, were awarded with the first ever "Family Star Ceremony" on the Hollywood Walk of Fame. In 2017 she established Jaywalker Pictures, a Los Angeles-based production company founded with partner Jayme Lemons with emphasis on great storytelling in film and television. In 2016, Dern was selected to serve on The Academy of Motion Pictures Arts and Sciences' Board of Governors.
ABOUT GLEN BASNER
Glen Basner is founder and Chief Executive Officer of FilmNation Entertainment. As a leading distributor, financier and producer of independent films and television, FilmNation has worked with many of the world's most renowned filmmakers and storytellers including Steven Soderbergh, Derek Cianfrance, Pedro Almodóvar, Jonathan Glazer, Jennifer Kent, Armando Iannucci and Denis Villeneuve. The company has established itself as a home for specialty filmmaking with global appeal by focusing on a highly selective group of filmmakers and projects that emphasize both creative integrity and commercial potential, and in recent years has strategically diversified its avenues of storytelling with television, theater and podcasting. Under Basner's tutelage, FilmNation consistently ranks as one of the highest-grossing independent international film distributors. The company's production and sales titles have garnered more than forty-five Academy Awards nominations and 8 wins, including Best Picture for THE KING'S SPEECH. Prior to FilmNation, Basner was President, International for The Weinstein Company, where he oversaw all international operations, and Executive Vice President, International Sales & Distribution at Focus Features. He started his career at the venerable New York based indie production and sales company Good Machine.
ABOUT THE IFP
The Independent Filmmaker Project (IFP) champions the future of storytelling by connecting artists with essential resources at all stages of development and distribution. The organization, under the leadership of Executive Director and award-winning producer Jeffrey Sharp, fosters a vibrant and sustainable independent storytelling community through its year-round programs, which include IFP Week, Filmmaker Magazine, the IFP Gotham Awards and the Made in NY Media Center by IFP, a tech and media incubator space developed with the New York Mayor's Office of Media and Entertainment.
ABOUT THE IFP GOTHAM AWARDS
The IFP Gotham Awards, selected by distinguished juries and presented in New York City, the home of independent film, are the first honors of the film awards season. This public showcase honors the filmmaking community, expands the audience for independent films, and supports the work that IFP does behind the scenes throughout the year to bring such films to fruition.
The Premier Sponsor of the 2019 IFP Gotham Awards is The New York Times, and the Philanthropic Supporter is The Rockefeller Foundation. The Official Water Partner is FIJI Water, the Official Airline Partner is JetBlue and the Official Wine Partner is Robert Hall Winery. Additionally, the awards will be promoted nationally in an eight-page special advertising section in The New York Times in November 2019.
Nominees will be announced on October 24th and winners will be honored at the star-studded ceremony at Cipriani Wall Street on December 2. To purchase tables or tickets to attend, please contact Steven Pfeiffer by email at [email protected], or by phone at (212) 465-8200 Ext. 219.
For information on attending: http://gotham.ifp.org
Press Contact
FRANK PR, 646.861.0843
Stephanie Davidson
[email protected]