The Gotham Week Project Market is the place where industry insiders discover new talent and projects – first.

Industry Registration is now open for 2021 Gotham Week.

Apply now for accreditation

.
About the Project Market
The Gotham Week Project Market, formerly the IFP Week Project Forum, is a large-scale, curated marketplace for fiction & documentary feature films, series, and audio projects ranging from early stages of development to near-completion. The Project Market—taking place virtually September 19 – 24th, 2021—hosts these projects as well as hundreds of industry professionals from around the world seeking to make connections with artists and discover new work. At the Project Market, close to 2,500 meetings take place, based on the interest of the attending industry, between artists and industry members, breaking down barriers between artists and gatekeepers and boosting the profile of exciting work made by artists from around the world.
The Project Market usually invites around 150 projects in total to participate. Want to learn more about the types of projects that are invited each year? Here's the breakdown of project sections at the Market. (The 2021 Project Market slate will be announced in late-July.)
Accreditation & Industry Criteria
You can now apply for Industry Accreditation.
Due to our limited space for scheduled meetings at the Project Market, The Gotham restricts the number of participating Industry to those that can meaningfully further the selected projects. In order to properly vet new industry members seeking to take meetings in the Project Market, we ask all new attendees to fill out an Industry Accreditation form. The information enables us to better understand what you're looking for at the Project Market and if your company makes sense for participation. The eligibility breaks down as follows:
Companies
Select Industry accessing the Project Market meetings with talent are identified as only those companies that can actively produce, acquire, sell, distribute, or finance projects; established literary, TV, digital or talent agents or managers.
Freelance Producers
We will similarly limit "Freelance Producers" participating in the Project Forum meetings to producers with a proven track record of shepherding at least one feature film through development, production, and distribution.
2021 Registration Pricing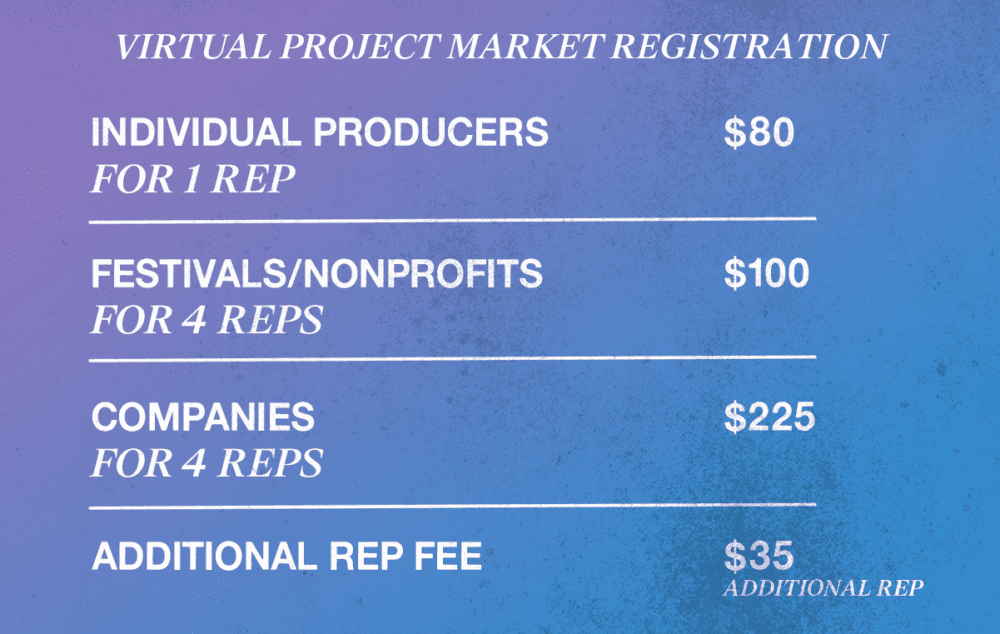 If your Accreditation Application is approved, you will be directed to fill out an Industry Registration form. An Early Bird registration discount will be in effect for all Industry registrants through July 31st. If your accreditation is approved, you must fill out the Registration form before July 31st in order to access the discount. The Registration fee is dependent on which badge type you select from the above, and how many attendees you include in your company. Please note: a $35 fee will be added to your Registration for each additional member of your company on top of the allotted number. For instance, if you're registering 5 attendees for a "Company"-level badge, there will be a $35 fee added on top of your registration fee.
Benefits
As the oldest co-production market in the US, we curate around 2,500 customized meetings for industry professionals during the Project Market. Meetings are scheduled based on the availability and interest of registered industry members. Registered Industry members receive digital access to the Project Market catalogue as well as the Industry Directory, allowing them to see other attending industry members at this year's event.
Project Market Alumni
Over the last four decades, The Gotham Week Project Market has played a vital role in launching the careers of now-established filmmakers. Recently supported projects include Steven Bognar and Julia Reichert's American Factory; Nicole Newnham and Jim LeBrecht's Crip Camp; Brett Story's The Hottest August; Fernando Frias de la Parra's I'm No Longer Here; Rachel Lears' Knock Down the House; Joe Talbot's The Last Black Man in San Francisco; Isabel Sandoval's Lingua Franca; Kaouther ben Hania's The Man Who Sold His Skin; Channing Godfrey Peoples' Miss Juneteenth; Alejandro Landes' Monos; Tayrisha Poe's Selah and the Spades; and Gregory Kershaw and Michael Dweck's The Truffle Hunters..
Filmmakers whose previous work has been supported at the Project Market include Garrett Bradley; Robert Eggers; Barry Jenkins; David Lowery; Laura Poitras; Dee Rees; Roger Ross Williams; and Chloé Zhao.